There may be an instance when using Bumble, that it will randomly freeze. To fix this, there are a few things that you need to do.
If your Bumble app keeps freezing, close the app and reopen it. If the problem persists, sign out of Bumble and log back in.
In this article, we're going to show you how to use each of these methods properly and how you can fix your Bumble app.
Continue your Bumble education: Continue your education about Bumble with The Complete Guide To Bumble, your source for valuable insights and practical advice to enhance your Bumble skills.
Find hookups & casual dating instantly
Match with others who want no strings attached
Stay private & anonymous
Find quality singles looking for a long term relationship
Best for ages 21-45
Free compatibility test to find your perfect match
Why Bumble Freezes & How To Fix It
For many Bumble users, it's been reported that the app will freeze when the person tries to adjust the filter settings. This is often the case when you adjust your age or distance settings. We've also seen reports of this happening right after the user checks "dealbreaker."
When we say freezing, the user is still able to access the chat and the profile features. However, they cannot access the filter features, and the main screen is on a continuous loop.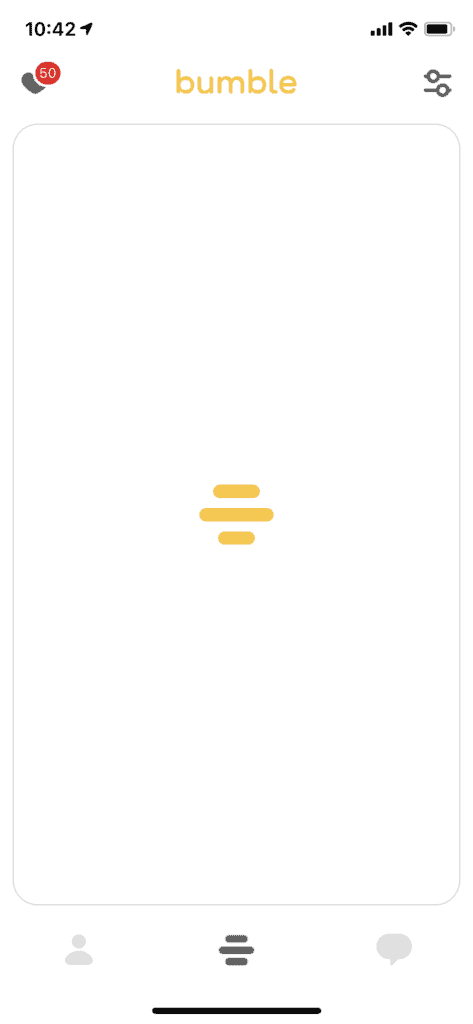 If this happens to you, here are the fixes that you'll need to do within the app.

Pro Tip: Tinder is great, but you might have better luck getting casual dates on Ashley Madison. Users sign up specifically to have discreet fun with others.
Get started for free and find people like you who are looking for casual relationships here.

Close & Reopen The App
If your app seems to take too long to load, we recommend closing the app and reopening it. Along with closing the Bumble app, make sure that all of the other apps are closed as well. The phone might be bogged down by other mobile apps, which could cause the memory to glitch.
Once you close the app, wait about 10 seconds to reopen it again. The main screen will start to load as you reopen the app.
We recommend only having the Bumble app open when you're using it.
Wait For The App To Load
Often the best remedy to fix the loading app is to wait for it to load. If you live in a suburban area, it's common that Bumble needs to search pretty wide to find users that fit your criteria. If you've selected age and distance to be a dealbreaker, then there's a good chance it's taking time to narrow its preferences.
The app will load users based on the information you give it. The app finds users by GPS the loading their profile into your profile. This process may take a minute, depending on how fast your wifi or cellular signal is.
We recommend you wait at least 30-45 seconds for the mobile app to load completely before moving on to the next step.
Check Your Internet & Cellular Signal
Oftentimes the reason profiles aren't loading on Bumble is poor wifi or a bad internet signal. Before deleting anything or closing your app, make sure you have a good signal on at least one of the connections.
If you have a poor cellular signal, it's common that the app is trying to load all of the data on the user's profile, but at a slower rate. This could take up to 1 minute to load the profiles if there is a poor signal.
To get the best use of Bumble, we recommend you connect to reliable wifi. That way, the profiles will load seamlessly, and there will be no issue with accessing the filter option.
Delete And Redownload The App
The last option is to delete your Bumble app and redownload it. While we recommend this is the last option you take, this option worked for us and is the most consistent.
If the filter option is locked and the loading screen won't load profiles, there's a good chance you have a bug in your app. This means that it will infinitely load, with no access to changing the filters. You will be stuck on the profile screen with the Bumble logo, no matter how many times you close the app or wait for it to load.
We recommend completely deleting the Bumble app from your phone. Do not delete your account; delete the app from your phone.
After you delete it, go back into the app store and redownload Bumble onto your phone. You should then be able to go back and access the Bumble filters and change them to what you need them to be changed back to. Bumble will revert its filter settings to the original, standard settings.

Pro Tip: If you're sick of finding people who are just looking for one night stands, we recommend trying eHarmony.
It's one of the highest-rated online dating apps in the world. eHarmony users are actually looking for relationships. Give it a try here for free and see if you can tell the difference.

Conclusion
If Bumble keeps freezing and the filter button doesn't work, close and reopen the app, wait for it to load, or delete and redownload Bumble.
If this happens consistently, there may be an issue with not enough space on your phone, or you have too many apps open. We recommend contacting Bumble directly if there continues to be an issue with your mobile app.
Delete and redownload your mobile dating app if you keep having loading issues. This seems to clear up the issues we had on our end. Remember, do not delete your profile, just the Bumble app, and redownload it. If you choose to log in with Facebook or your phone number, all your information should be saved.
If you liked this blog, learn more about Bumble in these articles: