Dating.com is one of the oldest and most popular dating platforms in the world. It was created in 1993, and today it covers 32 countries. Currently, there are over 73 million registered members, including over 4 million active users.
The website was created to help people find their soulmates. In order to make communication between members easier, the company later also launched a mobile app.
The platform also has an official Facebook page, where you can see posts from people looking for a partner, friend, or someone special.
Find hookups & casual dating instantly
Match with others who want no strings attached
Stay private & anonymous
Find quality singles looking for a long term relationship
Best for ages 21-45
Free compatibility test to find your perfect match
Dating.com Sign Up Process
In order to start using this dating platform, you need to go through the registration process. The process is quite easy and does not take too much time. During registration, you need to select sex and describe the person you are looking for.
In order to complete the registration process, you should select a nickname or use your real name, provide your email address, and create a password. Once you are done, you will receive a confirmation email to verify your new account. If you do not receive an email within a few minutes, you should check your spam folder.
How Dating.com Works
Many people wonder how this dating platform works. The good news is that Dating.com is quite easy and comprehensive. The home page on the website looks like a gallery with members' profiles and photos. The list of users you see on your home page is organized by the preferences that you have chosen during the registration process.
If you do not like the list of members you see, or they do not satisfy your requirements, you can click the "Search" button and change the list. You can choose the age, online status, location, and availability of members for a video chat.
There are also more advanced options that allow you to find a member according to the hobbies and interests that you have mentioned in your profile.
It is also interesting to note that Dating.com looks like Instagram a little bit. At the very top, there is a list of stories that you can watch. They can include both photos and videos. It is a great feature because it creates a feeling that all the members on this platform are real people.
There is also the Broadcasts button under stories. If you click on it, you will see members who are streaming right this minute. You can connect to their room and start a conversation.
Overview Of The Main Features
Here is an overview of the main unique features of Dating.com:
Search Engine
The search on Dating.com is very convenient and allows you to find a person based on your preferences and interests. By changing settings, you can find people depending on your dating goals, for example.
You can change the slider to find a friend, pen pal, partner, soulmate, or person for a short or long-term relationship. You can narrow your search down to make the results more relevant.
Video Chat
You may not find a video chat feature unique, but there are not many dating platforms that offer this feature.
The creators of Dating.com understand that meeting over video chat is one of the best ways to ensure that you are talking to a real person; therefore, they have this feature on the website.
An integrated video chat option on the platform is better and more convenient than switching to Skype or any other messenger because it allows you to keep your personal information (such as an email or phone number) confidential.
Gifts
If you want to bridge the gap between virtual romance and real relationships, you can purchase and send gifts on Dating.com. You can buy a gift with your credits, and it will be delivered to the doorstep of the members you have chosen.
Yes, they are not virtual gifts – they are real things and usually range from small items to flower baskets and chocolates.
International Dating
Since Dating.com is available in many countries, you can meet people from different parts of the world. That means you can broaden your horizons, learn new languages, and get introduced to other cultures.
How To Make Contacts On Dating.com
\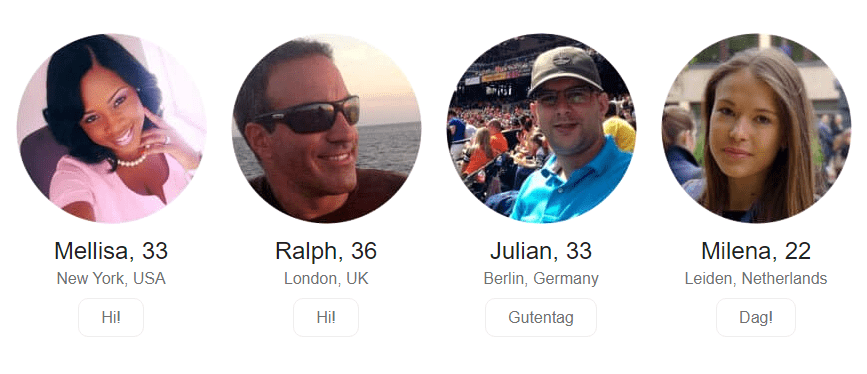 There are several communication tools on Dating.com that you can use to make contact with other members. These tools are useful and important as they help users to establish meaningful connections.
However, it is important to remember that they are not free and must be purchased with credits/coins. These tools include the following:
Chats and Messages
You can send instant messages and emails to other members.
Video Chats
Video chat conversations on Dating.com can be either one-way or two-way.
Let's Mingle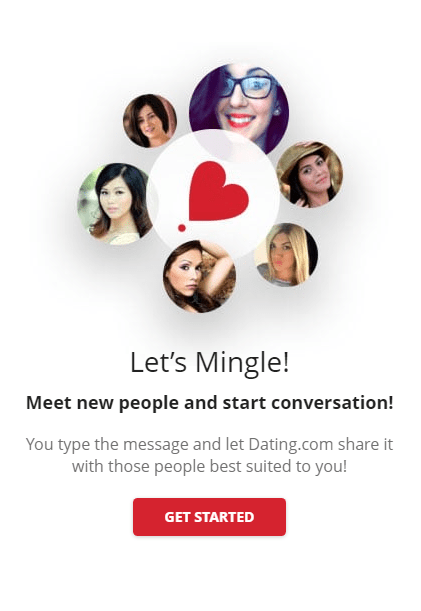 There is an option for introductory messages that you can send to several members simultaneously. This can be an invitation to chat, video call, or hang out. 
Other Communication Tools
To establish contact with other users, you can also use:
Comprehensive search
Winks
Webcam
Liking their profiles

Pro Tip: If you're sick of finding people who are just looking for one night stands, we recommend trying eHarmony.
It's one of the highest-rated online dating apps in the world. eHarmony users are actually looking for relationships. Give it a try here for free and see if you can tell the difference.

Premium Account Features
More and more users on Dating.com prefer its mobile version because it is quick, convenient, and easy to use. It is important to note, though, that the Dating.com app is available for download to Android users only. Unfortunately, there is no schedule to release a similar app for iOS users.
The Android app has many similarities with the dating platform's website. It has the same color scheme, branding, design, functionality, and features. Therefore, if you have used the website before, you will have no problems with the app.
The only significant difference between the app and the website is that you should upgrade to a premium account in order to enjoy all the app features.
Upgrading to a premium account will give you access to the following features that are not available to basic members:
Unlimited streams
24/7 customer support
50% off on all purchases
Let's Mingle feature
How Much Does Dating.com Cost?
Unfortunately, even though the registration process on Dating.com is free, you have to pay to continue using the website. Unlike many other dating websites and platforms, Dating.com does not use a standard monthly rate. Instead, you need to buy coins/credits that are used to receive access to special features.
The dating platform offers three packages, and each of them includes a certain amount of credits. Here are the packages offered by Dating.com:
150 credits/coins for $19.99
600 credits/coins for $149.99
1500 credits/coins for $299.99
Thus, on average, you have to pay about 20 cents for one credit. What can you spend your credits/coins on? The features available on Dating.com cost a different amount of credits. For example, one minute in a live chat will cost you 1 credit, one email – 10 credits, and a flower basket – 700 credits.
There is only a limited number of features that are available for free. Here is what you can do on Dating.com without paying anything:
Search for members
Post photos
Send winks
Who Are The Actual Users Of Dating.com?
Over 60% of active users on the website are males, while the rest are female members.
The membership of the dating platform is very diverse and is evidenced by the top five countries: the United States, Mexico, Ukraine, the Philippines, and the United Kingdom. The website attracts people of all races and nationalities.
What Should You Expect From Dating.com? All Pros And Cons
Since Dating.com has existed since 1993, it has already built a good reputation. However, like any other dating website, it has its advantages and disadvantages that should be taken into consideration.
Advantages
A large user base. Dating.com is one of the biggest dating platforms in the world with over 73 million registered members. That means that there is a big base of singles. Moreover, this number keeps growing, especially during the last three years. According to one of the recent reports, almost 82% of single people decided to try online dating due to lockdowns and the lack of live social interactions.
It is perfect for everyone. Unlike many other dating websites, Dating.com does not have any niche focus, which means it is perfect for everyone, regardless of their preferences and expectations. Whether you are looking for a soulmate, a long-term relationship, a simple conversation, a friendship, or a random hookup, this website is perfect for you. Your age, sexual preferences, and desires do not matter – you will be able to find a person who matches your vibes. You can filter through everyone by using specific keywords.
It has a simple interface that is easy to understand. As mentioned above, the registration process is very simple and straightforward, and you will spend no more than 2 minutes creating your profile. Once the registration is completed and the profile is verified, you should not have any problems with the website's interface. It is easy to search for profiles, browse through them, start a conversation, or send an email. 
Disadvantages
Unfortunately, just like any other dating website, Dating.com has some disadvantages that you should know about:
Pay To Play – As mentioned above, even though you do not have to pay for registration on Dating.com, you will need to break out your wallet to get access to all the necessary features. Without those features, you will not be able to communicate with members, see their photos, or join their streams.
Outdated Feel – Let's be honest: this website is old and is quite outdated, especially compared to other modern dating platforms and apps, such as Tinder, Bumble, Hinge, and others. Therefore, Dating.com is better for mature people who are over 50 and are interested in finding a partner with similar interests. You should probably try modern dating websites and apps if you are a young person.
Is Dating.com Safe?
This dating platform is safe, and it protects the user's privacy. It has reliable security systems and encryption, so there is no reason to worry. All conversations and personal data are protected by joining, so information is kept completely private.
One of the best things about security on this platform is that it has excellent and active customer service. It is quality, always available (24 hours a day and 7 days a week), and responds to every message and email promptly.
More Dating.com Features
Compared to many other dating websites and platforms, Dating.com has a huge advantage. First, it has a good reputation because it has existed since 1993. Second, it has some unique features that other platforms do not have. For example, live streams and video chats allow members to get to know each other better.
However, unlike other online dating services, Dating.com is not free. Yes, you can register for free, create your profile, and even search for members. However, to communicate with other users, you must purchase credits/coins.
Does Dating.com Work? Here Are the Facts
Are you curious about the effectiveness of Dating.com as a dating platform? In our article on does Dating.com work, we provide insights into the functionality and success rates of the platform. Discover how Dating.com operates, the types of relationships it caters to, and whether it can help you find meaningful connections.
Additionally, we share real user experiences and success stories, offering a balanced perspective on the platform's effectiveness. Whether you're considering joining Dating.com or already a member, our article will provide you with valuable information to make the most of your dating journey.
How to Cancel/Delete a Dating.com Subscription
If you're looking to cancel or delete your Dating.com subscription, our article on how to cancel/delete a Dating.com subscription provides step-by-step instructions for managing your subscription preferences. We guide you through the process, ensuring a hassle-free cancellation if you decide to discontinue your premium membership.
Furthermore, we discuss the importance of managing your subscription effectively to avoid unwanted charges and how to ensure your account is secure after cancellation. Whether you're taking a break from premium features or exploring other options, our guide has you covered.
Is Dating.com Free? Pricing Guide
Curious about the pricing structure of Dating.com and whether it offers free features? Our article on Dating.com free pricing guide provides a comprehensive overview of the platform's pricing options and the features they unlock. Learn about the cost of premium subscriptions and the benefits they offer.
Additionally, we discuss the value of a premium Dating.com subscription and how it can enhance your online dating experience. Whether you're considering upgrading your membership or looking to make the most of free features, our article has the information you need to make an informed decision.