Most of the apps can be pretty distasteful when dating online, with users ranging from drug addicts to 12-year-olds lying about their age. And it gets pretty depressing when you only see apps such as Tinder, Plenty of Fish, etc., blowing up on the internet. But that's where the Bumble dating app is different.
Bumble is one of the first dating apps where women can make the first move. They decide to message first and are in control of the conversation.
Unfortunately, most dating apps are infested with individuals who are not looking for serious relationships. But on the other hand, Bumble takes the cake if you're someone looking for a serious relationship.
But that doesn't mean that casual daters are marked off from the app. It's just that the app has an equal balance. So let's have a better look at it.
How Bumble Is Different Than Other Dating Apps
Unlike other dating apps, 60% of the matches on Bumble result in a proper conversation. This is a big deal because most dating apps are geared more toward fast-paced judgments based on facial features.
This can be pretty daunting for women, especially if they're regularly being pestered by creepy men. But with Bumble, it's safer and feels more secure.
From an outward view, Bumble also depends on swipes, just like Tinder. So, if you like someone, swipe right. And if that person does not meet your preference, swipe left.
And if both users are interested, you can exchange messages and have a decent conversation.
If both parties are straight, only the woman can send the initial message. And this is where Bumble is so different from the other dating apps. Here, the woman can initiate the conversation. And after that, the man can respond and take it from there.
But this is not the case for same-sex couples. In their case, however, either of them can send the initial message after both parties confirm their interest.
There is a time limitation, however. Once you send that first message, the receiver has around a whole day to respond.
Thus, if they can't respond within 24 hours, the message will disappear from their inbox. So yeah, users need to respond to their matches quickly if they don't want their messages to disappear and their shots to be lost.
What's so different and wonderful about Bumble is that this whole app was designed for women.
It is intended to provide women with a safe but sufficient dating app to let them decide and be more in control of their dating experience.
This is extremely important because most dating apps are known for having sleazy, perverted men who can't help but send unsolicited messages and pictures of their private parts.
It has reached a point where we can safely call it "borderline harassment." And it ruins the experience for most women who are just looking for a respectable person to date.

Pro Tip: If you're sick of finding people who are just looking for one-night stands, we recommend trying eHarmony.
It's one of the highest-rated online dating apps in the world. eHarmony users are actually looking for relationships. Give it a try here for free and see if you can tell the difference.

How To Use Bumble
Now that you'll be using Bumble or thinking of using it, this is the best opportunity to look at how to utilize the app to your benefit perfectly.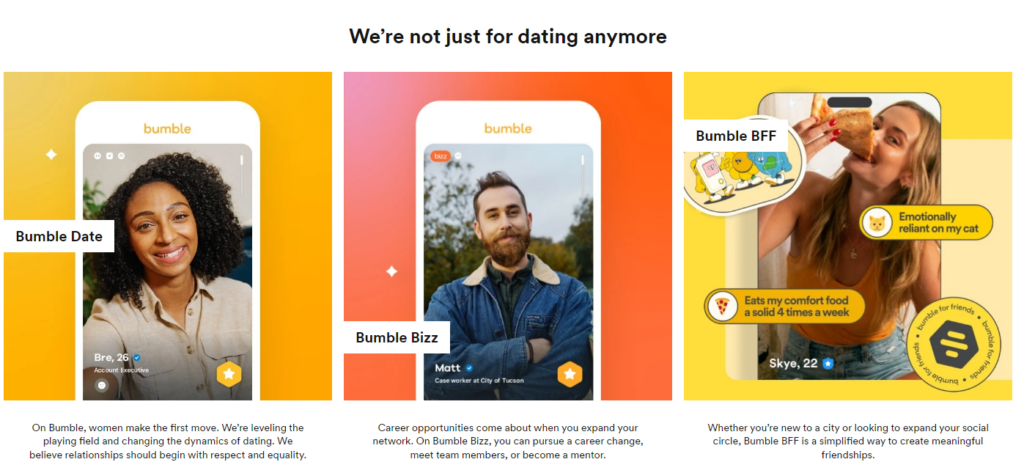 There are many features within it, and thus you'll have to know a thing or two. So, here's a complete guide to using Bumble.
Creating A Bumble Profile
Creating a Bumble profile is the same as creating any other online dating profile. Initially, everyone needed a Facebook account to create a Bumble profile. But that requirement has been removed by the company's CEO, Whitney Wolfe, herself.
So, you don't have to worry about that. Just use your email and a secure password, and you're good to go.
Creating a Bio
Whatever you do, don't write something that's already been written a thousand times. Be unique and try to add a different flavor to your profile to get the attention of the type of person you want to hang out or date with.
So, Bumble will only give you 300 characters to write about yourself. So, if you talk about the sea salad that you ate an hour ago, no one's going to try to get to know you.
This will attract similar-minded people, and they'll want to contact you. You could also talk about your strengths and weaknesses. Showing a bit of vulnerability is instead a sign of strength.
Taking Pictures For Bumble
Pictures are important.
We recommend taking pictures that show off both your personality and your best features.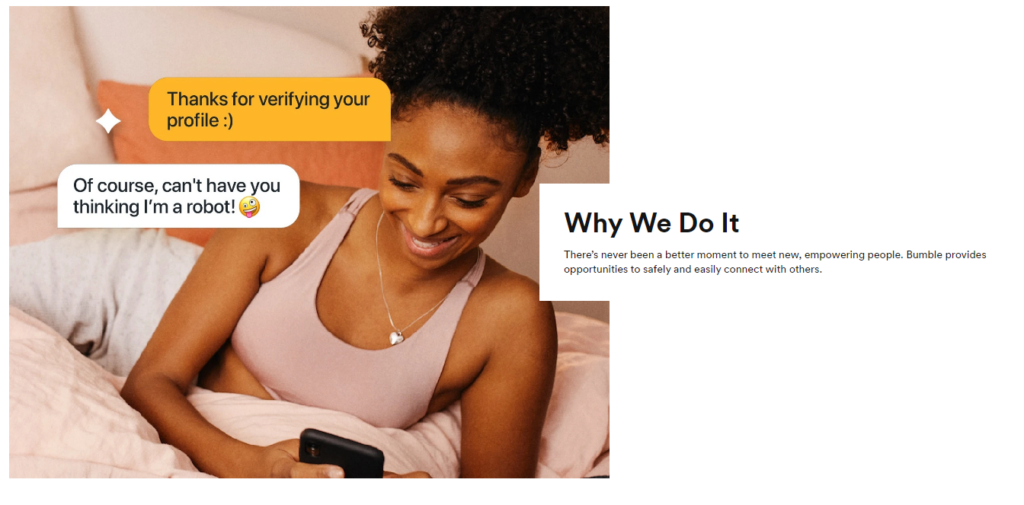 If you're someone who has pretty eyes, show them off with a close-up picture of your face. If you're someone with excellent physical features, be sure to show the camera without being too much.
The bottom line is, don't be a catfish. Your picture should define you and how you are as a person.
Starting A Conversation
Sending that first text is nerve-wracking, as we all know. And that's why the text you're sending must be of substance. Do not send out a random 'hey' and wait for the guy to fawn over it.
Instead of sending a pointless message that dumps the communication burden on the recipient, be more creative and bold. Start with a joke or maybe a one-liner.
Something that matches your personality so that the receiver won't feel like they're talking to a stranger when you start talking.
But don't take it too far. If you do so, the recipient might feel pressured to match your level of humor or creativity. Just take it slow and see how it flows. You could ask them something regarding their profile, which you're curious about.
Make it sound like a compliment, so you know that they'll be happy to reply. But at the same time, you need to understand this very clearly. Rejection is part and parcel of how this app works.
Not everyone will be interested, and that's fine. But don't let that ruin your experience using this wonderful website.
Filtering Bumble Matches
Bumble has added a new feature that saves your time and thus your energy. So, it's very understandable that you might be swiping right on several potential matches. But you won't like them all the same.
This new time-saving feature filters out the potential mates to the most important, or let's say, "relevant" matches.
This filter includes what you'd likely expect on a dating app. It has filters for one's age, height, where they live, their political affiliation, or what kind of relationship they'd like to be in.

Pro Tip: Tinder is great, but you might have better luck getting casual dates on Ashley Madison. Users sign up specifically to have discreet fun with others.
Get started for free and find people like you looking for casual relationships here.

Bumble Recap
Now that we've covered all the basics, you have a better understanding of the Bumble dating app. It is pretty different from the others and safer for the women out there. So don't feel too shy about giving it a try.
If you're looking for more information on Bumble, be sure to read this collection of articles.
What Is Bumble Boost?
This guide explores Bumble Boost, covering features like unlimited swipes and rematching to help you decide if the premium subscription is worthwhile.
Does Bumble Really Work for Guys?
Get tips on successfully using Bumble as a guy, from profile strategies to messaging techniques. Includes real-life stories of men finding meaningful connections.
When Bumble Says "Deleted Account"
Learn the reasons behind the "Deleted Account" message, from actual deletions to mistakes. Plus guidance on recovering connections.
Is Bumble a Hookup App? Survey Says…
Dive into user experiences to uncover whether Bumble facilitates casual encounters or relationships. Explore how Bumble's female-first messaging influences connections.
Why Does Bumble Say "Your Move"?
Decode the meaning behind "Your Move" prompts in Bumble conversations. Understand how it encourages equal participation between matches.
How to Safely Search for Someone on Bumble
Guidance on securely locating a Bumble profile for reconnecting while respecting privacy. Best practices provided.
Get the Blue Verification Checkmark on Bumble
Walk through getting your profile officially verified with a blue checkmark to boost visibility and trust.
Standout Bumble Bios For Guys
Similarly, explore core bio elements for female users with real-life samples. Make your profile shine.
How to Send Photos on Bumble
Learn the steps for safely and consensually exchanging images to enhance Bumble conversations.
Maximizing Bumble's Incognito Mode
Understand how Incognito Mode enables discrete profile browsing and controlling your visibility.
Find hookups & casual dating instantly
Match with others who want no strings attached
Stay private & anonymous
Find quality singles looking for a long term relationship
Best for ages 21-45
Free compatibility test to find your perfect match
Stay tuned for more information on other Bumble-related topics!