In today's busy and stressful world, meeting people in person and forming connections is pretty hard. So, it's no surprise that dating apps are getting popular day by day. Well, since the League is one of the trendiest dating apps, you might be interested to know more about it.
The League is an exclusive and authentic dating app that helps career-oriented, ambitious, and passionate singles find their perfect match. The application was mainly designed for people who emphasize intelligence and ambition over anything else. However, the exclusivity might be a turn-off for singles desperately looking for a partner in a short time.
Well, the League is not only full of top-notch singles, but it also has some excellent features, making it a quality dating app.
However, as there are some controversies regarding the application, you might be hesitant to use it. So, in this article, I will provide you with an overall review of the League dating app, along with some other information that you might find helpful.
How Does The League App Work?
You will get a few matches each day at 5 p.m. based on your membership type and specified parameters. If you like one of the selected individuals and they like you back, you'll be able to start conversing with each other.
However, the more exact your criteria are, the fewer potential matches you will get. So, if you are not receiving as many as you want, ease up your requirements a bit. Moreover, by boosting your profile at an additional fee, you might even ensure that your account is visible to an extra 50 prospective matches.
The league requires you to connect your LinkedIn profile so that it can confirm both your academic credentials and professional expertise.
It would be best to link your Instagram and Facebook accounts to let them get a complete idea of your living. It will help them to evaluate whether your lifestyle fulfills their requirements or not.
Furthermore, you have to write your profile properly, select filters like age, height, and religion, and choose your photos. Once you get registered at the app, the program will place you on the waiting list to be verified by a human.
However, only about 20 to 30 percent of those who apply are accepted.
Well, nobody, including paying members, can skip the waiting list. Although you can join to assess your profile more quickly, this does not guarantee that your profile will be accepted.
If you've been granted permission to use The League, you can begin looking for possible matches.
The League App: An Overall Review
The League, founded in 2015, focuses on effective matchmaking and provides a group of balanced and individualized "Prospects" picked by the relationship experts team of The League. However, some people often label the application as racist or too elitist.
So, let's dive into a detailed review of The League so that you can get a complete idea about the application:
Usability & Design
In the selection process of applicants for the League, the League team heavily depends on LinkedIn. The designers underline that the software handles all of the legwork for users and searches for their field of interest using data from social media.
The selection process seeks to identify the appropriate age range and career path. It does not imply that everyone must graduate from an Ivy League university or work for a well-known corporation.
Well, people who have accomplished something remarkable by the age of twenty are nevertheless given favor.
The app also looks at social connections to see who is acquainted with the present members. A small number of accounts are available each day when someone joins The League.
There are no coworkers or close acquaintances among them. Thus, users can avoid embarrassing virtual situations.
The app's user interface is basic and elegant. Well, the dominant colors are black and white, and the fundamental concept is grace and simplicity. Every element of the application is of the highest possible standard.
The main page features high-resolution professional photographs and gifs, while the "Blog" section features content written in a simple font.
Profile Quality
The League's moderators are in charge of screening and control. The service brags about the quality of its subscribers. It claims to provide an environment free of scammers, fake accounts, games, noise, and danger.
The League's waitlist policy and thorough verification might be annoying, but it ensures that their app is filled with only the best profiles and top-notch singles.
Since users are required to connect their social media profiles, it can also ensure that the singles in this app are genuine. Thus, Catfishing and phony profiles are no longer an issue here.
Depending on the information applicants provide in their profile, the league might accept them or not. The more data you provide, the better your chances of being accepted.
So, The League members try their best while building their profile. That's why you can find top-quality profiles full of essential information in The League app.
Safety & Security
The League is one of the most secure dating sites available. Not only does the app have a multi-step authentication process in place, but all members are also personally approved by a human.
The original concept was to bring together people looking for serious, long-term relationships rather than casual encounters. This concept distinguishes this service as one of the safest, most prestigious, and top-quality services available.
Again, you won't have to worry about the person you're chatting with being genuine or not. And, you can even arrange a video conversation with them if you want.
Furthermore, The League does not prohibit the exchange of contracts, mobile numbers, or email addresses.
You also have complete access to the person's Facebook and LinkedIn accounts, allowing you to investigate any individual properly. Besides, you always have the option to block an intrusive member and report them to the security team if they stalk you.
Special Features
The League has a few unique features that set it apart from the rest of the dating apps. The following are some of the best features of the application:
League Tickets
You can buy League Tickets to extend your selections among the crème de la crème to fully utilize the matching services offered by this site.
Although this function comes at a high cost, the tickets can truly help you identify and select a good spouse.
Groups
The League had formed organizations where users might organize clubs or chat about their passions.
Besides, they can discuss current events like stocks, interests, and other diversions to develop a sense of community inside this relatively tiny circle.
Power Moves
This feature is available to Owner Tier and higher users. It helps you to place your profile at the top of other singles' search results.
It's an easy technique to increase the number of people who notice and are attracted to your account in a short amount of time!
Concierge Support
Another Exclusive feature is the Concierge, which is effectively live customer service. The Concierge might suggest that you rearrange your photos and overall serve as your dating assistant. It is one of the best features of the League app, available for top members only.
Video Chat
Users also have the option of video chatting with their matchups. Video chatting is no doubt an excellent method to communicate with and learn more about your matchup.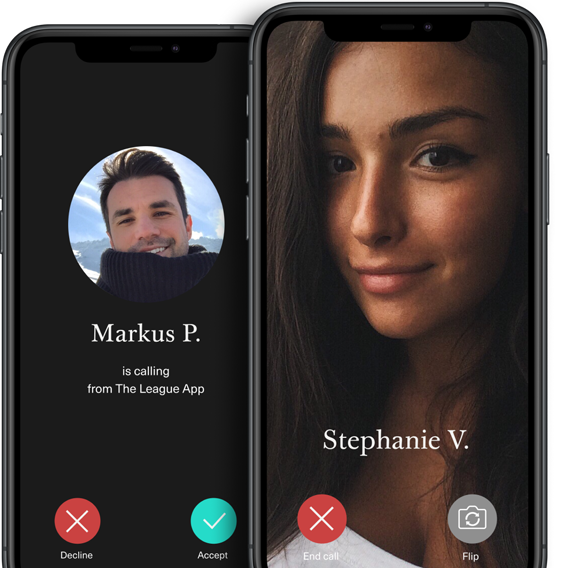 However, most of these features are available for subscribers only. So, if you want to enjoy these fantastic features, you have to join the app as a member, owner, or investor.
Customer Service
The League's support team works quickly and effectively since the site's audience is somewhat limited, and each user is part of a tight group. The assistance service takes a personal effort and demonstrates a willingness to assist in settling any problems.
The team of the League has committed to working five days per week, responding to each participant as quickly as possible.

Pro Tip: If you're sick of finding people who are just looking for one-night stands, we recommend trying eHarmony.
It's one of the highest-rated online dating apps in the world. eHarmony users are actually looking for relationships. Give it a try here for free and see if you can tell the difference.

How Much Does the League App Cost?
The League dating app is free. So, you can easily download and start using it as a guest. However, if you want to enjoy most of its excellent features, you must be a subscribed member.
Let's discuss the cost of different types of users in the League app:
Guest
Registration, downloading, and using the application as a guest is completely free. Once you have been accepted, you will be able to access the site as a guest freely.
Besides, up to three prospective matches will be sent to you at a certain time each day. Moreover, being a guest, you can make a photo profile, search and browse profiles, and send friend requests.
Member
You also have the option to join as a member if you are willing to pay. There are three types of membership plans. A one-month, three-month, or six-month subscription package is available.
The League membership will cost you $199.99 for one month, $99 for three months, and $67 for six months. You will get certain advantages by joining the application as a member. Every day, for instance, you will receive five prospective matches, three dates at league live parties, and five friend requests.
Besides, you will be able to enjoy features like customizing your bio, editing your profile, reading receipts for messages, creating groups, etc. Not only that, but you can also view the statistics for your profile and buy more potential matches or boost your profile using two tickets.
Owner
You will have to pay $399 per month to join The League as an Owner. However, if you sign up for a three-month subscription, you can enjoy the owner's advantages for $299 each month. Being an owner unlocks the same set of features that Members have access to, but with a few enhancements.
You will get six potential matches, six friend requests, the ability to like and get likes. Besides, an owner subscription grants you infinite power moves, as well as the option to undo a pass and prospective rematch. Moreover, when you look at a person's profile, you will see if they have liked you before.
Investor
If you want to join the application as an investor, you have to pay a huge amount. You can become an investor at $999.99 for a one-month subscription plan or pay $399.99 for a week. An investor will have access to features, such as discovering the people who liked them, enhanced promotional algorithms, and the ability to view data.
They will also receive seven prospects and seven friend requests every day. Besides, if you become an investor, you will keep your profile private and message your potential matches before matching.
Now, the best thing about investor subscriptions is that you will get concierge support. Also, about 40% more individuals view the profiles of investors over members at the bottom of the membership ladder.
Pros Of The League Dating App
The League is easy to use, full of elite singles, and a highly safe and secure dating app. However, it has a strict selection process, provides only a few potential matches a day, and the subscription plans are too expensive.
Well, it is essential to know both the advantages and disadvantages before starting to use an app. Despite being such an amazing dating app, the League has some drawbacks too. So, let's discuss the pros and cons of the League dating app:
High-Quality Singles
The app is full of smart, ambitious, elite singles. It brings together graduates from the world's top universities. Everyone willing to use the app has to go through a selection process depending on their educational and professional qualifications. So, most of the users here are of the high class. Thus, you can save time by avoiding singles who don't meet your standards.
Safe & Secure
The League is one of the safest and most private dating apps of all time. Each profile is authentic in the app, and there is minimal risk of getting scammed. This is due to a thorough verification procedure.
Easy-to-use
The app is no doubt straightforward to use. It has an elegant design and a user-friendly interface. Besides, the app itself selects the potential matches for you. So, you won't have to spend hours swapping to find your ideal partner.
Tons of features
As I have mentioned earlier, the app has lots of excellent features. You will get the chance to attend the app's exclusive networking events. For the more advanced users, there are unique features such as a personal dating assistant. Also, the app's matching algorithm prioritizes users that log in daily.
Download and Register For Free
You can use the app for free as a guest. Though you don't get all the benefits like paying members, you will get your potential matches every day. Moreover, there are various subscription options available and discounts for paying for a lengthy time in advance.

Pro Tip: Tinder is great, but you might have better luck getting casual dates on Ashley Madison. Users sign up specifically to have discreet fun with others.
Get started for free and find people like you looking for casual relationships here.

Cons Of The League Dating App
Strict Selection Process
The process of user selection is too strict, which can be both a pro and a con. You might be on the waiting list for a long time. So, if you hate to wait, the app might appear to be too frustrating for you. Besides, not every individual can have access to the app due to the strict selection procedure.
Moreover, you only get a few matches each day. So, finding your partner can be a pretty lengthy process.
Costly Membership Plans
The League is one of the most expensive dating apps available. It can be costly to have your membership approved faster. Each of the subscription packages is expensive. However, if you want to enjoy the app fully, you have to get a paid subscription.
Location-specific
Only Sixty cities throughout the world have access to the League. Most users of the app are from big cities. Well, although it is an online dating platform, location is still important. Of course, you won't be excited to meet singles who live far away from you.
Should You Use the League App?
You should use the League app for sure if you are an independent, intelligent, career-oriented individual with high standards for your partner.
However, many people are hesitant to join the League due to its membership waitlist. I know how annoying it can be. But trust me, the benefits of the app justify the inconvenience of having to wait. Also, you have the option to use other dating apps, such as Tinder, or Bumble while waiting for membership approval at the League.
Well-established people who are willing to wait a bit longer to ensure that they are only matched with wonderful people should give the app a shot for sure.
If you are too choosy in your dating life and looking for elite singles, the League app is just the thing you need. The app's users have been carefully vetted, ensuring that no one has a lower quality of life than you. Thus, if you want to discover a life companion on your level, the League app is the way to go.
Now, if you are hoping for a quick hookup and seeking low-cost dating applications, it would be best if you don't use the League app. Also, if you don't want to go through the approval process, the application is not for you.
How To Delete The League App
If you feel The League isn't the right fit for you, we recommend you delete the mobile dating app and try others.
To learn how to delete The League dating app, follow these instructions.
Find Exactly What You're Looking For
Stop wasting time on dating apps hoping to find the right person. Ashley Madison & eHarmony have exactly what you need.
Find The Person That Wants What You Want
Instantly Improve Your Dating Experience
Get Rid Of The Boring Conversations & Engage In More Quality Conversations
The League Recap
The league dating app is a life savior for professionals who don't have enough time to look for their ideal match by themselves.
Find hookups & casual dating instantly
Match with others who want no strings attached
Stay private & anonymous
Find quality singles looking for a long term relationship
Best for ages 21-45
Free compatibility test to find your perfect match
Below are more articles on The League that will help enhance your experience.
How to Delete The League Dating App
Step-by-step instructions to deactivate your account on The League. Covers the implications of deleting your dating profile.
What's a Power Move on The League? Learn Here
Discover how Power Moves works to boost visibility and connections within The League dating app. Tips for using them strategically are included.
What Are League Tickets on The League Dating App?
Demystifies League Tickets – their significance, how to earn them, and maximizing their usage to enhance your League dating experience.
Why Is The League Dating App So Expensive?
Explores The League's pricing structure and premium features to evaluate whether the offerings justify the cost for your dating goals.
These articles offer valuable insights and guidance for users of The League dating app, helping you navigate account deletion, understand unique features like Power Moves and League Tickets, and assess the app's pricing and value.