The League dating app is one of the newer dating apps on the market. While it's not for everyone, it allows single users to find a match at 5 pm every day. Some people, however, may not like to wait until 5 pm, which can lead to frustrations, and want to delete the app.
To delete the league dating apps, first, you must go to the gear icon located on the taskbar, scroll all the way down to the bottom, and hit "delete account." From here, you will be prompted by another screen to confirm your deletion.
This article will show you how to delete The League dating app and things you should consider before deleting it.
Find hookups & casual dating instantly
Match with others who want no strings attached
Stay private & anonymous
Find quality singles looking for a relationship
Best for ages 21-45
Free compatibility test to find your best match
How To Delete The League
The process is rather simple if you've hit a point where you want to delete the league. Mobile apps often make you jump through hoops to delete their app.
The league, however, has made it rather simple to delete their app with their easy-to-use interface.
To delete The League, here are the steps you must do:
First, click the gear icon that is located at the bottom of the taskbar. This is how you get to the settings menu.
From here, scroll all the way down to the very bottom of the list. When you hit the bottom of the list, you will find "delete account." Click this button to start the deletion process.
On the next screen, you will see disclaimers about deleting the app. We must warn you; please read through all of the disclaimers.
Do not just hit delete, as you will lose all of the conversations you had, the plans you signed on to, and more.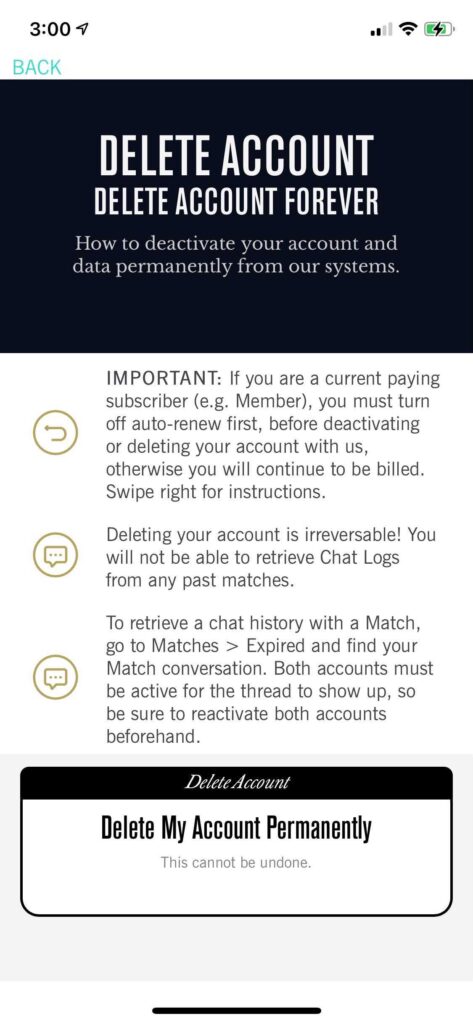 Make sure that you're completely ok with deleting the app before actually deleting it.
Once you're sure you want to delete the app, select the "delete account" button at the bottom of the screen.
Things To Consider Before Deleting
Deleting your account will make you start from scratch if you do decide to download it again. Remember, The League has a waiting list of users to get into their platform.
Deleting your profile will put your account back at the end of the line. This means you will have to wait for an extended period to use the app again.
This is why we are strongly against deleting the app unless you're 100% sure you don't see yourself using it shortly.
If you want to temporarily "delete' your account, we recommend deactivating your account instead.
How To Deactivate Account
If you're looking to hide your profile instead of completely deleting it, then we recommend deactivating your account.
If your profile is active, this will hide your profile from other community members. This option is great if you're looking to take a break or if you started to talk to someone.
If you haven't been let in yet to The League, then deactivating your account will lose your spot in line. Be sure you truly want to deactivate your account before actually selecting this option.
We recommend using the deactivate account option over the delete account if you're unsure that you want to delete your account on The League.
The onboarding and verification process can be quite lengthy. So this will help ease the process.
Everything you need to know about The League Dating App can be found here in our 2021 Review.
Find Exactly What You're Looking For
Stop wasting time on dating apps hoping to find the right person. Ashley Madison & eHarmony have exactly what you need.
Find The Person That Wants What You Want
Instantly Improve Your Dating Experience
Get More Matches & Quality Conversation To Get What You Ultimately Want
Conclusion
There are many dating apps out there. With so many dating apps available, it can be difficult to decide which app is the best for you.
We recommend giving The League a try for at least a month or two. The app is unique because you have displayed matches only at 5 pm every day. If you want to see more, you'll have to pay more.
If you choose between the 3 matches displayed to you, there's a good chance The League will match you up with someone who already likes your profile.
We hope this article will help you understand The League app and highlight some of the benefits it offers.
If you have any questions or comments, please feel free to leave them in the comments section below!
Recent Posts