Dating in today's fast-paced modern world is complex. Finding the time and, more importantly, a person you connect with can be challenging. Well, that is where online dating apps come in.
There are many options. But what makes Plenty of Fish so cool is you can use it on both your phone and desktop. So, here is a Plenty of Fish dating app guide.
The app is pretty well laid out and should be easy to use. Some features are not present on the mobile app. So, if you want to get the full experience, the desktop might be better. Other things like using high-quality pictures and sending interesting messages all apply here.
That is only a small overview, though. This app has some excellent features other dating apps do not give you. One such thing is the headline. Make sure to put a catchy headline. Let's dive into it all in more detail.
Find hookups & casual dating instantly
Match with others who want no strings attached
Stay private & anonymous
Find quality singles looking for a long term relationship
Best for ages 21-45
Free compatibility test to find your perfect match
The Basics of Plenty of Fish
The basics are the most important thing you should have down when using an app like Plenty of Fish.
That is what will help you get started. Here are all the basics you need to know. I will cover everything from creating an account to using the user interface.
Making an Account
Signing up for the app is pretty straightforward. It is just like any other app or site you would use. You can use both the app and a desktop to create an account.
Let's get started. All the instructions for creating an account are conveniently laid out.
The app makes it quite intuitive to navigate the app and create a brand-new account.
1. Click Register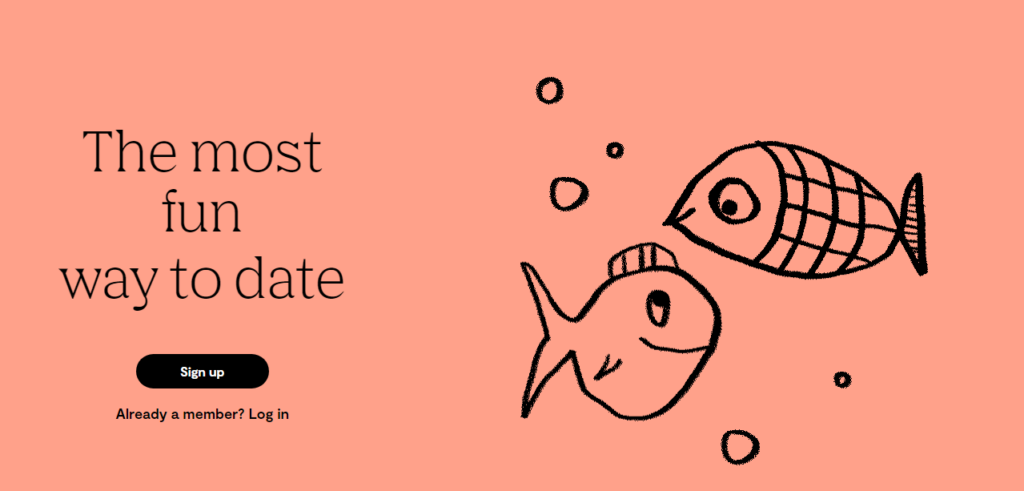 The first step is to click on 'Register,' which will take you to the account creation screen.
From there, all you need to do is input all the details the app tells you to. Everything is pretty standard information.
2. Enter Personal Information
Things like name, date of birth (DoB), ethnicity, vehicle ownership, siblings, and even birth order.
Then you will need to verify your account as well. You can do that by entering your phone number.
3. Upload Pictures
There is also a place to upload your pictures. Make sure you put your best foot forward if you want to get anywhere with the app. Upload recent images with some variety.
The idea here is to show a piece of your personality. Finalize the account creation later on.

Pro Tip: Tinder is great, but you might have better luck getting casual dates on Ashley Madison. Users sign up specifically to have discreet fun with others.
Get started for free and find people like you who are looking for casual relationships here.

The User Interface and Features
Plenty of Fish has many features that make using the app super fun. You can text your matches and more.
All the basic features are here. Here are what the different tabs are:
My Matches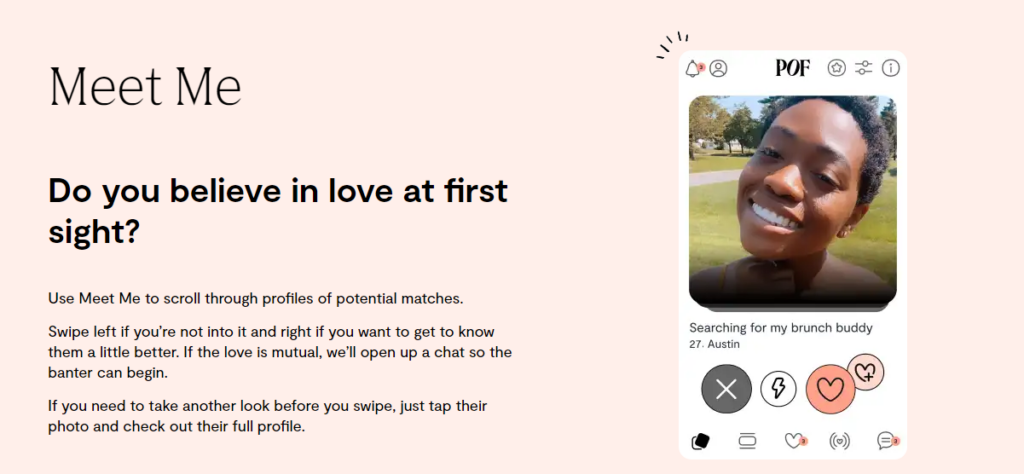 If you are using the desktop version of the app, you can click on 'My Matches' at the top of the screen. You can click on the logo and navigate to the page from there for phone users.
On this page, you can see all the people you matched with.
The matches are dependent on the criteria you set. You can also change your criteria later on. There is an option for Relationship Needs Assessment.
If you have not completed that yet, you will be prompted to do it. I recommend you fill it in as soon as possible.
Inbox
This one is pretty self-explanatory. Inbox is inbox. All the messages you sent to people and the ones you received will be here. The texting features are pretty robust too.
There are options to attach images and send gifts. Mobile users can navigate to the Inbox menu from the center of the screen.
Contacts
Contacts are prospects that you may have already connected with. For phone users, the option comes as 'Will Respond.'
You can navigate here by tapping the fish logo and clicking on this page. That is not all. There are plenty of cool features.
Meet Me
When you match someone and have a good conversation, you might also want to meet up with them. Plenty of Fish makes that pretty easy for you.
You will see a 'Meet Me' section, which will tell you all the profiles near a 50-mile radius that you have matched with. You can choose from different options – Yes, Super Yes, No, and Maybe.
New User
For new users, the app gives you a nifty little tab. And it is named 'New User.' Now, what is this? Well, on this page, you will show at least 20 signups that closely match your criteria.
It has a 50-mile radius, just like the Meet Me tab. It would help if you kept in mind, though, that 'New User' is only available on the desktop version. So, mobile users are out of luck here.
There are other features like 'My City.' This lets you look for users using the app in your city. Mobile users can find it by clicking on the logo and then going to 'Nearby.'
Tips to Increase Your Chances On Plenty of Fish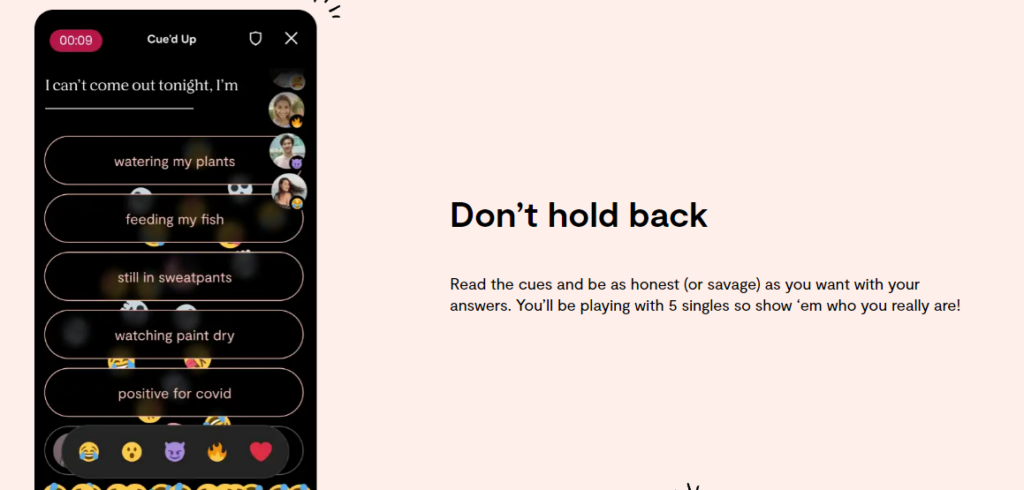 As I said, the app is plenty well designed. The UI is pretty easy to understand and navigate through. All the things you might need are pretty well laid out. Open the app, and you should feel right at home.
However, not everyone will make the app's best use if you are not following some best practices. Things like picking the correct pictures and sending the right kind of messages are important to consider.
Here are some tips and tricks to ensure you do not waste your time on the app.
Stay Positive
Okay, I know this is very general advice. But it is an important one. Your mindset is crucial to make sure you give yourself the best chance. You might not get replies from everyone. And that is fine.
It is not always you; sometimes, it is just them. Keep a positive attitude, and you should be fine.
In the name, there is plenty of fish in the sea. So, if one match does not work out, it is not the end of the world.
Choosing the Right Pictures
Photos are essential when it comes to online dating. All the usual rules apply here. Pick images that are high-quality pictures that are in focus.
You do not want to use blurry pictures. Unfortunately, the app's editing features are not that great.
So, you might want to crop and edit them on a different app. Include two to three full-body photos, and make sure you have a big smile on.
Do not overuse selfies. Some selfies are okay, though. Also, avoid shirtless pictures.
Sending Messages
After you have matched with someone, you want to get a conversation started. That is where the texting features come in. You need to understand that the more people you message, the higher the chances of you getting a reply.
Do not start with a bland message either. Women get messages from guys all the time. And you will not get anywhere with a plain statement. Try to write something clever.
You can start a conversation from something on their profile. It shows that you read their profile.
The Perfect Headline
Headlines are a pretty unique feature Plenty of Fish offers. It can be a great way to get people interested in your profile. A clever and witty headline will increase your chances of people checking your profile out and commenting on it.
Do not write something too generic or negative either. That will put people off and will do more harm than good. It is best to avoid negative headlines.
There are other best practices. But most of them are just things you would want to do in a dating app anyway. Things like asking for a date relatively early are good ones.
Of course, do not ask for a date right after a couple of texts. You would want to talk to them first. But early is better than late.

Pro Tip: If you're sick of finding people who are just looking for one night stands, we recommend trying eHarmony.
It's one of the highest-rated online dating apps in the world. eHarmony users are actually looking for relationships. Give it a try here for free and see if you can tell the difference.

Wrapping Up
This Plenty of Fish dating app guide is meant to get you started with the app. Follow these steps, and you should be setting yourself up for success.
Remember, it is all a numbers game. So, do not get disappointed if you see results right away.
Here are some more articles to help enhance your Plenty Of Fish experience.
Is Plenty of Fish Really Full of Bots?
If you've ever wondered about the prevalence of bots on Plenty of Fish, our article Is Plenty of Fish really full of bots delves into this issue. We examine the presence of automated accounts and chatbots on the platform, providing insights into how to identify and handle potential bot interactions.
Additionally, we offer tips on how to stay vigilant and maintain a safe and genuine dating experience on Plenty of Fish.
Can You Find Out When Someone Joins Plenty of Fish?
For users curious about the ability to determine when someone joins Plenty of Fish, our article on Can you find out when someone joins Plenty of Fish explores the platform's features and privacy settings. Learn about the information that is visible to other users when you create or update your profile.
Additionally, we provide guidance on managing your profile settings and privacy preferences to control what others can see regarding your activity on Plenty of Fish.
These articles offer valuable insights for Plenty of Fish users, helping you navigate potential bot encounters and understand the platform's visibility settings to protect your privacy while dating online.