One issue with Plenty Of Fish is that the longer people use the app, the app may actually be full of bots.
Plenty Of Fish appears to utilize bots similar to how other mobile apps utilize them – to make it appear as if the user is being liked by others.
There are a few reasons why mobile apps use bots, as we've covered here. However, it appears that Plenty Of Fish uses them in a different way.
Discover the world of Plenty Of Fish: Dive into the world of Plenty Of Fish with The Complete Guide To Plenty Of Fish, your ultimate resource for understanding the app's features and success strategies in online dating.
Bots On Plenty Of Fish
Every mobile dating app needs to make money. It's essentially what keeps the business afloat. To make money, Plenty Of Fish will entice you with hidden features and lure you into buying their paid plan.
To fully understand if Plenty Of fish has any bots on their platform, we tested each of their features to see where the bots could communicate with you.
Here is a picture of Plenty Of Fish's home screen.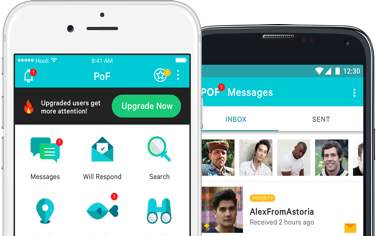 Messages
In our experience, messages from bots are self-explanatory. Their profiles are typically scrambled letters, followed by 2 pictures and a bio that doesn't make any sense.
The pictures are usually selfies that don't match up or are obviously not anyone living in your area.
We don't believe Plenty Of Fish is inserting bots into the messages tab, as this could be someone trying to spam out the platform. These bots are easily identifiable, and they should be deleted immediately.
Will Respond
The "will respond" tab is exciting. It's one of the unique features we've seen on a dating app.
This tab means the person is more than likely to respond to your messages if you send them. The Plenty Of Fish algorithm has identified people with a high response rate and puts them in this category to help with engagement on the platform.
We're almost certain there are no bots in this feature. There can't be. Having a bot in a "will respond" tab doesn't make sense for the platform or the user. If you're looking for bots in this tab, there's a good chance it's cleared free.
Search
Search is a feature that is again unlike other mobile apps. Users can filter out every little detail about their possible match.
This feature is handy if you live in a city or a high-density area. We've used this feature in the suburbs, and the location feature didn't work. It just kept showing the same people over and over again.
Due to all the characteristics that can be customized, it's tough to spam out this section with bots. If you don't edit any of the filters, there's a good chance you may find a bot in there.
Nearby
Another great feature by Plenty Of Fish. Nearby allows people to see others who live close to them; that way, they don't have to guess if their match is close.
We recommend using nearby to narrow profiles down to who could live close to you. Again, it's tough to spam or "bot" this section, as it pulls real GPS results and matches you with nearby users.
We're safe in saying that the nearby feature shouldn't have bots fed into it. This measures the user proximity and groups everyone that's near you.
My Matches, Viewed Me & Meet Me
My matches are a curated tab that allows you to view all the people who would be a good match for you. When you first download the mobile app, the algorithm will take all the people it thinks you'd be compatible with and put them in this tab.
We're not sure exactly what formula makes Plenty Of Fish think these people are compatible with you. However, there are a bunch of random profiles thrown in here.
Due to the randomness of profiles in a list, this is a great place for a bot breeding ground.
Viewed Me is another tab where users can see who viewed their profile. This is another spot where bots can "view" your profile which may seem like you're getting more views than you're typically getting.

Pro Tip: If you're sick of finding people who are just looking for one-night stands, we recommend trying eHarmony.
It's one of the highest-rated online dating apps in the world. eHarmony users are actually looking for relationships. Give it a try here for free and see if you can tell the difference.

Meet Me is where you'll find the most bots, which is the best place to position bots from a business standpoint.
Likes are often highlighted by a number above the "liked me" tab. Now, this number can be inflated to make it seem like the number is high. This is where we've seen the most bots, as this number climbs every single day.
This also entices the user to want to spend money on paid services. To date, this is the pricing plan that Plenty Of Fish pushes to get you to purchase.
As you can see, the plans will help you unlock all of the features behind the paywall. For $13 a month, they are pushing you to purchase these features for the long haul.
Opposite of what Hinge preaches about being the app that it wants you to delete, Plenty Of Fish wants you to commit for the long haul, 12 months in particular.
Again, when looking at these numbers, think of how the business makes money. It wants you to be a recurring customer. It wants you to pay and forget about your subscription. If you have a good experience, you'll then renew it.
Plenty Of Fish Bots Recap
Find hookups & casual dating instantly
Match with others who want no strings attached
Stay private & anonymous
Find quality singles looking for a long term relationship
Best for ages 21-45
Free compatibility test to find your perfect match
Like other dating apps, Plenty Of Fish has bots from people trying to spam the site and help entice its users to purchase the subscription plan. These mobile dating apps have been cracking down on the bots trying to spam the site, but it's no secret that these sites have fake profiles.
If you liked this blog, learn more about Plenty Of Fish in these articles: