Whether you're new to the dating scene or have been a part of it for years, you have probably heard of Dating.com. This popular dating site has been around for almost 30 years. It was launched in 1993 and is available in over 32 countries.
Canceling and deleting your dating.com subscription is not a difficult process, and can be done from your account settings. However, canceling your membership may require reaching out to customer service, depending on the payment method used.
Along with canceling and deleting your account, you may also want to delete all the personal data that Dating.com has collected. This will require a bit more than just pressing a button. 
Learn all about Dating.com: Explore our comprehensive guide, The Complete Guide To Dating.com, where you'll find everything you need to know about using the platform effectively for online dating.
What Is Dating.com?
Dating.com is a relatively popular dating website that has over 1 million users and offers some of the most up-to-date features that singles are looking for in a dating app. These include broadcasts, which are essentially chat rooms where users can stream themselves, video chats, and international dating.
One thing that makes Dating.com stand out from other dating apps is that it operates on a token-based system. This means that you spend a token for an action, which gives you the ability to decide for yourself what you want to spend your tokens on.
For example, if you want to video chat, you will have to use a certain amount of your tokens in order to perform this action.
Dating.com doesn't actually offer a free version, but you can become a free member if your account qualifies for the honor. This requires providing quality content and being active on the platform. When you initially sign up for a Dating.com account, however, you are typically given a few free tokens.
This gives you the chance to try the site/app out before committing to one of their membership tiers.
How Do I Delete My Dating.com Account?
To delete your Dating.com account follow these steps:
Log into your account
Select Menu
Select Settings
On the settings page, you will see "Manage Account".
Select the delete option at the bottom of the page
Keep in mind, however, that once your account has been deleted, you won't be able to recover it. This means your profile, messages, and settings will all be gone. If you want to sign back up for a Dating.com account, you will need to fill out the information all over again.

How Do I Delete Photos And Videos From My Dating.com Account?
If you simply want to get rid of the photos and videos from your Dating.com account, you can do so without deleting your entire profile. First, log into your Dating.com account either via the website or the app. Click on Menu > Profile.
On each photo or video, there is a small gray cross located in the top right corner. Click on this cross to delete the photos and videos you want to remove from your profile.
Remember, however, that once they are deleted they cannot be restored and you will need to upload them again if you want the photo or video to appear back on your profile.
How Do I Cancel a Dating.com Membership?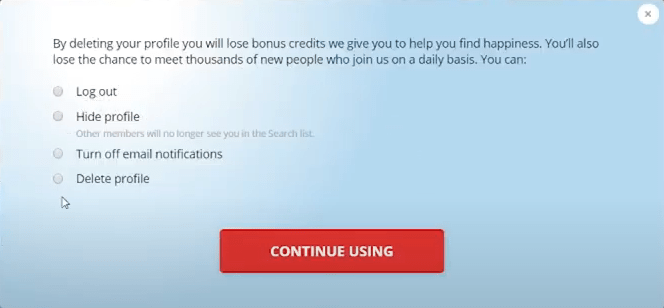 Dating.com has different levels of membership which you can select during the initial sign-up process. Most users sign up for membership through Google Play, Samsung Pay, or iTunes. To cancel the membership, you will need to cancel it through the application that was selected at the time of signing up.
If, however, you paid with your credit card, contact Dating.com customer service before the end of your current billing cycle. For example, if your membership renews on August 3rd, contact customer service before this date to cancel your membership, which will also stop the auto-renewal.
Another thing to consider is that you won't be refunded for unused tokens, nor are you refunded for unused time. For example, if you cancel halfway through your membership, your account will remain active until that time instead of canceling the membership right then and receiving a refund.

Pro Tip: If you're sick of finding people who are just looking for one night stands, we recommend trying eHarmony.
It's one of the highest-rated online dating apps in the world. eHarmony users are actually looking for relationships. Give it a try here for free and see if you can tell the difference.

How Do I Unsubscribe From Dating.com?
Unsubscribing from Dating.com is a relatively simple process that takes only a few moments. You will, however, need to sign in to your Dating.com account and then click on the Settings tab. Locate the "Email Notification Settings" and then click "Here".
The page will refresh and bring you to the email notification options. Select how you want to receive notifications and then select "Confirm" to confirm the action.
Another way to unsubscribe from Dating.com is to click on the unsubscribe link located at the bottom of every Dating.com email. You can resubscribe at any time by logging back into your account and adjusting the email notification settings.
How Can I Cancel The Dating.com SMS Service?
One of the features that Dating.com offers is SMS messages for alerts, updates, special offers, promotions, marketing offers, and information.
You can, however, cancel this service at any time by simply replying "STOP" to the SMS message you received.
After sending the word "STOP", you will receive one more SMS message confirming that you have been unsubscribed from the SMS service. No more SMS messages will be sent unless you resubscribe to the service.
How Do I Delete My Personal Data From Dating.com?
According to Dating.com policy, even after deleting your account, you will need to send a request to their Support Team to delete the personal data that the website/company collected during your time using their website and application.
Keep in mind, however, that even after you have requested your personal data be deleted from Dating.com, they may still keep your email in their database.
This is to avoid duplicate accounts, as well as for identification purposes. However, the email won't be forwarded to third parties or Dating.com partners, nor will it be used for marketing purposes.
If you liked this blog, learn more about Dating.com in these articles: