Online dating has become the norm for both millennials and anyone that has access to a smartphone. The ease of searching for love has migrated simply to your right or left pocket.
The days of getting worked up to meet a stranger on a blind date at a random bar have soon become extinct.
The rise in online dating over the years allows people seeking love to find out everything they need to know about a person before they actually commit to a date.
Some refuse to get on dating apps and always wonder, are dating apps worth it? Are they worth the time and energy of consistent conversations and swiping?
We break down the 5 reasons you should get an online date and why it's worth investing the time.
Find hookups instantly
Match with others who want no strings attached
Stay private & anonymous
Find quality singles looking for a relationship
Best for ages 21-45
eHarmony's compatibility test helps to scientifically find the best match
Why You Should Online Date
Although most recent online dating, there are some positives to putting yourself out there in the digital dating scene. Sure there are some negatives to online datings, but the positives outweigh the negatives by a long shot.
Here's why we believe you should start online dating as soon as possible, especially if you're ready to settle into a relationship.
Easier To Meet People
We live in a busy world. Whether it be between jobs, friends, or even spending time with your kids, it's almost impossible to find time in a day to go out and meet people actively.
Online dating has made it easier to meet people, as they are at the mercy of your thumb. Simply swiping left and right to sift through hundreds of profiles allows you to weed out any matches you want to have no contact with.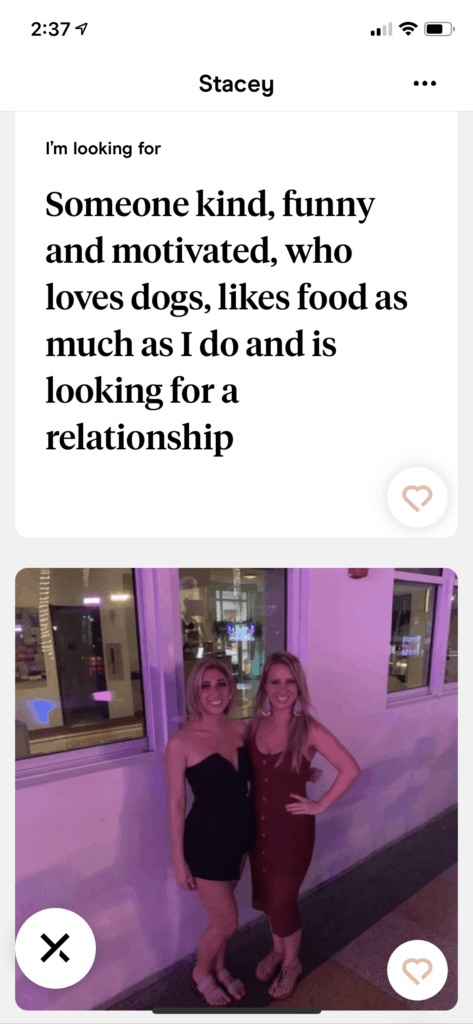 Not only are you able to go through 100+ profiles in one sitting, but you're also able to talk to multiple partners at once. Compare this to an average Friday night, and you may talk to one guy/girl all night, and they might forget about you hours after the bar closes.
Once you have found the guy or girl you're looking for, it makes it much easier to set your sights on that one person and set up a date. This way, you know where they're from, their social media profiles, and even their hobbies before you actually meet.
The ease of meeting people is the best upside to online dating apps.
Can See Likes/Interests Before Committing
Love football? Hate pineapple on pizza? These are all topics that can be talked about before actually meeting the person.
Oftentimes, apps like Bumble and Hinge will have questions the other person answers, which can tell a lot about their personality. If you went on a blind date, it would sometimes take hours to find and extract this information from the other person.
Within seconds this information is available to you for you to decide on. Another widely discussed topic is alcohol, drug, and marijuana use. If you prefer the other person not to smoke, this is often highlighted in the profile, so you don't have to waste time learning on the first or second date they smoke.
Another profile highlight is religion. Catholic, Jewish, or even Atheist are common religious beliefs when searching dating profiles. If religion is important to you, it's important to have someone deeply rooted in their faith.
One of the perks of online dating is understanding the person's likes, interests, and personal beliefs before actually committing to an in-person date.
Access To A Wide Range Of People
Do you like to date older or younger? How about the same age?
This is another perk to using online dating apps is access to a wide range of people. Typically online dating apps have a sliding scale where you can determine both their age and the matches that are a certain amount of distance away.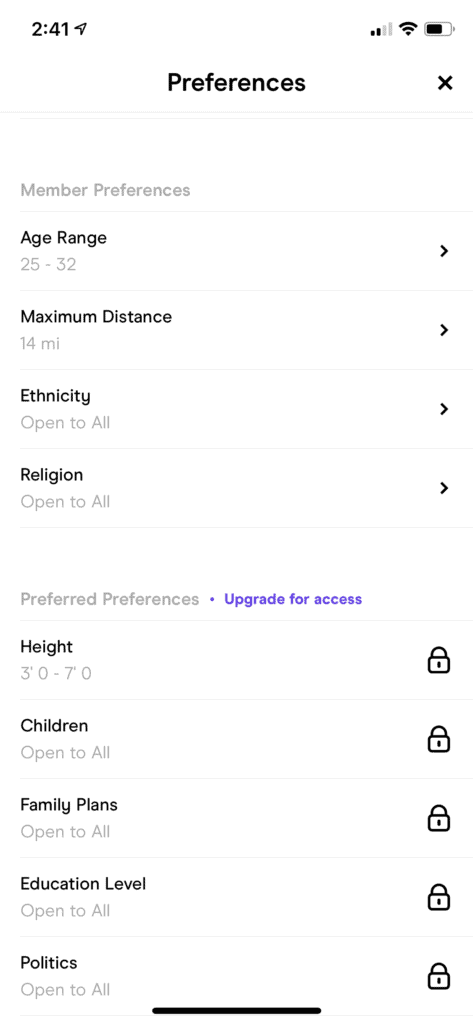 The sliding scale for age can be set anyways you'd like. You have complete control of what ages show up on your profile and can adjust accordingly as you get older.
If you set the sliding scale for distance, only people in that radius will appear on your radar. This is important because if you live in a busy city like New York, you don't want to drive or commute 30 minutes to meet someone. It's much easier to walk 5 minutes down the road for a quick drink and bite to eat.
Find hookups instantly
Match with others who want no strings attached
Stay private & anonymous
Find quality singles looking for a relationship
Best for ages 21-45
eHarmony's compatibility test helps to scientifically find the best match
Create Your Perfect Match
We all have our preferences for what our perfect guy/girl would look like. Having a tall, handsome guy with blue eyes might be your dream scenario if you're a girl. On the flip side, if you're a guy, maybe you want a girl who's 5'5, has green eyes and is athletic. Whatever you're scenario may be, online dating apps help you filter your perfect match.
Apps like match.com, Hinge & Bumble allow users to filter out specifics such as height, body type, eye color, hair color, and more! While judging people simply on looks might seem superficial, being physically attracted to someone helps make the relationship last longer.
Using the filters, create your perfect filter for your dream match and narrow down the choices.
Save Time Effort & Money
Last, save yourself time, effort, and money. Time is one of the most important factors in online dating. No one wants to feel like they've lost time because you can't get it back.
Online dating can help you sort out all of the losers and bad matches, so you don't have to waste time going on dates with them. Simply talking to someone digitally for 2-3 weeks before agreeing to meet with them can tell you a lot about a person.
If you're a guy, the last thing you want is to spend $100 on a meal and drinks only to find out that you're not attracted to the girl. Save your wallet and your time by getting to know her beforehand.
Having these conversations early on can help decide whether to move forward on a date and actually put in the effort.
Find Exactly What You're Looking For
Stop wasting time on dating apps hoping to find the right person. Ashley Madison & eHarmony have exactly what you need.
Find The Person That Wants What You Want
Instantly Improve Your Dating Experience
Get More Matches & Quality Conversation To Get What You Ultimately Want
Conclusion
We believe that dating apps are worth the time and energy. If you're serious about dating, sign up for a dating app and increase your chances of meeting someone. The more you put yourself out there, the better chance you have of meeting your special someone.
What's the reason you're not joining dating apps? Let us know in the comment section below; we'd love to hear why you think online dating is or isn't worth it.