Tinder Platinum is a new feature that has been introduced to Tinder's paying customers. This feature will typically appear when a user buys Tinder Gold or uses any of Tinder's premium services.
What Is Tinder Platinum? Tinder Platinum allows you to send a message with every super like you send, prioritized likes, and all of the features within Tinder Gold. Tinder Platinum currently costs $39.99 a month.
In this article, we will break down Tinder Platinum and all the features you get with the monthly subscription.
Learn more about Tinder: Learn more about Tinder and its features by reading The Complete Guide To Tinder, where you'll find valuable insights and expert recommendations.
What Is Tinder Platinum?
Tinder Platinum is a "first-class dating experience," as Tinder markets it. This exclusive feature is shown to Tinder Gold users, who can upgrade their membership for a few new features.
For an extra $10 a month, users can get new features that allow them to enhance their Tinder experience.
This is Tinder's way to upsell you for $10 more dollars a month after you've already purchased Tinder Gold.
The extra features that you get with Tinder Platinum may be beneficial to you, as they will help you get in front of more people and help you stand out when you send a super like.
Tinder Platinum Features
Let's learn more about these features.
Send A Message With Super Likes
If you're familiar with the dating app Hinge, this is a close copycat of how their mobile dating app works. When you send a super like, you can also include a message in your super like. This means that you will stand out to the user, as they will see a personalized message along with your blue star.
Users can type whatever they want to stand out to other users. Again, this feature is only available for those who subscribe to Tinder Platinum.

Pro Tip: Tinder is great, but you might have better luck getting casual dates on Ashley Madison. Users sign up specifically to have discreet fun with others.
Get started for free and find people like you looking for casual relationships here.

Prioritized Likes
Typically, if you like someone on Tinder, your profile will be mixed in with all of the other profiles that also like that profile.
Tinder Platinum, however, allows you to stand out of the crowd with every like and super like that you send. Users will be first in line to appear when the person uses the app.
This is important because popular users on Tinder often feel exhausted going through multiple profiles.
If your profile is at the top of the stack, users are more likely to swipe right on your profile as they won't feel that mental exhaustion from swiping. These prioritized likes can help you stand out to users and be at the forefront of their Tinder swiping.
See our complete User Guide to help you get the most out of Tinder here
Tinder Platinum Vs. Tinder Gold
Think of Tinder Platinum as an add-on to Tinder Gold rather than an additional subscription service. All of the features that you purchased with Tinder Gold will still be available. This includes
Unlimited likes
Super Likes
Tinder Global
Hide Your Age & Location
Hide Ads
Passport To Any Location
Top Picks
1 Free Boost a Month
Why Get Tinder Platinum?
In the chart below, you can see exactly all of the features that come with Tinder Plus, Tinder Gold, and was well as Tinder Platinum.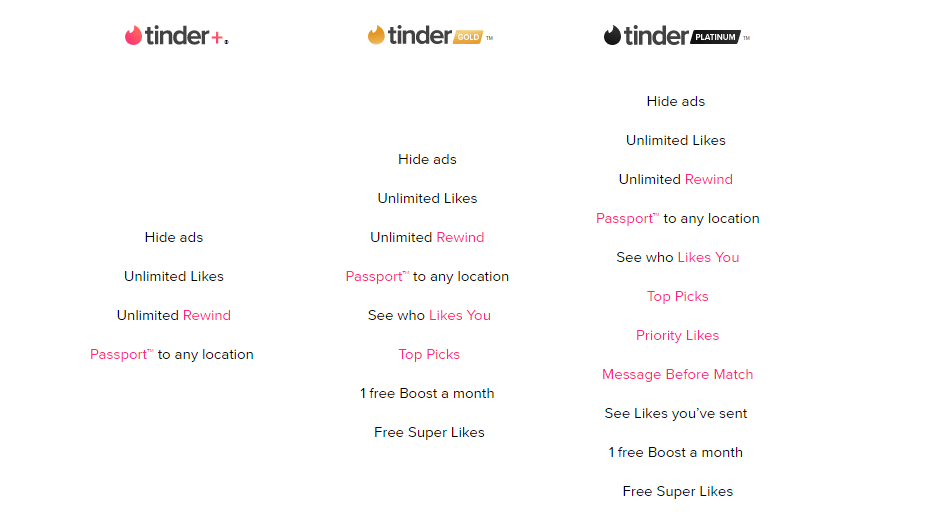 As you can see, Tinder Platinum has far more features than the two previous subscriptions. If you have the money to spend on Tinder Platinum, we recommend you do it. While it can be pricey, if you're truly looking for a top-of-the-line Tinder experience, this is the best way to do it.
While Tinder Gold is still a great option for those wanting to increase their Tinder experience, Tinder Platinum can make it that much better.
We recommend you try Tinder Platinum for at least one month and see if it's something you like. If not, cancel after one month and go back to Tinder Gold.

Pro Tip: If you're sick of finding people who are just looking for one-night stands, we recommend trying eHarmony.
It's one of the highest-rated online dating apps in the world. eHarmony users are actually looking for relationships. Give it a try here for free and see if you can tell the difference.

Conclusion
Find hookups & casual dating instantly
Match with others who want no strings attached
Stay private & anonymous
Find quality singles looking for a long term relationship
Best for ages 21-45
Free compatibility test to find your perfect match
Tinder Platinum is a step above Tinder Gold. It has new features that allow you to enhance your Tinder experience.
These features include sending a message when you send a super like being a priority profile when you super like someone, and retaining all of the features that are already on Tinder Gold.
These features not only allow you to improve your Tinder experience and help with getting matches, but you'll also be able to get off on the right foot with a good first impression. Sending a nice, sweet message to the other person will allow them to see what's behind your profile without having to swipe right or left. We recommend giving compliments or sending something that will make the user smile if you send a super-like message.
Tinder Platinum is the ultimate Tinder experience.
If you liked this blog, learn more about Tinder in these articles: