Hinge dating app is a mobile dating app that is designed to be deleted. Its marketing campaign attracts single users to the platform who are serious about dating.
Hinge asks users for their email to send notifications of likes, messages, matches, important updates, and promotional material.
In this article, we're going to show you why Hinge needs your email and ways you can change your email.
Get ahead in the world of Hinge: Get ahead in the world of Hinge with The Complete Guide To Hinge, where you'll find tips, tricks, and expert advice to stand out and succeed on the app.
Find hookups & casual dating instantly
Match with others who want no strings attached
Stay private & anonymous
Find quality singles looking for a long term relationship
Best for ages 21-45
Free compatibility test to find your perfect match
Email On Hinge
As with other mobile dating apps, they will ask for your information to log in and out successfully. This information is typically your email and a password. Users who don't feel comfortable signing in with Apple or Facebook will often sign in with their email.
Hinge is a little bit different than other mobile dating apps. Apps like Tinder require users to use email to verify their identity. Hinge doesn't require an email to log into an account.
Rather than require an email for the user, they will be required to enter their phone number. If the user doesn't want to log in with Apple or Facebook, they will be required to use their phone number.
While this may seem out of the ordinary, it's actually very beneficial for Hinge. Forcing users to input their phone number means they have a valid phone. This reduces the number of bots and spam accounts that will live on the platform.
Other apps use email, which users can easily fake an email address to get an account.
Why Does Hinge Need My Email?
Hinge needs your email for promotional material, deals, as well as updates to their mobile app. If they need to contact you to announce they have changed their privacy policy or terms and conditions, this is how they would contact you.
Because Hinge uses your phone number to log in, they have no way to contact you directly. Sending text messages will ruin the user's experience, as almost nobody wants to get a text from Hinge.
Instead, they will send these messages directly to your inbox, where users can decide to read them or delete them.
Hinge doesn't send emails often; instead, they are very strategic the amount of times they send out emails. Users can feel safe entering their email, knowing they're not going to get spammed by the service.
For example, Hinge partnered with Headspace for world mental health day. During this promotion, they created a meditation space to relax while you're using the Hinge mobile dating app.
These are the types of emails you can expect to receive from Hinge.
Changing Your Email On Hinge
If you're looking to change your email on Hinge, it's straightforward to do. Users must first log in to their account. We recommend logging in and registering with Hinge via phone number. Using a phone number will not only allow you to log in and log out easily but your account will always be directly linked to your phone number.
Once you've logged in, click on the person icon located in the bottom right of the taskbar.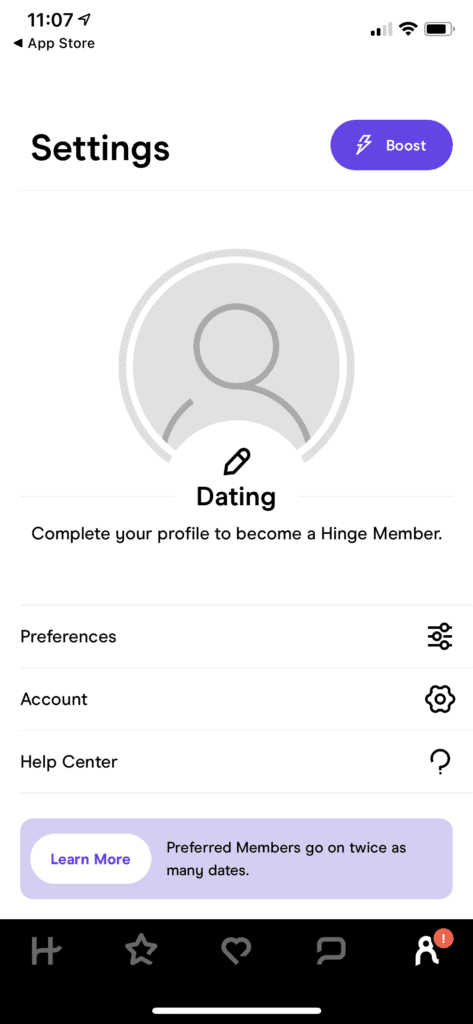 From here, click on the account tab that has the gear icon located next to it.
In the center of the screen, you will see a phone and email field. Unfortunately, you're not able to change the phone field. This is a field that can not be changed.
The email field can be changed to whatever you would like it to be. If you're upset with the emails that Hinge is sending you, change the email address to another field. This is completely customizable and isn't dependent on your login.
Change Email Notifications On Hinge
Hinge has allowed you to completely customize what email notifications you receive and don't receive.
To change the email notifications on Hinge, navigate to the account tab. Scroll down to the notification category, and there will be 2 options: push notifications and email.
Push notifications allow you to change the notifications that are sent directly to your phone.
Within the email tab, users can change exactly what types of emails are sent to their inbox. These features include:
New Likes – Any new like that is sent to your page will be sent to your email
New Matches – Any new matches that are made, you are notified via email
New Messages – New messages from users will send you a notification in your email inbox
Promotions – Any partnership news or discounts
Announcements – Major announcements such as policy changes or any new features are part of the announcements feature
Hinge also has an option to make sure no emails are sent to your inbox. To do this, uncheck the "all emails" button at the top of the screen. This will allow you to shut off emails and receive no notifications completely.

Pro Tip: If you're sick of finding people who are just looking for one night stands, we recommend trying eHarmony.
It's one of the highest-rated online dating apps in the world. eHarmony users are actually looking for relationships. Give it a try here for free and see if you can tell the difference.

Conclusion
Hinge needs your email to send important updates as well as promotional material directly to you.
It's important to note that Hinge doesn't spam emails and will only send emails based on your selected customized preferences. If you decide that you want to receive no Hinge emails, turn off all of the emails.
Hinge allows each user to customize their email preferences to their liking to ensure the user has the best experience possible while using their mobile dating app.
Enter the email of your choice, and feel free to change it at any time.
If you liked this blog, learn more about Hinge in these articles: