Hinge is a mobile dating app that allows users to add pictures to their profiles and showcase their Instagram for more pictures. Like most dating apps, there are often issues that occur during this process. How do you fix Hinge not uploading pictures?
To fix Hinge not uploading pictures or connecting to Instagram, make sure your phone's permissions are set to allow the uploading of pictures. Allow Hinge access to both your photo album and Instagram.
In this article, we're going to show you step-by-step how to update pictures and connect to Instagram properly.
Get the full Hinge scoop: Delve into the world of Hinge with The Complete Guide To Hinge, your comprehensive resource for making the most of the app's features and functionality designed for serious daters.
Find hookups & casual dating instantly
Match with others who want no strings attached
Stay private & anonymous
Find quality singles looking for a long term relationship
Best for ages 21-45
Free compatibility test to find your perfect match
Uploading Pictures From Your Camera Roll To Hinge
Hinge has three ways to enter your photos onto their platform—the first one is from a camera roll. If you look at the picture below, it is the middle option on the list.
When these three items appear, your camera roll is essentially the pictures you already have saved to your phone. When you hit the button, a notification will appear that looks like this.
If you deny access and don't allow Hinge to access your pictures, you will not upload any pictures.
You'll need to allow Hinge access to upload them properly to the platform.
If you deny Hinge access to your pictures by accident or do not realize it, these are the steps you'll have to take to fix the issue.
First, you'll need to go into your settings and find the Hinge permissions. Here is what it looks like on the iPhone.
Click on the photos icon, which will prompt this screen with the following permissions.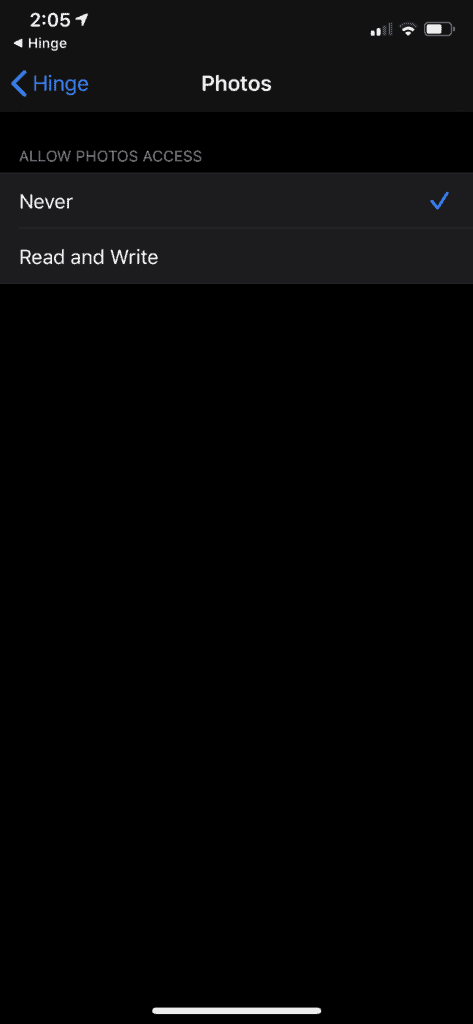 Change the settings so that Hinge has read and write access. Again, this is the only way to upload pictures from your camera roll on Hinge by allowing Hinge to have access to it.
Once they allow access to the camera roll, users will be presented with a screen during the onboarding process to enter pictures. Hinge caps the number of pictures you can add to your profile at six pictures.
To add a picture to Hinge, you'll need to click the + icon on the rectangle box. Select the picture, and it will be updated to your profile.

Pro Tip: Tinder is great, but you might have better luck getting casual dates on Ashley Madison. Users sign up specifically to have discreet fun with others.
Get started for free and find people like you who are looking for casual relationships here.

Uploading Pictures Through Instagram And Facebook
Using a social media platform like Instagram or Facebook can help enhance your dating profile.
Click on the Facebook or Instagram icon to be redirected to that platform. You'll need to log in and access Hinge to use the pictures.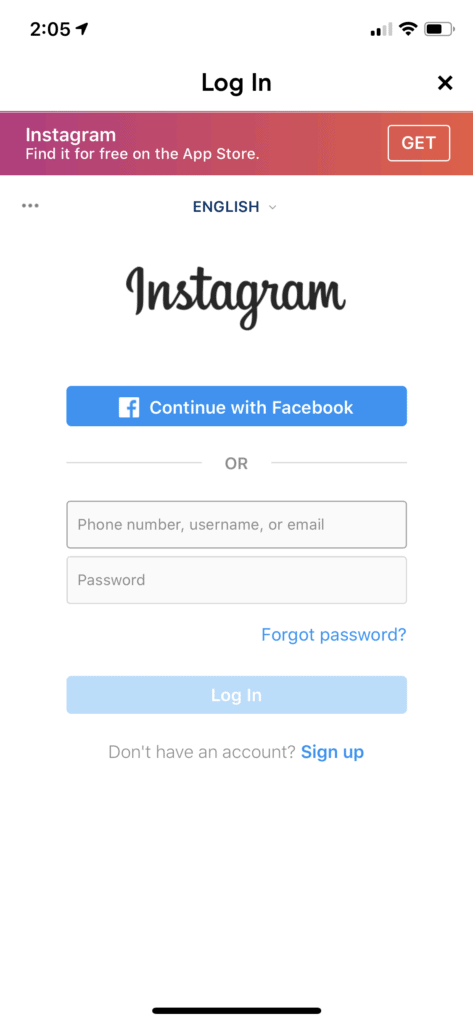 For example, Instagram will populate this screen which then you should enter in your information to link Instagram to Hinge directly.
If this isn't working for you, there's a good chance you have the permissions blocked on Instagram or Facebook.
You'll need to go into those apps, respectively, and see if you have any settings blocked about 3rd party apps having access.
Connecting to Instagram or Facebook is all about permissions. Due to security and privacy reasons, these apps need your permission to get certain photos. If you deny any permissions, you will not access any pictures on your favorite social platform for Hinge.
Have The Required Number Of Pictures
Unlike other mobile dating apps that allow you to have 1-9 different combinations of pictures, Hinge requires you to have six pictures.
This is not something the user can decide; users must have at least six pictures to use their platform. Hinge believes this is the optimal amount of pictures needed for other users to have a good experience on your profile page.
If there are fewer pictures, they may feel like they do not have a good experience. Hinge requires six pictures and even lets users use GIFS & videos in the place of a picture.

Pro Tip: If you're sick of finding people who are just looking for one night stands, we recommend trying eHarmony.
It's one of the highest-rated online dating apps in the world. eHarmony users are actually looking for relationships. Give it a try here for free and see if you can tell the difference.

Conclusion
Permissions allow you to update pictures from your camera roll and social media platforms like Instagram & Facebook.
Check your permissions on your phone and make sure Hinge has read and write access on your camera roll to update pictures.
Whenever the pictures don't have read or write access, Hinge will deny the pictures from being uploaded.
This is the same for social media platforms, as Hinge needs permission to take pictures off of those platforms and post them successfully on to Hinge.
If you liked this blog, learn more about Hinge in these articles: