Hinge is a new dating app that is helping single users all over the world match digitally. Hinge is different from other mobile dating apps, as it uses a unique way to match other users. How do you match on Hinge?
To match on the Hinge dating app, press the heart button on the picture or on the bottom right of the question prompts. This will send a notification to the user, who will then like or decline your profile.
In this article, we're going to show you exactly how to match on Hinge and how to get matches on Hinge.
Discover the Hinge Advantage: Discover the advantages of Hinge with The Complete Guide To Hinge, your ultimate resource for understanding why it's the preferred app for meaningful connections.
Matching On Hinge
Hinge is becoming one of the most popular dating apps on the market right now. Its unique design and "design to be deleted" marking campaign has attracted singles from all over the world.
Hinge works similarly to other dating apps, such as being presented with profiles that the user can either like or dislike.
The major difference with Hinge is how users can match with other users.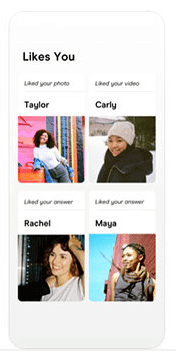 Instead of swiping left or right with their thumb, users must hit the heart and x buttons to like or dislike profiles.
This shift in design slows down the users from speed swiping and actually requires them to look into the profile.
Users are also allowed roughly 10 likes a day, which makes them look into each profile to ensure that they want to use their likes on it. This process has slowed down online dating on Hinge.
To like a profile on Hinge, the user must click the heart on the pictures or the question prompts.
Liking Pictures
Liking pictures on Hinge requires the user to hit the heart icon in the bottom right corner of the picture.
You're able to select any picture that is displayed and click the heart to send the notification to the user that you like that profile picture.
Hinge has also added captions to each picture. If you tap on the picture itself, it's common for the user to have a caption about the picture. This could include when the picture was taken or the reason behind the picture. This is a unique feature that helps add depth to each picture.
Matching with other users on Hinge requires you to tap the heart button on the picture, and then send the like. Once you've done this, a notification will be sent to the user.
Liking Question Prompts
Hinge is unique because it has question prompts for the user. Other dating apps like Bumble have since adopted this feature, as it's so effective.
Question prompts are predefined questions that the user can answer to show a bit more about your personality.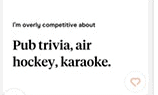 Hinge has a range of 20+ questions that a user can answer about themselves. These questions range from your favorite meals to your favorite hobby.
There is also a heart icon next to these question prompts, as Hinge allows you to match with other users based on their answers.
For instance, if the profile answers a question about loving dogs, and you love dogs, we recommend you heart that comment and send them a like.
Matching with question prompts is just as common as matching with pictures.
Liking Instagram Pictures
Another feature Hinge allows the user to take pictures via Instagram. It's common to have users who have synced their Instagram profiles.
Only 3 pages of Instagram photos are shown. The user can see more about your physical appearance by using Instagram.
Once the user clicks on your Instagram pictures, they'll be able to click on a heart icon as they would your profile pictures. This allows them to send you a like via those pictures as well.

Pro Tip: If you're sick of finding people who are just looking for one-night stands, we recommend trying eHarmony.
It's one of the highest-rated online dating apps in the world. eHarmony users are actually looking for relationships. Give it a try here for free and see if you can tell the difference.

Match Notification Screen
Another unique feature of Hinge is the match notification screen.
When you send a like to another user (through pictures, question prompts, or even Instagram), you'll be shown this screen here.
From here, you're able to add a message to the user and send them the like of the picture or question answer.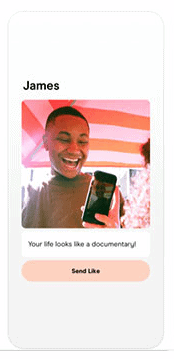 This is extremely valuable, as it allows you to introduce yourself properly or make a comment from the start.
Too often, people are judged solely on their looks on dating apps, and personality doesn't come into play. Hinge allows users to send a message once the heart is tapped on.
This message can be anything you want it to be. We recommend you keep it short and to the point and include some emojis.
We detail how you should approach the first message here in our dating app eBook.
Getting Matches On Hinge Consistently
To get matches on Hinge consistently, we recommend optimizing your profile. We've created an eBook here to help you optimize your profile to the fullest.
If your profile is empty or isn't filled out completely, users will often pass your profile and go to the next.
Properly placing your profile pictures in the right order can also help you attract more users to look deeper into your profile.
Answer all the question props to the fullest and use emojis in your answers; it will help you stand out from other users.
Conclusion
Hinge's matching system is completely different from other dating apps like Tinder or Bumble. Hinge uses a tap system as opposed to swiping mechanics.
Hinge allows users to like pictures, question prompts, and Instagram photos.
Find hookups & casual dating instantly
Match with others who want no strings attached
Stay private & anonymous
Find quality singles looking for a long term relationship
Best for ages 21-45
Free compatibility test to find your perfect match
Once the user clicks on the heart icon to like one of the three, they are presented with a match notification screen to send their match officially. On this screen, you'll also see a dialogue box where you'll be able to send a personalized message.
Use these personalized messages to get ahead of other guys/girls who are pursuing the same person. Remember, you're competing against other profiles to win their attention. Use all the features you can to stand out and match on Hinge.
Take advantage of the personalization Hinge provides to improve your chances of matching.
If you liked this blog, learn more about Hinge in these articles: