The dating app Hinge has recently introduced a new feature, which allows users to send roses to another user. This feature draws many similarities from rival dating apps.
Sending roses to another user allows your profile to appear first in their match queue. This is a way to stand out from other users and draw the attention of the person you're trying to match with.
In this article, we will break down the new Send a Rose feature and how you can best utilize it to get more matches.
Learn all about Hinge: Explore our comprehensive guide, The Complete Guide To Hinge, where you'll find everything you need to know about using the app effectively to build meaningful relationships.
Find hookups & casual dating instantly
Match with others who want no strings attached
Stay private & anonymous
Find quality singles looking for a long term relationship
Best for ages 21-45
Free compatibility test to find your perfect match
Send A Rose On Hinge
Recently, Hinge has added a new button next to the Send like button that normally appears when you're ready to send something similar to another user.
To start, you'll have one rose that's in reserve. That is placed directly next to the send button.
Sending a Rose was created by Hinge to help with making money on their app. Similar to how "super likes" work on Tinder, the user can give extra attention to a user by sending them a rose.
When a rose is sent, it will alert the user immediately that you're interested in it, skipping ahead of all of the other matches. Hinge is using this rose feature to help users cut through all of the noise on Hinge and stand out.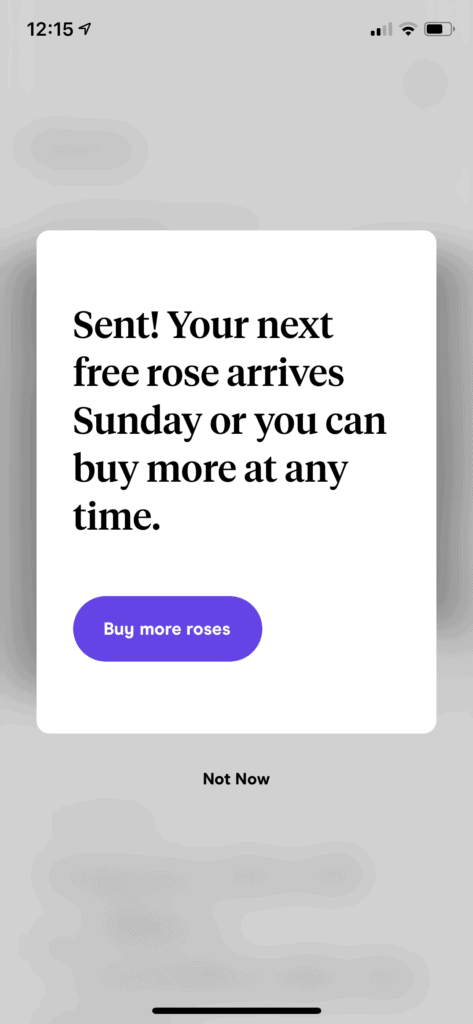 Roses are not free. The rose count resets every Sunday, which refills to one. This means that the Hinge user is only allowed to send one rose a week. Similar to the super like on Tinder, this will reset once a week for the user's profile.
If the user wants to get more roses, they will have to spend money to obtain more roses.
Roses are not cheap. If you get impatient and want to send more roses to more users, you'll have to pay the price.
Here is the price range for the number of roses that you want to buy.
1 Rose – $0.99
6 Roses – $4.99
12 Roses – $7.99
As mentioned, the user will get one rose that resets every Sunday. If you have the flexibility to buy roses, they are a great way to stand out in the person's profile you're trying to match.
Remember, roses don't guarantee matches. We recommend you spend time on your pictures and answers before actually spending money on roses.
If you don't look good in your pictures, or your answers are typically not well received, sending a rose will not help you. Maximize the potential of your profile first before purchasing a rose. Our best recommendation is to make sure that when you send a rose, it is met with proper consideration.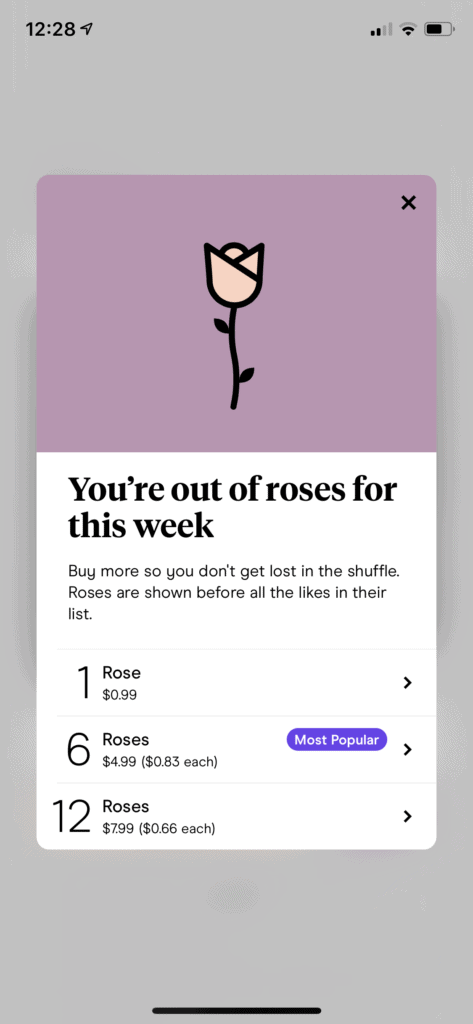 Buying unlimited roses isn't an option, so you must use your roses wisely when distributing them to users.
The digital rose on Hinge reset weekly, which, if you're impatient and you start to become addicted to the rose sending process, can cost a pretty penny. Save your roses for people you're extremely attracted to physically and mentally (from their answers) when viewing their profile.

Pro Tip: If you're sick of finding people who are just looking for one night stands, we recommend trying eHarmony.
It's one of the highest-rated online dating apps in the world. eHarmony users are actually looking for relationships. Give it a try here for free and see if you can tell the difference.

Benefits Of Using Send A Rose
Sending a rose is a great way to stand out from other users. Typically, Hinge users who are pretty or handsome will have a popular match queue. Your profile may get lost in the shuffle, as they will need to sort through 20, 40, and even 50+ profiles.
This process can be exhausting for the user, as they will be burnt out when they get to your profile.
Including a rose in your life, however, can help improve your chances of meeting that person. The rose helps users essentially cut the line and stand out from other users.
Even if the user you're sending the rose to doesn't have many matches in their queue, sending a rose is meaningful. The user only gets it once a week, so giving the rose to one person can set you apart from all of the normal likes that come through the dating app.
Receiving A Rose On Hinge
Receiving a rose on Hinge is significant because there are so few that are allowed on the platform.
Even if the user buys the maximum amount of roses allowed, they still only have 12 roses.
Hinge only allows a certain amount of likes per day. If you stretch out the 12 roses throughout a week (if the user purchased the maximum amount), essentially, that is 2 roses per day. It's not that much in the grand scheme of things.
If you receive a rose from another user, you should be excited as that profile shows you extra attention. Receiving a rose not only costs dollars, but it also is a selective pick from another user that you're someone they would like to get to know.
Take this rose as a badge of significance, and not just another like that a person sends.
Conclusion
A rose on Hinge is a feature that allows users to stand out from other users by showing increased interest. Users will match up with other users with the touch of a button, skipping ahead of all of the other matches that sent generic likes.
Roses on Hinge reset every Sunday, giving the user the ability to use one rose a week. Use this rose wisely, as the next person who shows up in the card stack might be your next spouse.
Hinge has found a way to monetize cutting and moving themselves to the front of the line by using digital roses. Competing with Tinder's Super Like, Hinge has found a way for users to spend a little bit more money in hopes of getting someone's attention.
The digital rose does not guarantee a match, only that the user will be more informed that you are interested in their profile. Be cautious when sending a rose, especially if you pay for it; the bill can start to add up, especially if you're consistently sending it to every user.
If you liked this blog, learn more about Hinge in these articles: