Hinge is a mobile dating app that presents profiles that you like or dislike. Liking and disliking profiles is often a fast-paced process. It's common to dislike a profile that you meant to like accidentally. Is there a way to get matches back on Hinge?
To get a match back on Hinge, shake the phone or device, which will prompt an undo screen. Accept this message, and it will bring the previous profile back on the screen.
In this article, we will show you how to get back a match on Hinge and how to undo likes.
Find hookups & casual dating instantly
Match with others who want no strings attached
Stay private & anonymous
Find quality singles looking for a long term relationship
Best for ages 21-45
Free compatibility test to find your perfect match
Get Back A Match On Hinge
It's common to miss matches on Hinge. Swiping too fast or missing an important part of the profile can leave us wanting the previous profile back.
It's also common to see someone you know on Hinge and want to take a second look at their profile if you swiped to the left by accident.
Luckily, Hinge has a feature that allows you to get back the profile you just missed. Hinge has an undo feature that allows the user to get back the previous profile they disliked.
How To Get Back A Match On Hinge
This feature is called the undo feature. It will allow you to get back a profile that you disliked by accident. To get back the profile that you disliked, you will need to have the home screen where you see the profiles.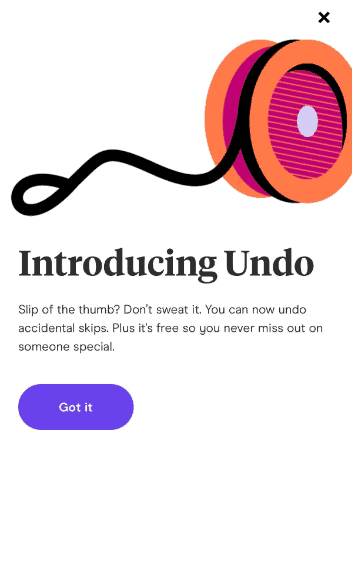 From here, you will need to shake your phone, which will prompt the undo screen to pop up. Hit the undo button once this screen pops up, bringing back the profile you recently disliked.
The other way to get a profile back is to hit the undo button featured in the top right corner. Suppose you notice the curved arrow that is pointing to the left. This arrow will have the same effect as shaking the phone.
As the Hinge support site shows here, you're able to undo the most recent profile. This button will only appear once you have hit the X and disliked a profile.
Once you like a profile, it's important to note that there's no way to undo a like on Hinge. This means if you liked a profile of someone you knew or someone you didn't want to like, you could not take it back.
Unfortunately, you're only able to bring back one profile that you disliked. The undo feature doesn't work for the 2 or 3 previous profiles. This is why we recommend you read through every profile in detail before making a quick decision.
Why Does Hinge Have An Undo Button To Get Matches Back
Hinge is not like other mobile dating apps. It has much more depth than apps like Tinder or Bumble. Not only does it have pictures, but it also features question prompts and details about their personal life (smoking, kids, drinking, etc.).
If you're coming from other mobile dating apps like Tinder or Bumble, we recommend you slow down the rate when you look at profiles. Speed swiping is not recommended, as there is a good chance you'll miss a quality match.
Apps like Tinder are designed to keep you swiping at a rapid rate, so you'll continue to use the app. The swiping process can be addicting as users will swiftly swipe to the right and left.
Hinge is different as users must use a button rather than a thumb swipe. That is why the to undo button is so important. If you're someone who likes to speed swipe, the undo button will be crucial to bringing back a match that you may have accidentally missed.
This is why Hinge uses a button rather than a swipe to slow down the user. The undo button is rarely used on Hinge, but it is a good safety outlet if you accidentally swipe left on a profile.
Things To Know About The Undo Button
There are a few things to know about the undo button:
The undo button is located in the top right corner of the next profile that is shown.
This button is only available after a dislike
If you've liked a profile by accident, there's no way to undo the like.
Shaking the phone side to side or hitting the reverse arrow in the top right corner are ways to activate the undo button
This feature is common in mobile dating apps, as it allows you to rethink and take another look at a profile that you may have been too fast to swipe on.

Pro Tip: If you're sick of finding people who are just looking for one night stands, we recommend trying eHarmony.
It's one of the highest-rated online dating apps in the world. eHarmony users are actually looking for relationships. Give it a try here for free and see if you can tell the difference.

Conclusion
To get back a match on Hinge, the user must hit the undo button or shake the phone. The undo button is located in the top right corner of the screen and only appears after you've disliked a profile.
This button will bring back the previous profile for you to reaccess and like or dislike again. It's important to note that you can not get back a profile that you've liked. Once you've liked the profile, Hinge sends the like to the user. You're not able to take back likes.
It's important to look through every process and treat every match as if they could be the one. We recommend slowing down your swiping speed and read through every profile carefully. This will help you not miss any matches and prevent you from hitting the undo button.
Trying to get back a missed match is common but can be fixed by slowing down the rate at which you use the app.
If you liked this blog, learn more about Hinge in these articles: