The new Hinge dating app has become one of the more popular and reliable dating apps in the marketplace. Its smooth user interface and easy to use features make it fun to search profiles on. Users are constantly matching and sparking up conversations.
On Hinge, the man or the woman can message first. There are no rules of who needs to message first, however, it's more common for the man to message first.
In this article, we're going to show you how to message and the proper introductions.
Messaging First On Hinge
Hinge is a unique dating app as it has most of the typical dating app features. Users are shown a card stack of profiles that they must go through and determine if that person is the right fit based off of pictures.
As with most mobile dating apps, it's more chivalrous if the guy makes the first move, similar to if you were at a bar with friends. We do recommend the guy make the first move on Hinge as well.
One of the unique features on Hinge, is the ability to see inside someone's personality through text. Hinge introduced the ability to answer questions or make a statement based on Hinge's presets.
Users are asked basic questions and statements such as:
The thing you should know about me is…
The key to my heart is…
I'm convinced that…
These are all just examples of open-ended questions and statements that Hinge allows you to answer in order to spark a conversation up with the other person.
Other mobile apps like Bumble have since copied these questions and statements, making it less unique to Hinge.
The main feature that is extremely unique is the ability to message the other person, while simontanuously liking their profile.
Typically, users would just send a like to the other person and that would be it. They would have to wait anxiously for the other person to respond.
On Hinge, the user is able to like a profile picture or statement, and give their instant feedback.
Messaging First On A Picture
In order to message first on a picture, you will simply click the heart icon that is next to every picture on the user's profile.
This will prompt this box, which allows you to add a message when sending a like. We highly recommend you include a message when sending a like to the other person.
It's important because users are able to see a bit into your personality as well before they even look at your profile.
We caution you, do not be over the top in the first message you send. If there is a picture of them wearing your favorite sport's team hat, simply say how you love going to games or maybe your thoughts on how the season is going.
We recommend keeping a positive and upbeat tone when responding back to these pictures. Anything outside of that, it will typically result in a dislike from the other user.
Another feature that Hinge allows you to do is to like Instagram pictures. If the other profile has their Instagram profile linked, you're able to look into their Instagram.
Here you will find at least 20+ more photos of the profile you're looking at. If you happen to like one of their photos on their Instagram, you can hit the heart icon next to it and send them a like just like you would a normal profile picture.
Messaging First On A Statement
Next to each question that's answered or statement that's made on the profile, you're able to send a like. From here, a response box is prompted, similar to if you hit the picture box above.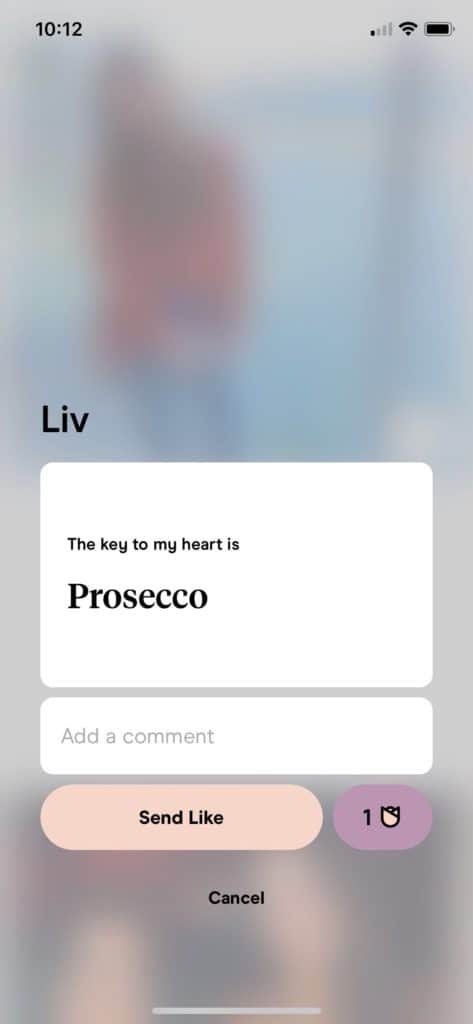 This is a great way to start a conversation with a person by asking them a question. Simply reply back to their statement and let them know your thoughts on what was said.
Again, keep the tone upbeat as users are naturally attracted to optimistic and positive thinking people.
Sending a message on one of the statements may not necessarily be a bad idea if you can say something to keep the conversation going.
We do not recommend you say anything sexual, or simple. Stimulate the user's mind with a question and have them reply back. The point is to get them to respond back that way you can start a conversation.
Sending A Message With No Response
It's common to send a message on Hinge and get no response, even if you've matched with the person.
We typically like to wait at least 48 hours before we delete our matches. If the person you matched with is serious about dating, they should respond within 48 hours.
Anything longer than 48 hours, they don't use the app and aren't serious about dating, or even worse they're ignoring you.
Too often, users will match with other users and not respond to them. It's in your best interest to unmatch these profiles, as you'll be wasting your time and energy trying to talk to someone who isn't going to respond.
Conclusion
On Hinge, it does not matter who messages first. We do however wait for the guy to make the first move, similar to if you were at a bar.
If you're a girl and you really like a guy's profile, don't be afraid to message first. Men are "supposed" to message first but in the wild west of dating apps, anything goes. Guys tend to be attracted to girls who are aggressive in the first message.
If you're a guy, we recommend you always take the initiative and message the girl first. This way if the girl likes your profile, she will actively try to pursue you.
Sending a message first is the most important part of the conversation. You need to show the other person you're a normal human being and have good intentions when trying to meet for the first time. Anything outside of normal, the guy or girl may be turned off and it could lead to a disconnect.