Conversations on Hinge are typically positive and generate interesting responses. However, with any mobile dating app, there may be a point where you'll want to unmatch and remove a match from Hinge. How do you remove a match from Hinge, you ask?
To remove a match from Hinge, tap the three dots in the top right of the user's profile and tap unmatch. This will remove their profile from your chat queue.
In this article, we're going to show you step-by-step pictures of how to unmatch and remove someone from Hinge.
Learn Hinge's secrets to success: Explore our comprehensive guide, The Complete Guide To Hinge, where you'll uncover the secrets and strategies behind successful dating on this app.
Find hookups & casual dating instantly
Match with others who want no strings attached
Stay private & anonymous
Find quality singles looking for a long term relationship
Best for ages 21-45
Free compatibility test to find your perfect match
How To Unmatch On Hinge & Remove Existing Match
Hinge is a mobile dating app that allows users to meet digitally. Unfortunately, mobile dating comes with the unexpected of how people are in real life. Conversations may seem pleasant at first but can take a turn for the worst.
If this happens, it's smart to disengage with the person and leave the conversation. To leave the conversation and unmatch, you must follow these steps.
First, locate the person's profile that you want to unmatch. Once you tap on their profile, look in the top right corner. In the top right corner, there will be 3 dots in a horizontal line.
Tap these three dots, which will bring up this screen. On this screen, you have 3 options:
We Met
Hide/Unhide
Unmatch
Report
Let's look at each available option to help you sort out which one you should choose.
We Met
The first option is to tell Hinge that you met. It will mark the profile you met; that way, you can stay organized with the matches you have met and haven't met.
Hinge uses this feature to organize your matches. If it's someone you met and didn't necessarily like, it is a good way to sort them without unmatching them.

Pro Tip: If you're sick of finding people who are just looking for one night stands, we recommend trying eHarmony.
It's one of the highest-rated online dating apps in the world. eHarmony users are actually looking for relationships. Give it a try here for free and see if you can tell the difference.

Hide/Unhide
Hinge has a feature available that allows you to hide users without actually unmatching them.
The reason you may want to hide them is to get rid of their profile in your queue without actually unmatching them. This could be for users that aren't active or haven't responded to you yet.
We always recommend you hide users rather than unmatch them. Users may not be active for a few days or maybe simply be slow to respond. If you hide them, their profile will be under the hidden tab, which you can access at any time.
Unmatch A User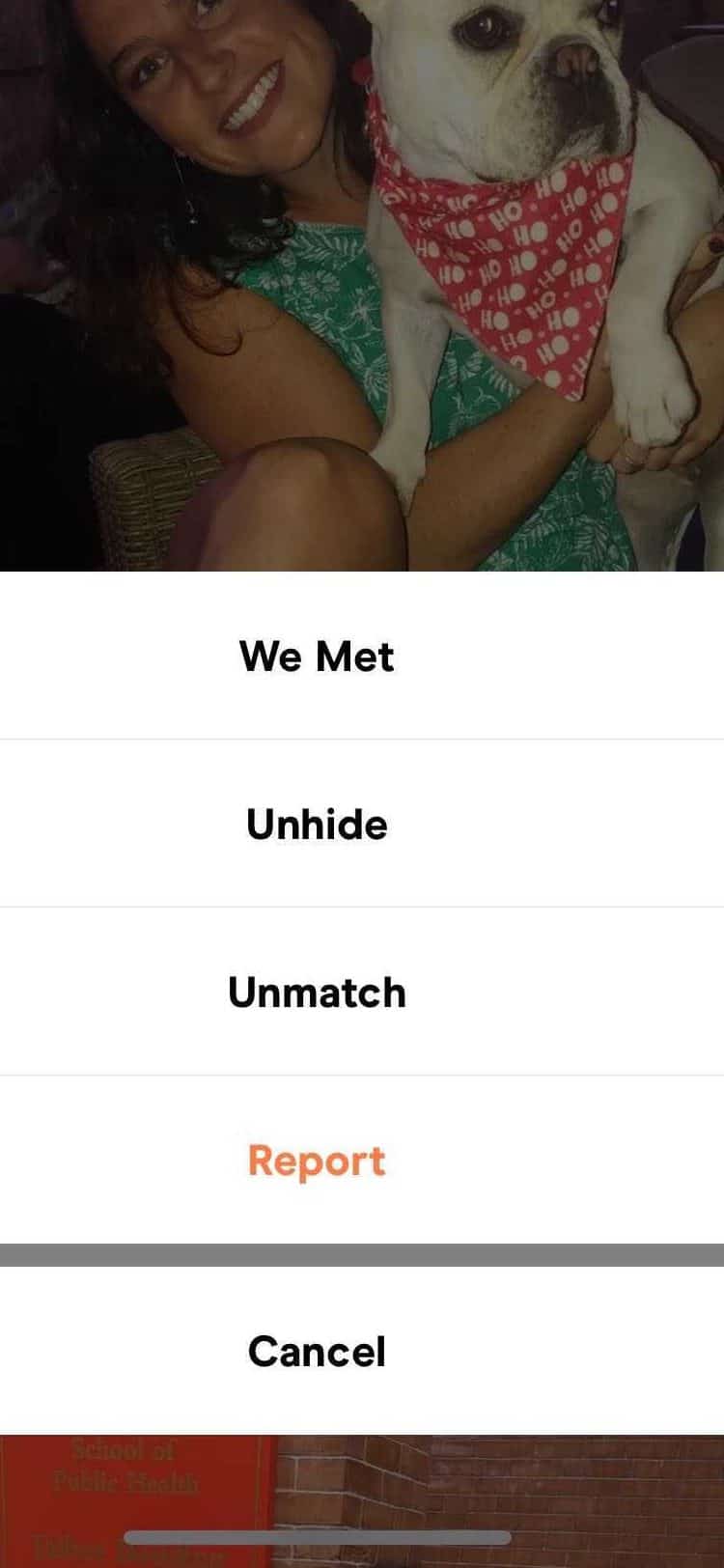 The third is to unmatch and remove the profile from your match queue. After you tap this option, there is no going back. These profiles are removed forever, and you will not be able to bring them back.
We recommend you take some time and think about if you actually want to unmatch this person. If they're not answering, it may be worth just hiding the profile rather than unmatching it.
As mentioned, once you tap unmatch, that person will never be shown to you again, and they will be gone forever. There's no feature, paid or free, that can bring back profiles that you've unmatched.
If someone is mean to you, doesn't fit your personality type, or you don't find attractive, then we recommend unmatching them. Toxic people make the Hinge process unbearable.
Report A User
If someone is consistently harassing you and making you feel uncomfortable, we recommend you report them. Hinge gives you a preset amount of options to choose from when reporting a user.
Hinge is a mobile app designed to be deleted due to the high-quality matches that use the app. Hinge has built a dating reputation, and people who are on the platform are looking for dating. Users are often looking for long-term relationships and not just one-night stands.
This stigma attracts people who are serious about dating. If, by chance, you happen to catch someone who is being gross or out of line, report them to get them removed from the app.
Can You Rematch With Someone You Unmatched On Hinge?
No. Once you unmatch with a user on Hinge, they are gone forever. Unfortinueley there is no way to bring them back in the paid or premium version of Hinge.
We recommend taking some time to decide before actually unmatching someone on Hinge. If you wish to keep a profile without leaving them forever, we recommend using the hide feature. This will put their profile in the hidden category in your chat queue so they don't clog up your chat inbox.
Once you've successfully unmatched someone, their profile will be deleted from your inbox. Also, your profile will be deleted from their inbox.
All communications will be disconnected, and both parties will not be able to talk to one another. If you traded any information other than Hinge (SnapChat, phone numbers, etc.), we recommend blocking that person on those platforms as well.
More often than not, when someone gets unmatched, they feel hurt and confused. This may lead to them trying to contact you to see why you unmatched them.
Let the other party know you're unmatching them, the reason, and move on with your life to avoid all confrontations. This will help you and the other person move on to other matches and not hang on to yours.
Find Exactly What You're Looking For
Stop wasting time on dating apps hoping to find the right person. Ashley Madison & eHarmony have exactly what you need.
Find The Person That Wants What You Want
Instantly Improve Your Dating Experience
Get Rid Of The Boring Conversations & Engage In More Quality Conversations
Conclusion
To unmatch someone on Hinge, you must tap the 3 dots in the corner of the profile. From here, click the unmatch button and confirm the unmatch. Users will then be removed from your chat queue, and you will no longer see them or be able to talk to them.
If you feel strongly that someone should be removed from your chat queue, use the unmatch button. If you're not sure, hide them and then talk to them later.
Hinge is a mobile app that attracts high-quality matches who are often looking for long-term relationships. Don't let one person ruin your experience. Unmatch and remove them and continue with your online dating journey.
If you liked this blog, learn more about Hinge in these articles: