Tinder relies on back-and-forth conversations from one user to another. However, Tinder's free features don't offer any way to show if the other user has read the message, so how do you find out?
To be alerted when a user reads your message on Tinder, you must purchase read receipts which is a premium feature. Read receipts come in packs of 5, 10, and 20.
To access Tinder Read Receipts, open Tinder, tap the profile icon, select settings, and click on manage read receipts.
In this article, we will show you how to enable read receipts and the best way to find out when someone views your message.
Learn advanced Tinder strategies: Learn advanced strategies for Tinder by exploring The Complete Guide To Tinder, where you'll find insider tips, success stories, and profile optimization techniques.
Find hookups & casual dating instantly
Match with others who want no strings attached
Stay private & anonymous
Find quality singles looking for a long term relationship
Best for ages 21-45
Free compatibility test to find your perfect match
How To Know When Someone Views Your Message
Tinder has created a lot of great features over the year, both free and paid.
One of the reasons Tinder has been able to stay at the top of the mobile dating app world is its ability to innovate and create new features.
One of the new features they have recently introduced to their app is seeing when someone reads your messages.
This feature is standard among text messaging on iMessage but is rare among mobile dating apps.
Tinder's feature of seeing when others have read your message is called a "read receipt." A read receipt is essentially a receipt (or notification) sent back to you when you send a message.
This receipt will say read or not read, depending on if the user sees it.

Pro Tip: If you're sick of finding people who are just looking for one night stands, we recommend trying eHarmony.
It's one of the highest-rated online dating apps in the world. eHarmony users are actually looking for relationships. Give it a try here for free and see if you can tell the difference.

Tinder's Read Receipts
Tinder introduced read receipts to the app to help other members understand when other users have read their messages.
A read receipt is simply a notification sent back to you when the other user reads and opens your message.
Once they open your message, Tinder will send a notification back to you that says "read."
We're now going to show you how you can get Tinder's read receipts and talk about why they are so important to any mobile dating app, not just Tinder.
How To Get Read Receipts
Read receipts in Tinder are unfortunately not free. They are a premium feature that must be paid for.
To get read receipts, the user must first click on the double blue checkmark below the user's message.
The double blue checkmark is the symbol of Tinder for reading receipts. Tapping on those double blue check marks will prompt a screen to buy Tinder's premium read receipts.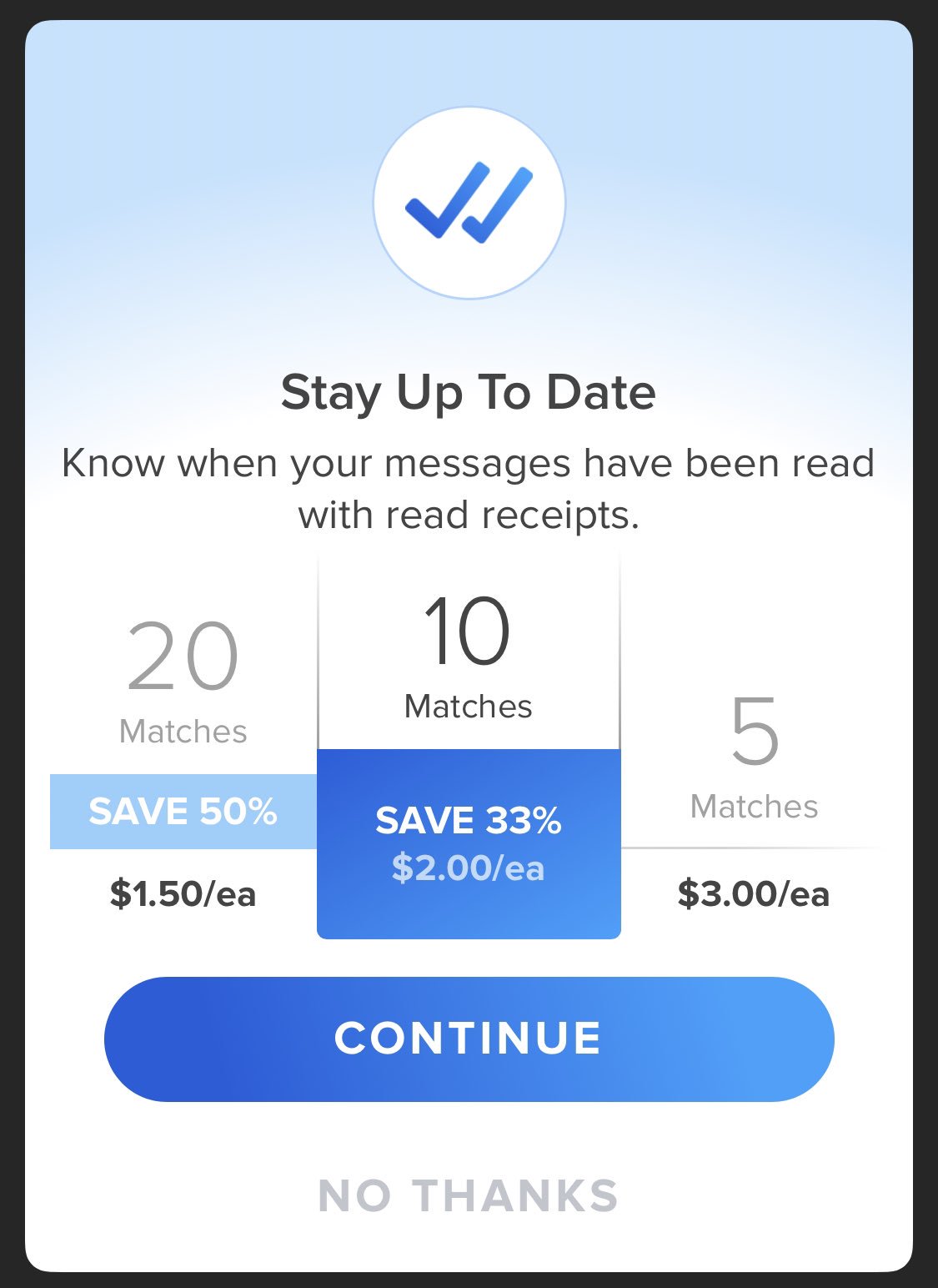 As a premium feature, Tinder will allow you only to have read receipts on certain conversations, not on everyone.
The pricing chart above shows that users must choose between 20, 10, and 5 matches.
Each match costs a certain price and will only work in the chat that you activate it on.
To activate the read receipt, click the double blue checkmark shown under the incoming messages.
Once tapped, you will have the option to activate read receipts through this blue checkmark icon once you've paid.
Once the message has been sent, you will not read or read underneath your message.
This will change whenever the user clicks on your message and finally reads what you sent them.

See our complete User Guide to help you get the most out of Tinder here
What Are The Double Blue Checkmarks On Tinder
The double blue checkmarks on Tinder are the read receipts.
Read receipts are important because they allow Tinder users to see if their match is actually interested in them or not. Too often on Tinder, ghosting can happen.
Ghosting is when a person reads your message and does not talk to you or sparingly talk to you.
The read receipts will give you more clarity if the person is interested in you to avoid ghosting.
If the person is interested in you, they will often respond when you send the message.
If the person has no interest in you, there's a good chance that you might get left on read.
These read receipts can help you save time, as you won't put all your effort into someone who always leaves you reading.
You can then take that time and put it into someone else, who actually reads and responds to your messages.
If you're looking to try read receipts, we recommend starting with a smaller purchase, like 10 or 5, to try it out.
We think it's a big time saver and can help you put more energy and focus on the people who actually want to talk to you.
Turn Off Read Receipts
If you're looking to turn off read receipts, so other users can see if you've read their messages or not, there is a way.
You may want to do this because if you have someone creepy or sending you weird messages, you may want not to answer their messages.
We recommend you unmatch these people right away, but there is also a way to turn off the read receipts completely.
To turn off read receipts, so other users can't see if you've read their messages:
Go to the settings menu
Tap manage read receipts
Uncheck the box
Once the box is unchecked, you will then have your read receipts turned off for other users.
We recommend keeping this box unchecked if you're new to Tinder or if you're still learning about how people are on Tinder.
There are situations where people can be a bit aggressive on Tinder; having read receipts only further complicates things.

Pro Tip: Tinder is great, but you might have better luck getting casual dates on Ashley Madison. Users sign up specifically to have discreet fun with others.
Get started for free and find people like you who are looking for casual relationships here.

Conclusion
To see if someone else has viewed your message, you must purchase the read receipt feature that Tinder offers.
Access the read receipts option by clicking on the double blue checkmarks below the messages you send on Tinder.
The read receipts cost money, as users must pay for 20, 10, or 5 matches at a time.
If you want to activate the read receipt for a certain user that you're interested in and talking to – select the blue checkmarks.
This will activate the read receipt, which will show "read" or "not read," based on whether the user interacted with your message.
This is currently the only way to determine if someone on Tinder has read your message or not.
If you liked this blog, learn more about Tinder in these articles: