Uploading photos to Tinder is the main functionality of Tinder. Without having pictures, users will not be able to use the app to its fullest.
If your Tinder photos aren't uploading, check your connection. Users with poor connections will not be able to upload their pictures to Tinder's servers properly.
We're going to cover all the reasons why your Tinder photos may not be uploading and ways to fix this issue.
Learn advanced Tinder strategies: Learn advanced strategies for Tinder by exploring The Complete Guide To Tinder, where you'll find insider tips, success stories, and profile optimization techniques.
Why Your Tinder Photos May Not Upload
We're going to show you why Tinder photos may not upload to the Tinder server and the different troubleshooting techniques you can take to make sure your Tinder experience is a smooth one.
Tinder is a mobile dating app that is used by single users all over the world. It has millions of users that tune into the app each day.
Due to the high amount of traffic, it's expected that one of these errors may occur.
Poor Connection To The Internet
The first thing that you should look at is your connection to the internet.
For best results, we recommend uploading pictures via WIFI and not just cellular data.
For a more consistent and reliable upload, using the internet connection will help secure your upload to the Tinder servers so that you can select and organize your pictures.
If you cannot get to WIFI, we recommend finding an area that gives you good service to upload.
Remember, picture files are often pretty big files. If you try to upload a large file with one bar of cellular service, it will take a long time.
Check your internet or cellular connection to make sure it's sufficient. If you believe you have a good connection, move to the next step.

Pro Tip: Tinder is great, but you might have better luck getting casual dates on Ashley Madison. Users sign up specifically to have discreet fun with others.
Get started for free and find people like you looking for casual relationships here.

Poor Connection To Facebook
Tinder uses Facebook's API to connect to Facebook. This is pretty standard among mobile app developers who use Facebook to log in.
Once you've allowed Tinder to use your Facebook credentials, it will then try to import the pictures that you selected.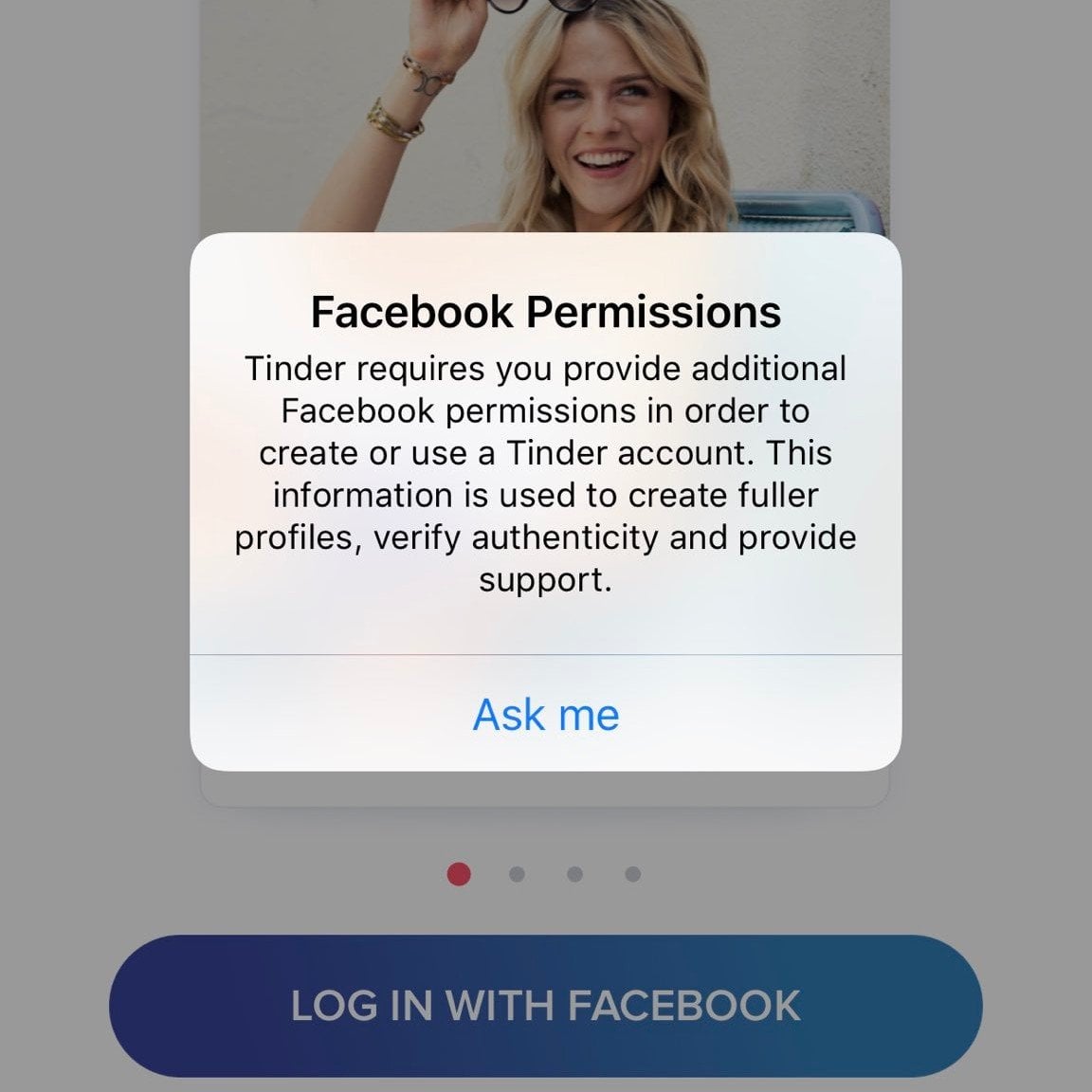 If you're unable to import the pictures that you have selected from Facebook, there's a good chance you have an error with Facebook.
When prompted to access your photos, you must select "yes" for Facebook and Tinder to have access to your photos.
You may have selected the option "no" when it asked you to access your pictures.
Selecting no will deny any access to any of your Facebook information on Tinder. This includes names, information, and especially pictures.
If this is the case, you'll need to go to the settings on your phone and allow Tinder and Facebook access to your photos.
If you don't want to allow them, there's no way to get pictures off of Facebook and on to Tinder.
If this doesn't work, you'll need to revoke access from Facebook and try to reconnect to the Facebook API.
Check out our complete Tinder User Guide here.
Corrupted Image File
There's a chance that the picture file you have saved on your phone is corrupted.
This means that it didn't save properly on your phone, and there's an issue with the file itself.
We recommend uploading this picture to other platforms or sending it to friends and seeing if there's an issue with that file.
There is a rare scenario that this is the case, but we have seen corrupted files be a factor before when trying to upload a picture.
For testing purposes, try to upload a different picture to Tinder and see if it allows it.
If it does, there's a good chance that the picture could be a corrupt file.
Long Load Times
Tinder will often take longer to load pictures to their servers. Having a long load time is common, especially if you're uploading several pictures at once.
We recommend waiting 10-15 minutes for all of the pictures to be uploaded.
Once you've waited 10-15 minutes, close the app and reopen it. You should get a message that Tinder has successfully loaded your pictures.
Due to the high volume of traffic on the mobile dating app, there could be a scenario where it takes a little bit longer to load. It's common for long load times to occur.
We recommend you wait a small amount of time before trying to delete or upload another picture.

Pro Tip: If you're sick of finding people who are just looking for one-night stands, we recommend trying eHarmony.
It's one of the highest-rated online dating apps in the world. eHarmony users are actually looking for relationships. Give it a try here for free and see if you can tell the difference.

My Tinder Photos Still Won't Upload
If your Tinder photos still don't upload, we recommend deleting the app completely off your phone and trying the whole process again.
There may have been an instance where the install file could have been missing a few components.
Deleting the app and reinstalling it gives you a fresh start to make sure all of the items above are secured before actually going ahead and uploading the pictures.
This will also help revoke any access to third-party apps like Facebook, so you're able to start the whole process over again.
Tinder Upload Recap
Find hookups & casual dating instantly
Match with others who want no strings attached
Stay private & anonymous
Find quality singles looking for a long term relationship
Best for ages 21-45
Free compatibility test to find your perfect match
If Tinder doesn't upload your pictures properly, check your connection to the internet, connection to Facebook, and there isn't a corrupted file.
Tinder is used by single users all around the world.
Photos not uploading is a common theme, but we have listed the steps for you to ensure your Tinder experience is top-notch.
We recommend uploading one Tinder picture at a time; that way, you're able to troubleshoot if it's an app problem, a picture problem, or a connectivity problem.
If you liked this blog, learn more about Tinder in these articles: