When Tinder first launched its online dating app, the world stopped swapping. Everyone knew that the left was no and the right was yes, even if they didn't have a Tinder account, because it was a massive milestone in the online dating industry.
But like anything in life, the online dating world kept growing, and with time came new trends, and just when we thought we knew everything we needed, Tiner, the new Vibes smartphone feature, was released.
But what exactly is the new Tinder Vibes all about?
What Is Tinder Vibes?
Tinder Vibes is a new Tinder feature that allows you to see if you have anything in common with some things before you swipe right. This new Tinder trend is for every user on Tinder, meaning it's free to participate. Each Vibe event has a different theme surrounding topics such as pop, dating, cooking, etc.
Because Tinder doesn't know much about you, the Vibes game is a way for the dating site to help you find people that may have something in common with you. So, when you are about to swipe left or right, you will know more about the person on the other side of the screen.
However, Tinder Vibes' new feature is not always available, so how do you participate in the new Tinder game?
How Does The Tinder Vibes Feature Work?
Because Tinder Vibes is a periodic game, it will not always be available. Instead, you will get a pop-up notification inviting you to take part in the event when it's available in your area.
Yes, that's right, when Tinder Vibes pop into your profile, everyone in your area is receiving it as well, making it a live experience for all the singles near you.
When Tinder first launched this new feature, Tinder clarified that the name of its new games was inspired by the feeling we get when we meet someone that clicks. According to Tinder's VP of Product, the feature offers users a more engaging way to convey a part of each user's personality.
How Do I Know There Is a Tinder Vibes Event?
To ensure that you don't miss any events, you need to ensure that your notifications are on. And to do this, you just need to go to your settings, click on Vibes, then Manage Vibes, where you can opt-in the option to participate in Vibes.
That way, every time is available in your area, you will receive a notification, and you can join in and click on Start Vibin to join in the fun!
And just in case you don't want to take part on Tinder Vibes at any point, you can turn Vibes off by repeating the same process but turning the Vibes settings off instead.
How Do You Play Tinder Vibes?
Once you see the Vibes notification, all you need to do to join in is to swipe your screen, and you will be immediately taken to the Vibes game and start answering the questions that will emerge on your screen.
You will have multiple questions about many different topics and be given a few optional answers. And as you answer your questions, you will be able to see the people who have given the same answers as you.
And while picking the same answers doesn't automatically make you the perfect match, the Vibes game will help you to break the ice if you both swipe right and start chatting.
What Are The Best Vibe Answers?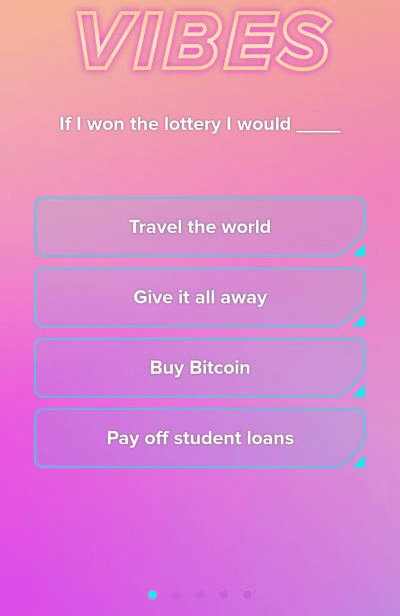 While it might be tempting to choose the best-looking answers, the best way to go when playing the Tinder Vibes game is to pick the answers that best represent you.
There will be no point in choosing something that it's not you when trying to find a long-lasting relationship.
Pretty answers will only get you that far, and even if you pick the answers that may lead you to have more matches, at the end of the game, you will be vibing and matching with someone who doesn't have much in common with you.
So answer truthfully and enjoy meeting people who share the same likes as you.
What Happens After I Play Tinder Vibes?
After you complete your Vibes game, your answers will appear on your profile and remain there for 72 hours, which is the same for other people who also participate in the Vibes game.
By allowing this, Tinder will help its users to know a little bit more about someone before they swipe, adding personality to the profiles and giving a little push to perfect match-making.
Here Are 3 Great Reasons To Join Tinder Vibes
If you are unsure if participating in the Vibing game is a good idea, then here you can find three reasons to start vibing.
1. It's a Chat Starter
The vibing game is designed to stir conversations and help you start chatting with other users and learn a little more about your swipes. The addition of your Vibes answers will only spark things up and raise the bar in the world of online dating.
2. Your Profile Reaches More People
As soon as the Vibe game starts, Tinder's algorithm prioritizes showing your profile to other users that are also participating. The Vibes game is not only a way to allow users to know more about one another, but also a very clever tool that promotes profiles that choose to take part in the event.
3. Shared Interests Increase Attraction
Because online dating is more than pretty pictures, the Vibes game will help you add more valuable information on your dating adventure. In fact, studies have demonstrated that holding an interest, belief, etc., in common with a potential love interest increases attraction.
And of course, that's one of the many reasons why so many online dating services allow users to add interests to their profiles.
So why miss an opportunity to connect with someone who may share the same vibes as you?
Final Thoughts
Online dating no longer has to be a daunting experience. The online dating world has changed, and Tinder has adapted to new trends and ways to make its members connect easily. Because when it comes to love, every step matters.