Tinder has recently added a feature to their platform called "Noonlight," which can help men and women feel safe.
Noonlight is a third-party application that helps you create a timeline of events for others to see to ensure that you're safe. They also have an emergency service that you can discreetly contact if you feel like you are in danger.
Tinder has made major efforts and strides to ensure that all users feel safe when talking to and meeting up with other users.
Uncover Tinder's secrets: For a deeper understanding of Tinder's hidden secrets, explore The Complete Guide To Tinder, where you'll find advanced strategies and expert insights that can transform your Tinder experience.
What Is Noonlight On Tinder?
Noonlight is a separate app that integrates with Tinder. Its main purpose is to make sure that you feel safe and secure on every date you go on.
Noonlight markets itself as your "plus one" to every date. This means that you can contact someone in your phonebook at any point in time you don't feel safe. In extreme cases, Noonlight users can contact the police discreetly.
To do this, you'll need to hold down the button on the mobile app. Once you hold down the button, they will ask you to enter a pin. If the pin isn't entered, police will then be contacted automatically.
This integration is great for both Tinder's reputation and the safety of both men and women.
Tinder has been under fire in the media recently, with movies being made on its use for harmful purposes.
Enabling Noonlight can help you feel safe with every date you go on, ensuring that any data that goes wrong can be saved at any moment's notice.
See our complete User Guide to help you get the most out of Tinder here
How Does Noonlight Work On Tinder?
To use Noonlight on Tinder, you must follow these steps to enable it.
First, download the Noonlight App. This requires you to go to your local app store (Android or iOS) to download it.
Once the app is downloaded, you will have to enter all of your information into the app. That way, if the authorities need to be called, they will know exactly who they are looking for. We highly recommend you don't skip over or put in fake information in these fields. This information is super important if the worst-case scenario happens.
Connect it to Tinder via the "My connections" tab now that you've downloaded the app. This will allow your Tinder profile to integrate with Noonlight seamlessly.
Next, add friends to your Noonlight. That way, they can keep track of your status. Noonlight has features such as their phone's battery level, when's the last time the phone moved, and more! This information is super important to your friends as if your phone dies, they need to know your last location.
Last, if you schedule a date on Tinder, you can put the date and time of when you're meeting that person. In the example picture below, the user is hanging out with Ben on March 14 at 8:30 p.m.

Pro Tip: If you're sick of finding people who are just looking for one-night stands, we recommend trying eHarmony.
It's one of the highest-rated online dating apps in the world. eHarmony users are actually looking for relationships. Give it a try here for free and see if you can tell the difference.

Is Noonlight Free To Use On Tinder?
Noonlight is completely free to use on Tinder, making sure that you're always safe.
However, they do offer a premium subscription plan that provides more features and benefits. With this premium subscription, you'll have access to:
iOS Widget
Apple Watch App
Sync Your Uber & Lift Accounts
Crash Response
Alexa Integration & More!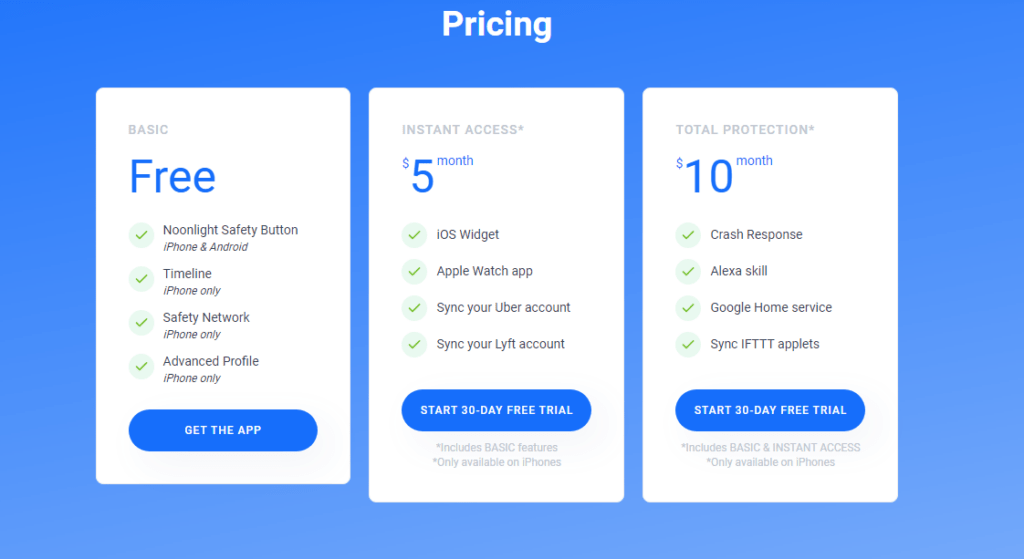 Can The Other Person See When I'm Using Noonlight?
Yes. If you integrate Noonlight into your Tinder platform, every connection you talk to will see that you're using Noonlight.
The notification will appear on the top of every chatbox. This is shown to protect yourself and notify the other user that you have a safety net. If they want to try anything out of the ordinary, you are protected with one tap of a button.
This Noonlight feature has really helped Tinder earn back the trust of many users who, for a while, felt Tinder was unsafe. Noonlight adds an extra layer of security to your dates and allows you to date freely again.
Is Noonlight On Tinder Legit?
Noonlight is legit and works to help make sure that you feel safe on every date you go on. If you're a female, we highly recommend you have this safety feature enabled. Not only can you feel confident before, during, and after your dates, it ensures that your friends know exactly where you are.
Eliminate the awkwardness of first dates and ensure you have all the tools necessary to have fun safely. Noonlight is a great addition to Tinder, and it helps both parties feel as if there is any danger, in contacting people who can save them with a tap of a button.

Pro Tip: Tinder is great, but you might have better luck getting casual dates on Ashley Madison. Users sign up specifically to have discreet fun with others.
Get started for free and find people like you looking for casual relationships here.

Conclusion
Find hookups & casual dating instantly
Match with others who want no strings attached
Stay private & anonymous
Find quality singles looking for a long term relationship
Best for ages 21-45
Free compatibility test to find your perfect match
Noonlight is a great tool to have on Tinder to feel safe when meeting up with someone. With the integration, you can rest assured knowing that if there is any danger, you can contact your friends who are nearby or, in the case of an emergency, call 911.
Don't be scared to use this great Tinder app feature because it's one of its best features. It has put Tinder's reputation back on track and made it feel like a safe place for both men and women to meet new people for new relationships.
Time and time again, we see stories pop up about people being bothered by creeps while using Tinder. Noonlight has helped eliminate those creeps and people who push too far on first dates. With the tap of a button, Noonlight helps Tinder users feel safe and easy when they're trying to enjoy themselves.
If you liked this blog, learn more about Tinder in these articles: