Tinder, like most mobile apps, allows you to get notifications when something happens within the app. Tinder also allows you to completely customize if you want to show the notifications or not. How do you turn off or on Tinder notifications?
To turn on or off Tinder notifications, open the app or go to Tinder.com, tape the profile icon, select the settings icon and go to notifications. From here, you're able to customize if you want notifications or not.
In this article, we're going to show you step by step how to turn on or off Tinder notifications from your phone or website.
Find hookups instantly
Match with others who want no strings attached
Stay private & anonymous
Find quality singles looking for a relationship
Best for ages 21-45
eHarmony's compatibility test helps to scientifically find the best match
Tinder Notifications
Tinder will send push notifications to your phone whenever it detects activity within the app. This activity includes:
When someone messages you
When you match with someone
Any news, information, or promos from Tinder
These notifications are crucial in bringing users back to the app. Tinder will notify the user each time one of these activities happens. The notifications typically come in two different forms.
Push Notifications
The first notification you will get on Tinder is a push notification. This is usually a custom message from Tinder stating the activity that is happening within the app.
If you receive a message, it is common to see a push notification telling you that you got a message from that person.
Below, we're going to show you how to turn on and turn off these push notifications.
Badge Icon
The second type of notification is the badge icons. These are that red number that appears above the app icon.
If you turn off the push notifications, you can leave or turn off these badge icons. The icons are great to let you know that you have a message without getting a push notification on your phone. If you don't want people to know you're on Tinder, we recommend having badge notifications on and push notifications off.
Find Exactly What You're Looking For
Stop wasting time on dating apps hoping to find the right person. Ashley Madison & eHarmony have exactly what you need.
Find The Person That Wants What You Want
Instantly Improve Your Dating Experience
Get More Matches & Quality Conversation To Get What You Ultimately Want
How To Turn On Or Off Notifications
To turn on or off notifications on Tinder, you must first open the Tinder app.
First, locate the profile icon, which can be found in the top right corner of the home swiping screen.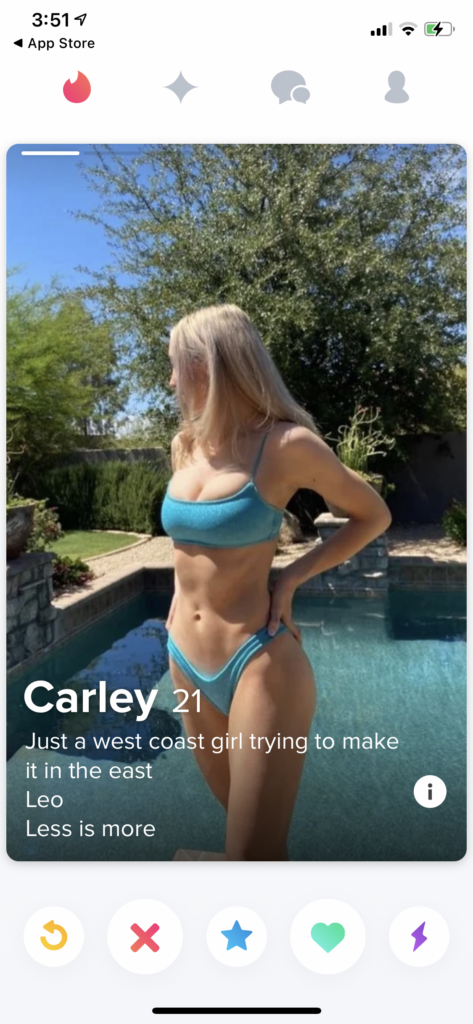 Next, click on the gear icon. This will bring up the settings menu.
From here, scroll down until you see the notifications section.
Tinder allows you to control notifications from three different categories
Email
Push Notifications
Team Tinder
Let's learn what each notification and feature means on Tinder.
Email Notifications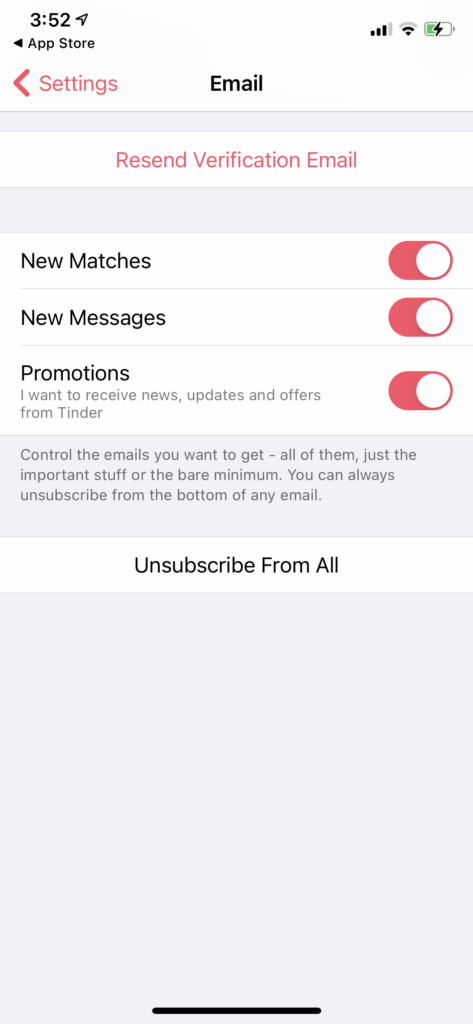 Email notifications mean that your inbox will get an email anytime there is an activity within the app.
If you're someone who likes emails to keep you up to date, then you should leave all of these notifications on.
However, if you're someone who doesn't like to have a clogged-up inbox, we recommend leaving all of these notifications off. If you're popular on Tinder, these messages and emails can fill up your inbox rather quickly.
Push Notifications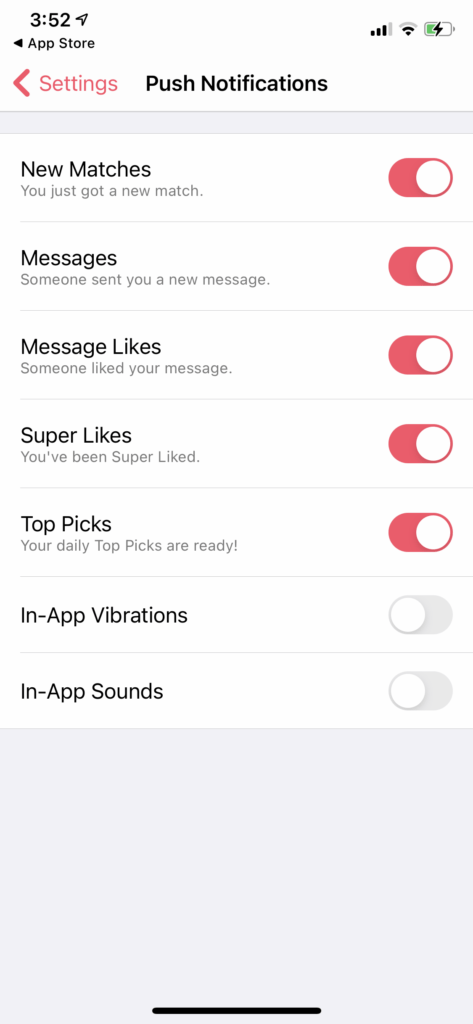 Next are push notifications. If you're using an iPhone or an Android, this is where you'll control all of the notifications that are pushed to your phone. This means they will show up on your home screen or as an interstitial alert.
Tinder gives you the option to control the following in regards to notifications:
Matches
Messages
Message Likes
Super Likes
Top Picks
In-App Vibrations
In-App Sounds
All of these push notifications and in-app notifications can be completely customized based on your preferences. Check or uncheck any of these buttons to activate or deactivate these notifications.
Looking to learn more about Tinder? Look at our complete Tinder Guide User here.
Conclusion
Tinder notifications can be customized by tapping on the profile icon, then the settings icon, scroll to the notifications section, and click on which notifications you would like to customize.
We recommend putting on the notifications you don't mind other people seeing. If someone has your phone or is looking over your shoulder, adjust your messages accordingly if you don't mind people seeing your message.
If you're someone who needs to be constantly reminded they have a message, then turn on all of the notifications.
We recommend going through all notifications and seeing which ones are most important to you and which ones don't.