When a picture is uploaded to Tinder, it often seems blurry or downgraded to low resolution. Tinder has specific guidelines and recommendations for uploading photos.
On Tinder, photos must be 640×640 to meet the photo guidelines. Any other photo sizes may be stretched and will cause the photo to appear blurry.
This blog will show you why Tinder photos are blurry and how you can improve your photo quality.
Become a Tinder guru: Become a Tinder guru by exploring The Complete Guide To Tinder, your comprehensive resource for mastering the app's features and strategies.
Find hookups & casual dating instantly
Match with others who want no strings attached
Stay private & anonymous
Find quality singles looking for a long term relationship
Best for ages 21-45
Free compatibility test to find your perfect match
Tinder Photo Resolution Guide
Tinder photos are shown to other users in what they call a card stack.
This means that all of the profile pictures are zoomed in slightly and displayed in a way that a user can swipe right or left on.
Tinder needs to zoom in slightly and cut the edges off of your pictures to create the effect that the profile is a card.
As shown in the example below, profile pictures will need to be adjusted if they are going to fit into Tinder's user interface.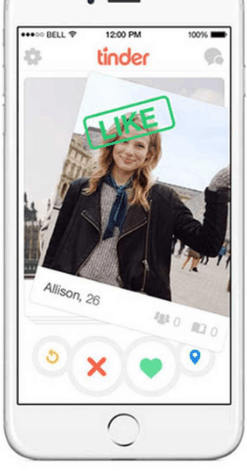 Tinder's criteria for pictures recommends that you create photos that are in square format. The ideal pixel dimensions for Tinder pictures are 640×640.
This is what Tinder recommends as you upload your pictures.
The first picture, however, will be cropped into a 600×848 pixel resolution.
This is so the image will fit appropriately into the card stack user interface as it will be the first picture that users see.
Once the user expands their profile, the square resolution of the profile will take effect, and users will see everything they need.

Pro Tip: Tinder is great, but you might have better luck getting casual dates on Ashley Madison. Users sign up specifically to have discreet fun with others.
Get started for free and find people like you who are looking for casual relationships here.

Avoid Low-Resolution Photos On Tinder
To avoid low-resolution and blurry Tinder photos, there are a few things that you can do.
We recommend you try taking these steps before actually posting a picture on Tinder.
Blurry photos will often come across as fake or inauthentic.
Users are more likely to swipe left if they see that you have all blurry photos. Take time to edit and make your photos look as clear as possible.
Crop Image To Right Size
The first way to avoid low-resolution and blurry photos when uploading to Tinder is to crop the image correctly.
If you have photos that are long and rectangular, we recommend cropping these photos to a square.
iPhones, as well as Androids, can crop images to the desired length.
If you have a picture where you want to show off your entire body, you may need to crop it down to a square.
Suppose your phone doesn't have that capability. In that case, we recommend uploading your picture to a computer (or downloading it off of a social media account) and doing the editing straight from a computer/laptop.
Online editing tools are much easier to use.
Too often, people post the wrong resolution-sized photos, and Tinder will naturally make it blurry trying to fit it into their card stack.
Tinder will readjust the photo to make it fit as best as possible to their preferred dimensions.
The first step you should take is to make sure it follows the 640×640 criteria for size dimensions.
Use a Professional Camera Or Camera Phone
When taking photos with the iPhone and Android, there's an option to take pictures with the "square" dimensions.
We recommend using this feature as your photos will automatically fit the recommended dimensions for Tinder.
If you don't have a phone or your friends don't have a good camera, we recommend using a professional-style camera to help capture quality pictures.
Tinder relies more on the physical attractiveness of a user rather than the bio and personality.
Because of this, if your pictures aren't clear for the user who is looking at your profile, there is a good chance you'll lose to other users who have more explicit photos.
Remember, you're trying to get as many right swipes as possible to increase your chances of meeting someone.
Most newer iPhones and Androids will have a professional camera that comes standard.
These photos not only take great pictures, but the flash provides efficient lighting to the picture.
Adjust The Lighting
If you don't have a great camera, sufficient lighting can help improve blurry and low-resolution photos.
Using all-natural light from the sun or even artificial light can help improve photos that have poor camera quality.
If you're using an older phone that doesn't have a great camera or has access to any professional camera, this is the next thing to improve your blurry photos.
Using multiple white lights in a dark room or even buying something as simple as a ring light can help improve the quality of your pictures.
A ring light is exactly what it sounds like, a light that's in the shape of a ring. These lights are used by social media celebrities everywhere.
They are relatively cheap and can be a great way to enhance your photos on a low budget.

Pro Tip: If you're sick of finding people who are just looking for one night stands, we recommend trying eHarmony.
It's one of the highest-rated online dating apps in the world. eHarmony users are actually looking for relationships. Give it a try here for free and see if you can tell the difference.

Conclusion
To avoid low-resolution and blurry pictures when uploading to Tinder, be sure to resize your photos to 640×640.
These pictures will fit Tinder's criteria of pixel dimension and will be shown at the proper resolution.
If you upload a picture to Tinder that is above or entirely outside the realm of their picture dimension, it will naturally stretch the photo, causing it to appear blurry.
We recommend you use a professional camera on either an iPhone or a standalone camera.
If you don't have access to these types of cameras, we recommend purchasing a ring light or increasing your lighting settings to improve the quality of the picture.
If you need to adjust your pictures, we recommend using the crop feature available on almost every phone's picture app.
If you don't have any editing features on your phone, upload your photo to the computer.
Remember, other users are attracted to clear pictures that show off your best features.
Blurry and low-resolution pictures will more often than not be skipped over. Don't lose out on matches because of poorly taken photos.
If you liked this blog, learn more about Tinder in these articles: