Grindr launched in 2009, mainly targeting gay, bi, trans, and queer people. To make money, Grindr launched Xtra, which is a premium service for members.
Grindr Xtra subscription service allows users to eliminate ads, create custom notifications, view up to 600 people, have additional filters, read receipts, and a discrete app icon. Grindr Xtra is worth it if you continuously use the app.
To date, Grindr has millions of daily users who use its platform for both casual and relationships. As their website states:
At Grindr, we've created a safe space where you can discover, navigate and zero feet away from the queer world around you
First, to learn more about Grindr and Grindr Xtra, we need to understand how the mobile dating app works fully to be better informed to make a purchasing decision.
Grindr App Features
Like most mobile dating apps that we showcase on this platform, Grindr is a geo-location app that shows singles in your area.
The signup process is super simple. Add your email address and your age, and you're ready to get going.
This is important because you're prompted to put one picture and your description once you download the app. This picture is important cause it's essentially your storefront for people to click on you. If your first picture is blurry or doesn't showcase your best features, you'll lose out on matches.
Like Plenty Of Fish, Grindr uses a tile layout to see a complete list of users rather than a card stack.
User Profiles
Users can identify if the other user is online simply by seeing a green dot on their profile. As shown in the picture above, the green bubble next to their name signifies that they're on the app and ready to chat instantly.
This is another feature that we see in other apps such as Plenty Of Fish. It's a good indicator of whether you can get a response right away or if you'll have to wait for the person to be on. If the person is on and doesn't respond, it could be because they're not interested. Only time will tell.
If you're a queer male, it's essential to check the HIV status and see if the other party is positive or negative. This is another feature that's shown in Grindr profiles.
Custom Chat
Chatting on Grindr is easy. Find the right match and start communicating with them. Along with simple chat features, Grindr features over 500 LGBTQ chat emojis that can be used to showcase your personality.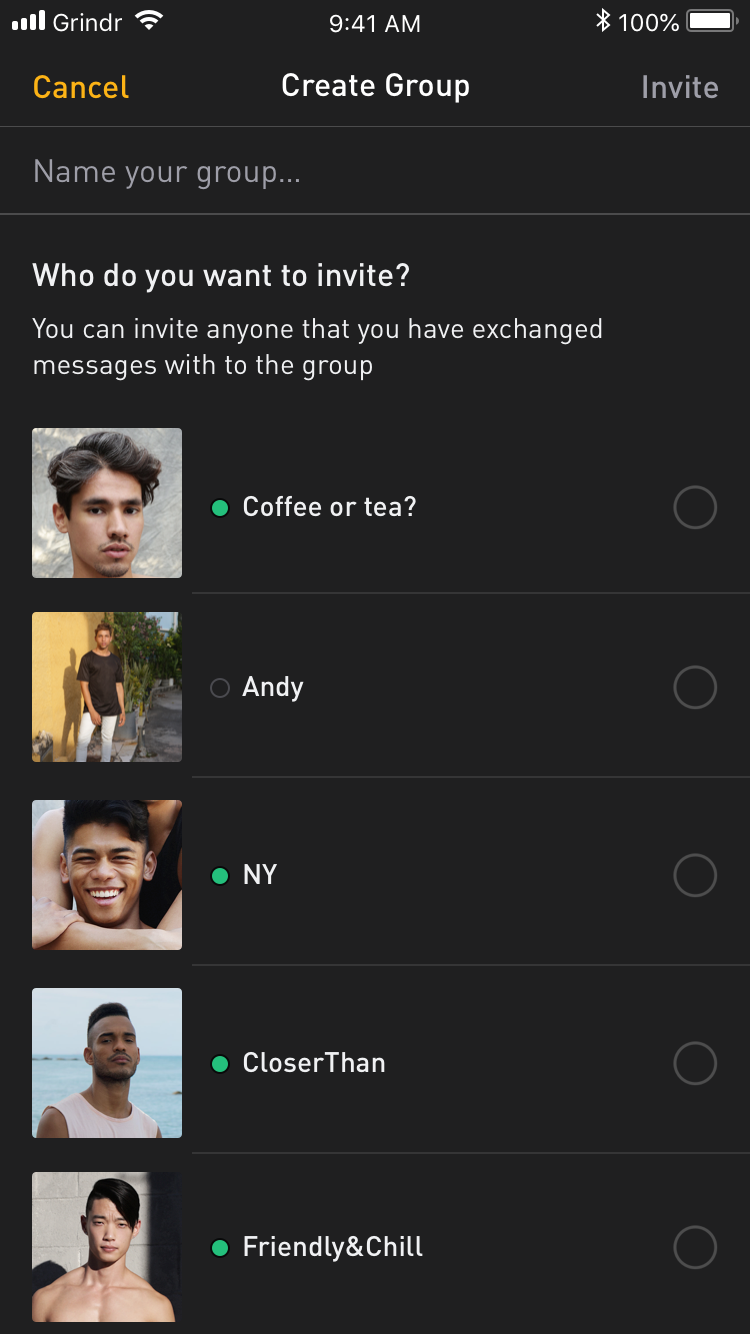 Another exciting feature is the chat feature. This was a feature that Tinder showcased back in the day but has since gotten rid of it. Grindr allows you to chat with other people in a group setting to go on double dates or explore different adventures.

Pro Tip: Tinder is great, but you might have better luck getting casual dates on Ashley Madison. Users sign up specifically to have discreet fun with others.
Get started for free and find people like you looking for casual relationships here.

Why Grindr Xtra Is So Expensive
We will list all of the features that come with Grindr Xtra and what it means for you to update and spend money on your Grindr experience.
No Banner Ads, No Interstitial Ads
Ads can get annoying, especially if you're quickly navigating through Grindr and switching between different profiles. The banner ads aren't an issue, but the interstitial (pop-up) ads can be a hassle.
If you buy Grindr Xtra, it will eliminate all the ads and allow you to have an ad-free experience.
Personalized Push Notifications
Why is this a big deal? With other mobile dating apps, it simply has one stock message, whether you got a message or someone likes you, without the ability to customize.
With this feature turned on, the user can completely customize all of the push notifications sent. This is major because if you're at work or consistently showing people your phone, you'll want to know what comes through the other side.
View Up To 600 People
As with most mobile dating apps, they restrict the number of people you're able to see to entice you to purchase their premium subscription. Grindr is no different.
When purchasing their premium plan, you're able to view up to 600 people. Why put a cap on it? This is so you won't use the app and burn out in one sitting. 600 is more than enough people to go through and see if you're a compatible match in one sitting.
Additional Filters
Like how Bumble and Hinge allow users to filter out what they're looking for, Grindr is no different.
Users can expand the filters and get more in-depth at what they're looking for. This includes one of the many filters Grindr provides, so your matches are more in line with what you're looking for.
More Grindr Tribes
Grindr has a feature called "tribes," which allows users to join groups with the same interests. This is great because if you're a fan of a particular fetish or a specific type of queer, this can be showcased by simply joining the tribe on your profile.
Unlimited Blocks & Favorites
If you're a catch, it might be overwhelming to keep track of all of your messages. Blocking users can help alleviate some of the stress of all of the incoming and unwanted messages.
Grindr Xtra allows you to have unlimited blocks and favorites, so you're able to manage your popular profile better and keep unwanted people out of your business.
Read Receipts
This may not seem like a big deal because iPhone comes standard with reading receipts; however, it's a big deal on dating apps. If you're chasing a crush or someone you're attracted to, there's a good chance you'll want to know exactly when they read your message.
Grindr Xtra allows you to do so. By turning these on, you'll be able to see when all of your matches get your message and when they read it. This will help you determine their interest level with how quickly they respond.
Filter and Mark Profiles As Recently Chatted
If your inbox is cluttered, simply marking files as "recently chatted" will give you the flexibility and the clarity to talk freely with other matches without having to click on them.
This may not seem like a big deal, but if your inbox is complete, you'll love this feature.
Discreet App Icon
This feature is something utterly new that most mobile apps don't have. Whenever someone opens the home screen to their phone, it's common for a friend or someone near you to look at your phone. If you're looking to keep Grindr Discreet, it's possible to have a discreet app icon.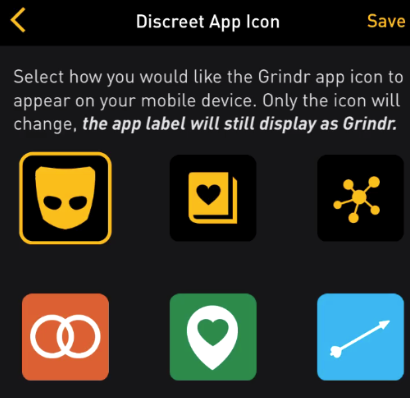 This allows you to change your app icon to one of the six above. This is so friends, family, or even co-workers can see that you're using Grindr. It looks like another random app—an excellent feature for those trying to be discreet about using Grindr.
Enter PIN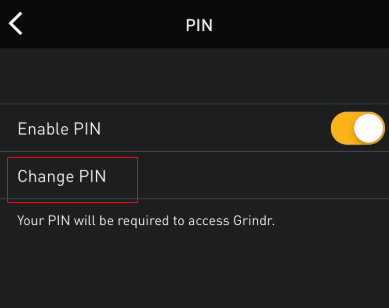 This feature is nice if you have an intimate talk on your Grindr and don't want anyone to see it. Simply having a PIN to enter Grindr puts a lock on the app until you enter it in.
Find hookups & casual dating instantly
Match with others who want no strings attached
Stay private & anonymous
Find quality singles looking for a long term relationship
Best for ages 21-45
Free compatibility test to find your perfect match
How Much Is Grindr Xtra?
Now that we know all the features of Grindr Xtra let's take a look at the pricing chart.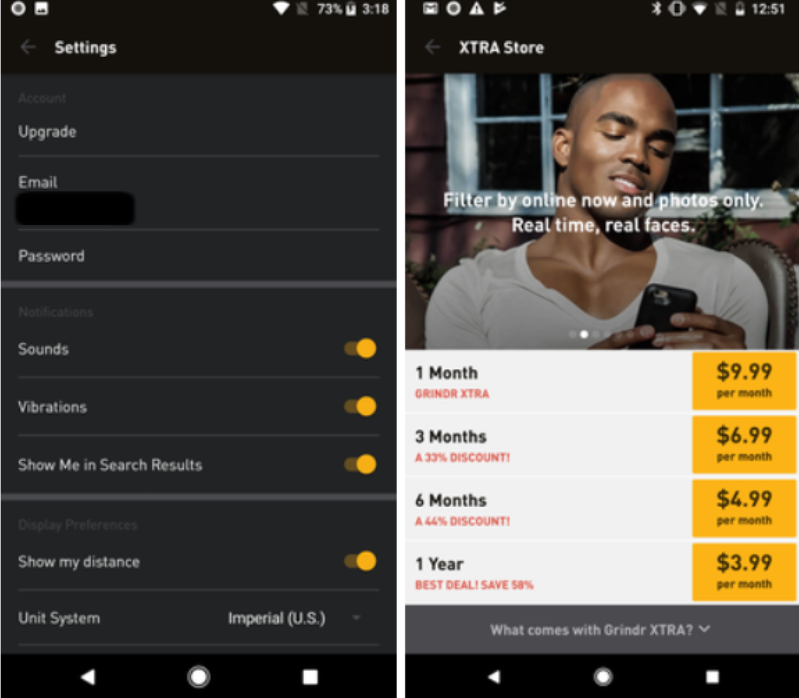 Grindr Xtra, at the time of writing this article, has the following payment plans:
1 Month – $9.99/month
3 Months – $6.99/month
6 Months – $4.99/month
1 Year – $3.99/month
We think it's worth the investment to make compared to other mobile dating apps and what you get bundled with the Grindr Xtra features.

Pro Tip: If you're sick of finding people who are just looking for one-night stands, we recommend trying eHarmony.
It's one of the highest-rated online dating apps in the world. eHarmony users are actually looking for relationships. Give it a try here for free and see if you can tell the difference.

Conclusion
Even if you're looking to test it out for one month, only spending $10 a month is an absolute steal for those looking to enhance their dating experience.
As mentioned, these are the prices as we write the article. We'll be sure to update the pricing as the Grindr pricing scale fluctuates.
If you liked this blog, learn more about Grindr in these articles: