You've finally plucked up the courage to try online dating, and it's time to put yourself out there. If you find yourself coming up empty when writing your OKCupid self-summary, take a gander at these inspiring examples and follow the tips provided. After all, you want readers to see the wonderful person you are, not scroll past you.
Get the full OkCupid scoop: Delve into the world of OkCupid with The Complete Guide To OkCupid, your comprehensive resource for making the most of the app's features and functionality tailored for diverse daters.
Keep Your Self-Summary Brief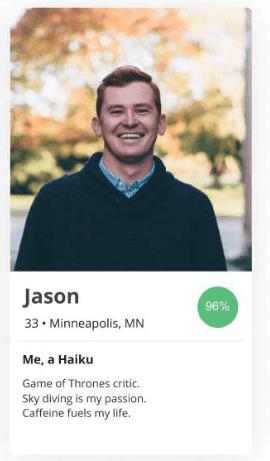 This is not the time to write your autobiography. Statistics show that most OKCupid success stories come from people with self-summaries averaging about 50 words or 256 characters. That said, it's not necessary to be religious about counting words. The point is to keep it short, sharp, and intriguing.
Example 1: Female
Josie, 28: I'm a travel writer and get paid for doing what most people dream of; traveling to exotic destinations. My love of hiking and camping takes me on paths many tourists miss. I'm taking this year to explore the USA's best-kept camping secrets with my Yorkie, and my best friend – Ziggy. Want to join us?
Example 2: Male
Luke, 32: I'll come straight out with it; I'm more comfortable with animals than people – horses, to be precise. I'm up early to finish the chores on my ranch for the day. Then it's time for my day job to pay the mortgage – I'm a horse trainer. There's not much time to socialize in town, so I would love to find somebody to share my life with on the ranch.
Add Your Favorite Things To Your Self-Summary
If these examples are longer than you have words for, you can summarize yourself by listing three favorite things that define you. But don't make it sound like a lot.
Example 3: Female
Tarryn, 29: Wedding dress designer by day. Compulsive gym-goer by night. Entertaining friends and family is what I do for fun.
Example 4: Male
James, 27: Architect by trade. Die-hard Red Sox Fan. Weekend fun means trying out new restaurants, mainly because I'm not that fond of my own cooking.
A Little Humor Can Boost Your Bio
The operative word here is "a little." You want your OKCupid self-summary to convey your fun personality and sense of humor. You don't want to come across as immature, insensitive, or as if you don't take life or people seriously. Especially if you're looking to date someone, particularly a woman, in their 30s and 40s.
Example 5: Female
Lauren, 31: I love giving foot massages. Oops! No, that's you, you lucky person getting to massage my glorious feet! Seriously, though, I'm a marathon runner, so foot massages are not out of the question.
Example 6: Male
Gareth, 37: A woman once told me I was the most romantic guy she had ever met. Granted, it was my Grandma when I gave her chocolates for her 90th birthday, but I do try! A picnic on the beach, dinner on board my boat under the stars, or a winter's night watching movies sound like great dates to me.
Be Specific In Your Self-Summary
Yes, you love to travel and enjoy long walks on the beach (eyeball-rolling at the latter). So does everyone else on OKCupid. Give your potential date some insight into your travels and what made them so exciting. People want to get a glimpse of who you are, not read a bunch of clichés (hence the eyeball-rolling).
Example 7: Female
Suzi, 25: Two of my passions are children and travel. I spent two years caring for orphans at a Christian mission station in India, seeing to their physical and spiritual needs. It's humbling, rewarding, and eye-opening to experience different cultures. I'm so keen to go again after graduating with my MSW next year.
Example 8: Male
Mark, 45: I love to argue with people. Actually, I do it for a living. I'm a civil rights lawyer in South Carolina and passionate about getting justice for those who've suffered at the hands of others. I've always been a champion of the underdog. But for fun, I love to run in the park with my dog, Champ.

Pro Tip: If you're sick of finding people who are just looking for one night stands, we recommend trying eHarmony.
It's one of the highest-rated online dating apps in the world. eHarmony users are actually looking for relationships. Give it a try here for free and see if you can tell the difference.

Show Off Your Positivity In Your OKCupid Summary
Most people experience a lot of stress, politicians are corrupt, and the inflation rate is shocking. But your OKCupid self-summary will gather more likes and responses if you radiate positivity. Yes, you need to be genuine, but try to show positivity, gratitude, and an upbeat personality.
Example 9: Female
Bella, 54: I'm a professional photographer, widowed for the past two years. Road-tripping through our stunning Arizona on my Harley with my biker buddies kept me sane, and capturing the spectacular Grand Canyon on film was a privilege I will never forget.
Example 10: Male
David, 42: Just loving life right now! I've just moved my physical therapy practice back to my hometown, where I get to work at an elementary school for kids with special needs. Weekends are for hosting backyard BBQs and pool parties for family and friends. I'm hoping to find a special hostess to add more magic.
Give Them Something To Think About
Your OKCupid self-summary should reveal the essence of who you are but not divulge all the details. Keep your readers guessing just a little bit so that they click that like button or send you a message because they just have to find out the rest of your story.
Example 11: Female
Melissa, 29: I've done the traditional waitressing to pay the bills while trying to launch my acting career, but I'm finally realizing my dream. I'm moving to L.A. next month to work with A-list stars in an upcoming movie. Okay, so it's a minuscule part, but still something worth celebrating with someone special. Interested?
Example 12: Male
Craig, 55: I'm a recently retired CFO of a large corporation. Working was alright; money is okay, but when you have the opportunity and the means to make a difference in the lives of others less fortunate than yourself, it's a no-brainer. I had to do it. We're starting with the orphanage in Harlem.
Bonus Tips
Add An Animal To The Mix
According to OKCupid statistics, self-summary photos with dogs tend to get more likes. There's no specific reason for it, but it works. Of course, it helps if you are a dog lover or at least like them. It wouldn't do to be caught out later on.
Show And Tell
Some stories are better told with pictures. It's lovely to read your self-summary, but it's even better to see the photos that go with it.
Don't Get Someone Else To Write For You
Even if words are not your thing, to be authentic, you should write your self-summary yourself. Feel free to have a friend tweak it here and there, but as you message potential dates, it will quickly become apparent that you weren't the one who wrote it, and they will consider you a fake.
Always Be Real
It may be tempting to exaggerate or invent your good looks, excellent achievements, or rare talents. However, it will all come back to bite you soon enough. Truth is attractive; deception – not so much. Your self-summary should inspire trust.
Conclusion
If you liked learning about OkCupid, we recommend you check out these articles which will help to enhance your experience.