OkCupid is a mobile dating site that helps couples match based on preferences instead of looks. However, you may feel as if your messages tend to disappear from time to time.
OkCupid messages may disappear because the user has unmatched you, blocked you, or they have deleted their profile. All of these options result in the OkCupid message disappearing.
Like other mobile dating apps, OkCupid offers a swipe feature, where users can check out the profiles of others and make a swipe left or swipe right decision based on what they like.
When users match with a user, they will immediately connect with them and start the dating experience.
However, there are certain situations where the messages on OkCupid may disappear.
Discover the world of OkCupid: Dive into the world of OkCupid with The Complete Guide To OkCupid, your ultimate resource for understanding the app's features and success strategies in online dating.
Find hookups & casual dating instantly
Match with others who want no strings attached
Stay private & anonymous
Find quality singles looking for a long term relationship
Best for ages 21-45
Free compatibility test to find your perfect match
Why OkCupid Messages Disappear
OkCupid has a messaging feature, like most mobile dating apps. Users can message another user or send an intro to a user to show their interest.
However, there are certain situations when a user may seem like they disappeared or that a user disappeared.
You May Have Blocked The Other Person
If you have blocked the other user, their messages will not show up, and you will not be able to access them. We caution you to be careful if you block someone, as these messages are gone forever.
The Other Person May Have Blocked You
In the rare scenario, someone blocks you, and you will no longer see their profile or your conversation in the inbox when you log back on or refresh your page. The user will be deleted as if you had never matched with them in the first place.
The Other Person May Have Deleted Their Account
It's possible, without warning, the other user may have deleted their account. If a user deletes or disables their account, they will automatically delete all their information from the OkCupid servers.
The Other Person May Be In A Moderation Hold
Similar to deleting the account, users may disable or put their account into moderation hold if they want to break from the service. Users' accounts are treated as deleted, meaning they will not have access to any features unless they activate their accounts again.
The Other Person May Have Been Banned
If the other user has been repetitively reported or has been considered spam, there may be a chance that their account will get banned.
In this case, the user will disappear from your inbox, and it will seem like the user has deleted you. When in fact, the user has been deleted from the system.
These are the main reasons, from the OkCupid website, why your messages are getting deleted. In most cases, it may not be your fault your messages are getting deleted; it's the other users.
We recommend you get their Snapchat or phone number to continue the conversation if you like someone.

Pro Tip: If you're sick of finding people who are just looking for one night stands, we recommend trying eHarmony.
It's one of the highest-rated online dating apps in the world. eHarmony users are actually looking for relationships. Give it a try here for free and see if you can tell the difference.

Why Is OkCupid Different From Other Mobile Dating Apps
Like other mobile dating apps such as Tinder, Bumble & Hinge, and OkCupid is similar in that the user has to swipe left and right to match with a potential soulmate, hopefully. Below are some Similarities compared to other dating apps.
Swipe To Match
Like most dating apps, the user is presented with other users in a card stack, and it's up to them to swipe left or right. If they have a match, they will be allowed to talk to them. Until then, users aren't able to communicate with each other.
OkCupid users can add a small note to each user when they swipe, almost like a cover letter. This will help if the user says something nice that will compliment the pictures they're already displaying.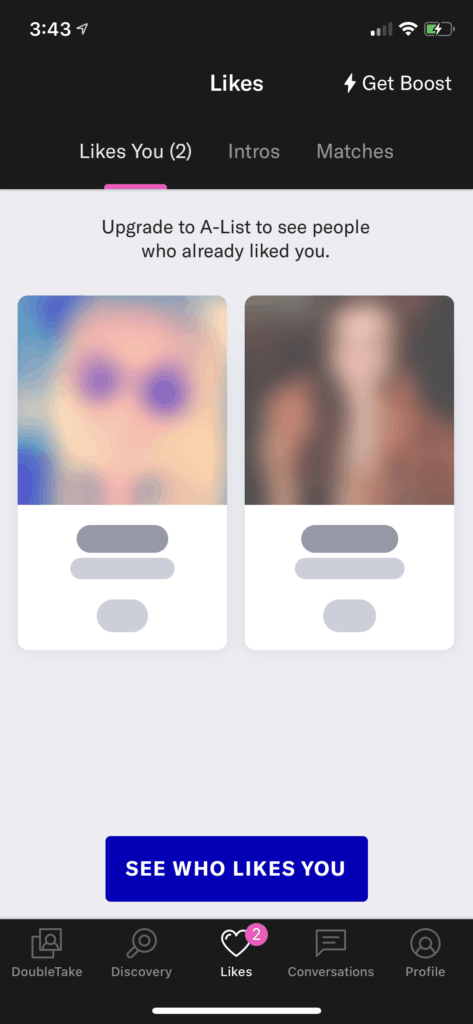 As with most dating apps, OkCupid is no different in hiding features from the users.
Users who want to swipe continuously with no pitch count will have to find another app to use because it will not happen on OkCupid.
Users are allowed a certain amount of swipes. Anywhere between 3-5 swipes are entitled to new users before presenting a purchase screen.
This is significantly lower than other apps and can put a significant hindrance on the user.
The user is immediately met with a purchase screen, where the user can purchase unlimited use for 6,3, and 1 month. To look further into pricing, check out our blog here.
Users can also boost their profiles to be put in front of new and existing users, ultimately boosting their profiles for more exposure.

Pro Tip: Tinder is great, but you might have better luck getting casual dates on Ashley Madison. Users sign up specifically to have discreet fun with others.
Get started for free and find people like you who are looking for casual relationships here.

Differences Between OKCupid & Other Dating Apps
OkCupid has a few unique features that we believe it makes worthwhile to download.
Relationship Status
This is one of the best features on OkCupid. I believe that every single dating mobile app should have this feature. This will help clarify what the user is looking for; there are no mixed messages as two users communicate.
When the user first signs up, they're prompted with a screen to pick what they're looking for. The items include:
Casual Dating
New Friends
Short Term Relationship
Long Term Relationship
Once the user selects what they want, this will be displayed to other users. For instance, if you're a male just looking for casual dating, this will be displayed on the platform.
This transparency is what helps OkCupid match users with other users.
There are no secrets as you may get with other apps regarding the other person's intentions. We love this feature and think every app should have it.
Profile Compatibility
The onboarding process for mobile dating apps like OkCupid & Plenty Of Fish may seem monotonous at first, but in the end, it's worth it.
Users are asked to answer 15 questions to best match with their potential partner. OkCupid then takes these similarities and plugs them into their algorithm to best match you with someone compatible.
This is an excellent feature as it best positions you with other users who share the same interests and goals.
They represent this number by a pink % circle if the user is most compatible. If the user is least compatible, it will fade to a blue color so that a user can see right off the bat.
Conclusion
OkCupid messages disappear for reasons related to the user. This could mean that you made a mistake or the person on the other end did.
This is why we stress the importance of constantly using mobile dating apps. If you take too long to respond, that person you enjoy talking to could be gone forever.
Don't take it personally if a match disconnects. Move to the next match and continue to try to find love.
If you liked this blog, learn more about OkCupid in these articles: