The dating world can seem a bit pricey at times. Mobile dating apps are consistently asking you for money, in order to join their premium service.
Free mobile dating apps include Tinder, Bumble, Hinge, Plenty Of Fish and OkCupid. These dating apps are free to use for the core dating features.
In this article we're going to show you what dating apps are free and how much usage you can get out of it.
Which Dating Apps Are Totally Free?
Tinder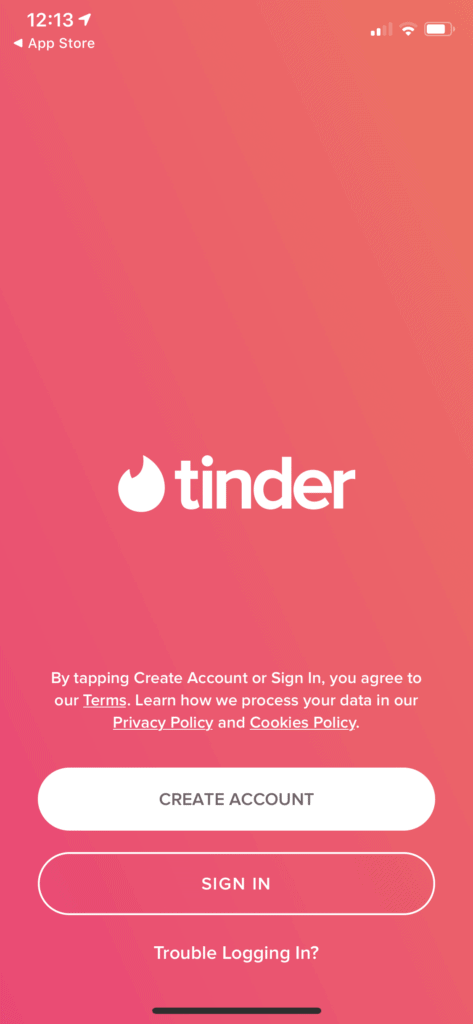 The most popular dating app used around the world, Tinder has not only changed the dating landscape, but it has changed the way we view dating.
Tinder has always been free to use. It's core features of swiping left and right on potential matches has always been free for the user.
It wasn't until recently that Tinder limited how many times you can swipe right or left before being forced to pay. Tinder limits you to roughly 50 swipes per day, which is more than enough to find a match.
The core functionality of trying to find a match by swiping left or right, still works perfectly fine in the free version. Users are also able to talk to their matches with no restrictions.
If you're looking for a free dating option, Tinder still delivers as one of the best free options out there, with limited restrictions to their paid products.
Bumble
Although Bumble is more favored more towards females, it's still one of the great options for dating apps.
Similar to Tinder, Bumble allows the user to swipe for a certain amount of time before restricting the user. The amount of swipes a user gets on Bumble before they're restricted is right around 40 swipes.
The user isn't restricted to purchase any premium content to match and talk to users, which is the best part of using apps like Bumble. Bumble does offer an enhance version of their app, but it's not necessary to use the app.
Bumble is one of the leaders in mobile dating, which allows both men and women to connect and meet others, from the comfort of their own home.
We recommend using Bumble if you're looking for a free options where you can enjoy conversation and quality matches.
Hinge
One of the new players in the dating space, Hinge has become one of the best free to use dating apps on the market.
Hinge, who's marketing efforts are often titled "designed to be deleted", is a free to use app. Hinge is a traditional style mobile dating app where a user is to choose yes or no on the profile of another user.
The main difference between Hinge and the other dating apps, is the quality of users, the in depth profiles, and the ability to let other users know you've liked them.
Compared to Bumble and Tinder, users will have to pay to see if other users liked them. Hinge has this option as one of their free features. Users will have a log of people who like them, and will able to sort through it seamlessly.
The one downside of using the free version of Hinge is that you're only allowed 5 successful swipes per day. This means swiping right (or hitting the check mark in Hinge's case), to let the other user know you've liked them.
If you pay for their premium version, you'll be able to do unlimited swiping. Hinge is still one of the better options for free mobile apps, as users can still get the full use of the app.
Plenty Of Fish
Plenty Of Fish is slightly different than the mobile apps we noted above. POF allows the users to search for other users is a profile tile format. Meaning they can see all the users who are in their vicinity, as well as users who match their search criteria.
Plenty Of Fish's search features are powerful enough in the free version where you'll be able to find the exact user you're looking for.
This app does limit the usage in how many people you're able to search for, and it locks important features such as in depth search criteria and seeing who liked you.
The core functionality of Plenty Of Fish is free, but it's not as easy to use as the other mobile dating apps that we noted above. If you're looking to get away from the traditional swiping and try a new style of mobile dating app, we recommend trying Plenty Of Fish.
OkCupid
Another mobile dating app that you can use totally free is OkCupid.
OkCupid is the last mobile dating app on our list that you can use for free, because it's the least functional without paying. You're able to use most of this apps features, however it is severely limited.
After 3-5 swipes, you're presented with a pop up that asks you to pay to use more of the app. These 3-5 swipes are meaningful and could lead to conversation, however it feels as if you're not able to use the full app without paying..
There are much better options to use for free other than OkCupid, however if you're patient, it's not a bad app to find quality matches with compatible scores.
Conclusion
Dating apps, such as Match.com & eHarmony can the user up to $40 a month. The upside to paying this much, is that users are presented with quality matches that are serious about dating.
Free to use apps like the ones we noted above, can attract more casual users who may not be looking for the same thing you are.
These mobile dating apps we've listed above are great for people who are starting out, looking to join the mobile dating scene without breaking the bank.
If you're new to mobile dating, we recommend you start with these apps, in order to get a feel on how they work before spending any money. Mobile dating isn't for everyone, so starting with a free mobile app and going from there is your best option.