Victoria Milan is a popular dating site for those who want to have an affair. Whether you are in a committed relationship and looking for a thrill outside the relationship, or you are a single person seeking the thrill of getting involved with a married person, this is the dating site for you.
Canceling your Victoria Milan subscription and account is a process that involves filling in a "full deletion form." This will alert the staff that you want to delete your account, and they will help you continue the process from there. This is different from simply deactivating your account.
While canceling your Victoria Milan account is possible, it is by no means a quick and straightforward process. You must understand the difference between deactivation and deletion to avoid incurring any unnecessary costs that could have been avoided.
Discover the world of Victoria Milan: Dive into the world of Victoria Milan with The Complete Guide To The Victoria Milan, your ultimate resource for understanding the app's features and success strategies in discreet online dating.
How To Cancel Victoria Milan
Canceling a Victoria Milan account properly entails filling in a form that sends a request to the staff who work for the company. If you delete your account properly, your account will be completely removed. Your information will all be deleted from the website, and all charges to your account will be permanently stopped.
If you were ever to decide that you wanted to use the Victoria Milan service again in the future, it would require you to create a new account to visit the site again. It's important with Victoria Milan to ensure that you are performing a proper delete of your account and that all your information has been removed.
Suppose you haven't gone through all the correct channels to ensure your account is properly removed and that your subscription to the service is permanently canceled. You may find that you are still charged a monthly subscription fee or that your information is still visible on the site.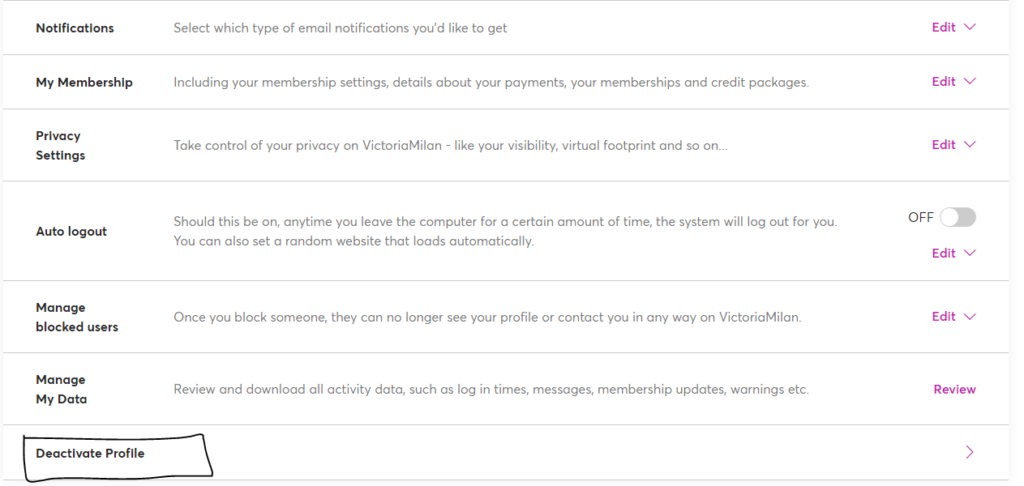 To properly delete your Victoria Milan account, you must go through a process that involves numerous steps:
Begin by logging in to your Victoria Milan account in the same manner that you ordinarily would.
Next, locate the settings tab to take you into all your private account settings for Victoria Milan.
You will find a button that states "full deletion form." By clicking this button, the site will direct you to a page where you have to fill in a form that will begin the process of canceling your account.
Once you have completed the form, click "send."
It's important to note that completing the abovementioned form does not mean that your account has been canceled yet. It simply sends a request to the Victoria Milan staff notifying them that you would like to begin the process of permanently deleting your account.
You will receive an automated reply that will list a set of instructions on what you need to do next.
By following the instructions listed in the return email, you will permanently cancel your Victoria Milan account.
It is worth double-checking that your account has been removed to ensure that you correctly followed all the steps.
Alternatively, there are a few other cancellation methods for Victoria Milan accounts.
Cancel Victoria Milan By Email
It is possible to send an email to Victoria Milan to have your account canceled. Simply send them an email containing all the relevant information about your account. Provide your reasons for wanting to cancel the account, and send the email off. You may have to wait for Victoria Milan staff to respond, but a staff member should get back to you shortly.
Cancel Victoria Milan Via PayPal
Suppose you signed up to VictoriaMilan through PayPal. In that case, this payment service will allow you to cancel your Victoria Milan account directly from PayPal. This process begins with selecting "settings" from within the PayPal site. Next, select the "payments" option.
"Manage Automatic Payments" should come up for you to select, and then look for the name "VictoriaMilan." Click on the name and then click on the "cancel" button. PayPal should now have unsubscribed you from the dating site permanently.
Deactivating Vs. Deleting Your Victoria Milan Account
It's extremely important to note the difference between deleting and deactivating your account in Victoria Milan. If you deactivate the account, your name will be removed from the list, and all features will be suspended.
If your account is deactivated, other Victoria Milan users will not see your profile, and your profile will be unable to receive any messages or updates. Despite being deactivated, however, your account is not deleted. This means that you will still be charged your full subscription fee until you cancel the account properly.
If your Victoria Milan account has been deactivated, logging in to the account again will reactivate the account.
It's extremely important to note the difference between deactivation and deletion. You will not want to be charged continuously for a subscription you don't use. If you are deleting your account permanently, you will most likely want to ensure that there is no trace of you ever having had the subscription in the first place.
Suppose your account is simply deactivated as opposed to fully canceled. In that case, there might still be evidence of your account that can be found.
How To Delete Victoria Milan From iOS & Android
In some cases, you may have purchased your Victoria Milan subscription via the Android or iOS marketplace. If this is the case, canceling your subscription directly via the site is insufficient.
To ensure that all of your information has been removed from the site and you are not charged a subscription fee, you must make direct contact with either the iOS or Android marketplace.
Suppose your subscription was purchased through either of these marketplaces. In that case, they are the only parties who will be able to remove your account and prevent any future payments.
Here is an example of how to cancel a Victoria Milan subscription that was purchased via iOS:
Select the "settings" option on your iPhone or iPad.
Open your Apple ID profile and tap the icon that shows your name.
Once on the profile page, click on "subscriptions."
Scroll through the list and click "VictoriaMilan."
You will find a "Cancel Subscription" option at the end of the page.
Confirm that you want to cancel your Victoria Milan subscription, and the process will now be complete.
Conclusion
Suppose you have decided that you no longer wish to use Victoria Milan. In that case, it is possible to cancel your subscription and delete your account. This will ensure that you are no longer charged a subscription fee. Your account is no longer visible to anybody else on the site.
Find hookups & casual dating instantly
Match with others who want no strings attached
Stay private & anonymous
Find quality singles looking for a long term relationship
Best for ages 21-45
Free compatibility test to find your perfect match
If you liked this blog, learn more about Victoria Milan in these articles: