Tinder, when it first launched, was for mobile users only, iPhone users in particular. Over the years, Tinder has built its platform for all major mobile carriers and has even created an online app to expand its reach. Users no longer need a phone to access Tinder.
To use Tinder without the app, visit tinder.com and enter the credentials you used to sign in to the mobile app. If you don't have a mobile account, create a new account online. The Tinder website works just like the mobile app, as users can swipe right and left on potential matches.
Tinder created a website for users who live in underprivileged countries and can not afford cell phones or access cellular devices. Simply going to the nearest cafe with WiFi can help the user find someone to match on Tinder.
Typically websites like match.com and e-Harmony started as websites, which then moved to mobile ( as most traditional websites do). However, Tinder has taken the reverse approach and built a website to satisfy its users on all fronts.
In this article, we're going to walk you through the complete guide to starting and managing your Tinder experience on the web.
Take a deep dive into Tinder: Dive deep into the world of Tinder with The Complete Guide To Tinder, your comprehensive resource for becoming a Tinder pro.
Find hookups & casual dating instantly
Match with others who want no strings attached
Stay private & anonymous
Find quality singles looking for a long term relationship
Best for ages 21-45
Free compatibility test to find your perfect match
Using Tinder Without The Mobile App
The very first thing we want to do is head over to Tinder.com to access the main website. This is where we'll be doing all of our logging in, swiping, and managing our accounts.
Check out our complete Tinder User Guide here.
When you type in Tinder.com, you'll see a home screen like this, with a pop-up that shows you how to get started.
For the sake of this demo, we're going to log in with our phone number. Again, if you do not have a phone number, please log in with your Facebook. There's also an option to log in with your email.
If you do not have either of the 3, we're sorry, but you're not going to be able to use Tinder.
You must enter a valid phone number, as a security code will be sent to it to ensure you're not a robot.
Once you enter your phone number, a code will be sent to your phone. This code is typically six digits that must be entered incorrectly to continue with your Tinder experience.
Once you've successfully entered the code, you should see this screen next. Here you're prompted to add a little bit of information about yourself. Items you must enter:
First Name
Email Address
Birthday
Profile Photo
Gender
Orientation
What's great about Tinder's onboarding process is that it takes 2-3 minutes to get started. Other apps, such as Plenty Of Fish and OkCupid, rely on the user to type in every bit of information. While that's great as you can match more accurately with people, it does take a while to set up. Tinder is the opposite; it's a seamless process.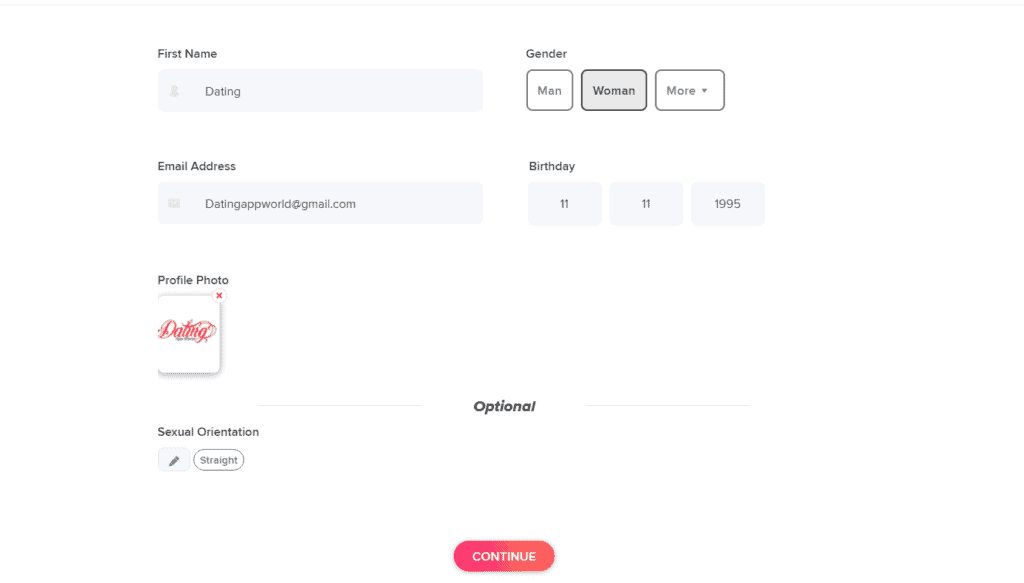 All the boxes should look like this when filled out, and the "continue" button should light up a Tinder red.
Once you hit continue, it will bring you to the main Tinder screen. Here, Tinder has made it easy to use online features similar to how mobile features are used.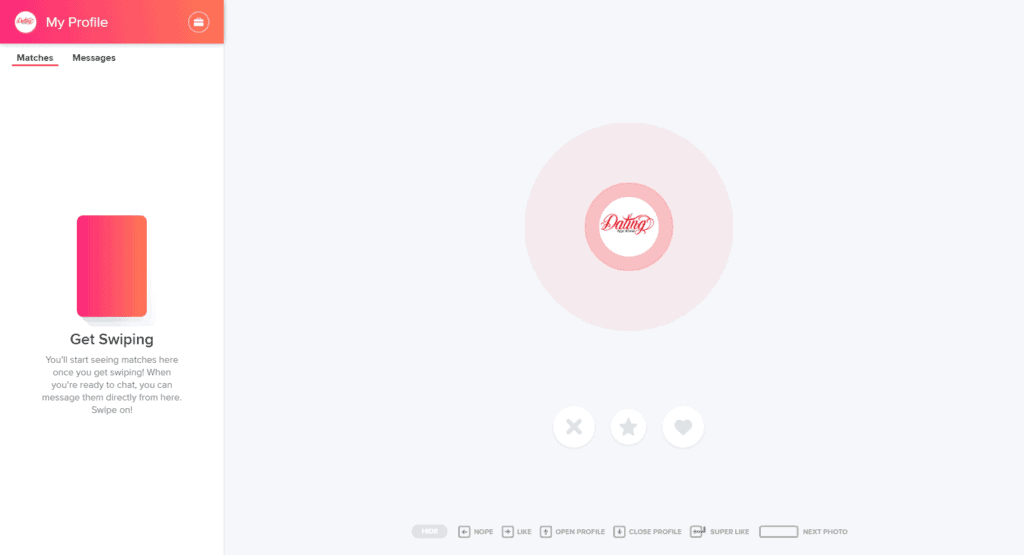 As you can see, the main part of the screen is where the photos will appear. Tinder has also made the controls easy for people to use without having to use the mouse.
Left Arrow = Nope
Right Arrow = Like
Up Arrow = Open Profile
Down Arrow = Close Profile
Enter = Super Like
Space Bar = Next Photo
Let's examine the side panel.
Clicking on the "My Profile" button in the top left will bring up a screen when we hit the settings icon on mobile.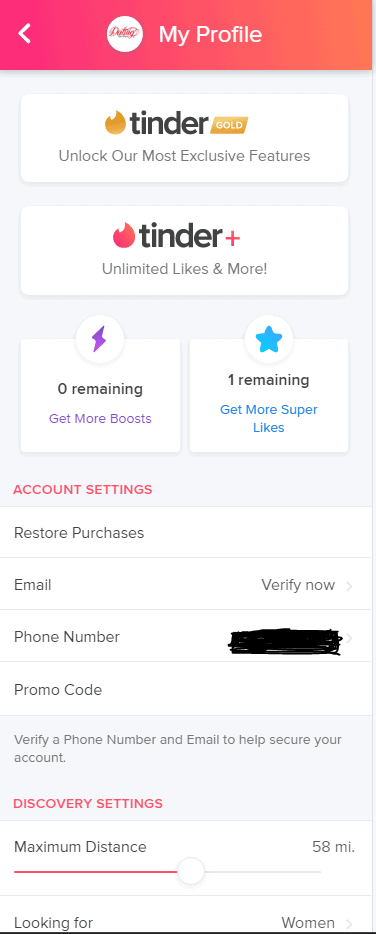 Users can edit their info in the center of the screen; this includes updating their pictures (adding up to 9 photos), editing their dating profile, job title, company, school, living in, and more! Scroll down once you click "edit info" to be able to see all of the options
Once done editing all your information, you'll be able to see all the information regarding your matches on the left-hand side. To populate the maximum distance and the age range you're looking for, it's essential to visit this screen to adjust it to your liking.
This is where all your settings live, and the ability to log out and even delete Tinder if necessary. Use your mouse and scroll down on the page to find the option you're looking for.
As you change your preferences, a list of people will show up who fit the criteria to what you set. As you continue to swipe, you'll see blurred images of people who have swiped right on you, signifying someone likes you. This is, of course, part of the premium membership, which can be purchased to access all of its features.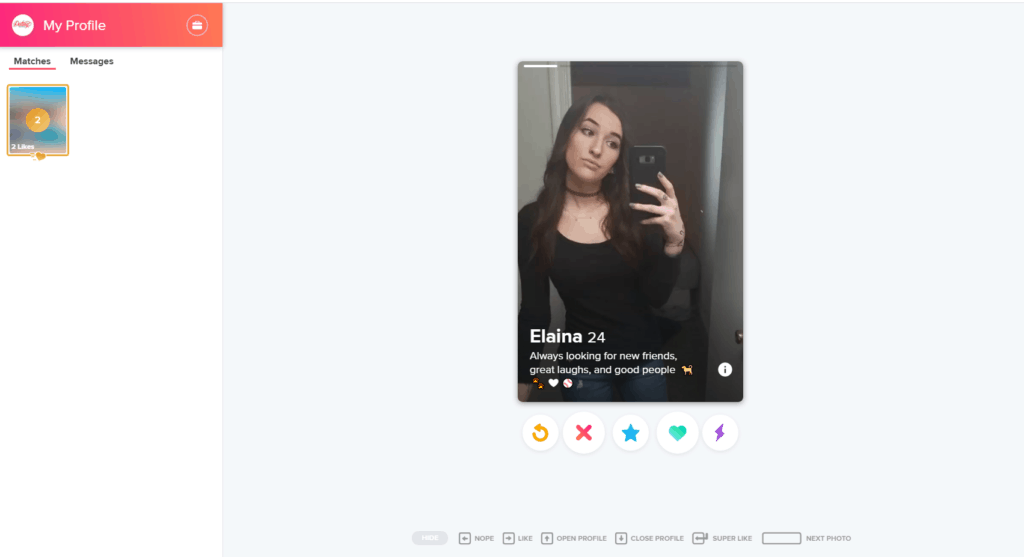 If we look in the center of the screen, the Tinder website works pretty much identical to what the mobile app does. There's hardly any change, and users can swipe as if they're on the phone.
Matches and messages will appear in the left-hand panel and can be accessed at any time.

Pro Tip: Tinder is great, but you might have better luck getting casual dates on Ashley Madison. Users sign up specifically to have discreet fun with others.
Get started for free and find people like you who are looking for casual relationships here.

What Is Work Mode On Tinder?
If you notice in the top left of the screen, there's a briefcase icon that is right next to "my profile." If you hover your mouse over this icon, it will expand to "work mode."
What is work mode? It's a feature Tinder has built-in for those who want to still swipe at work but don't want to get caught by their boss or co-workers.
Simply clicking "work mode," a spreadsheet that looks like they're doing everyday spreadsheet work pops up to the user. Here is the exact sheet that comes up when the user clicks work mode: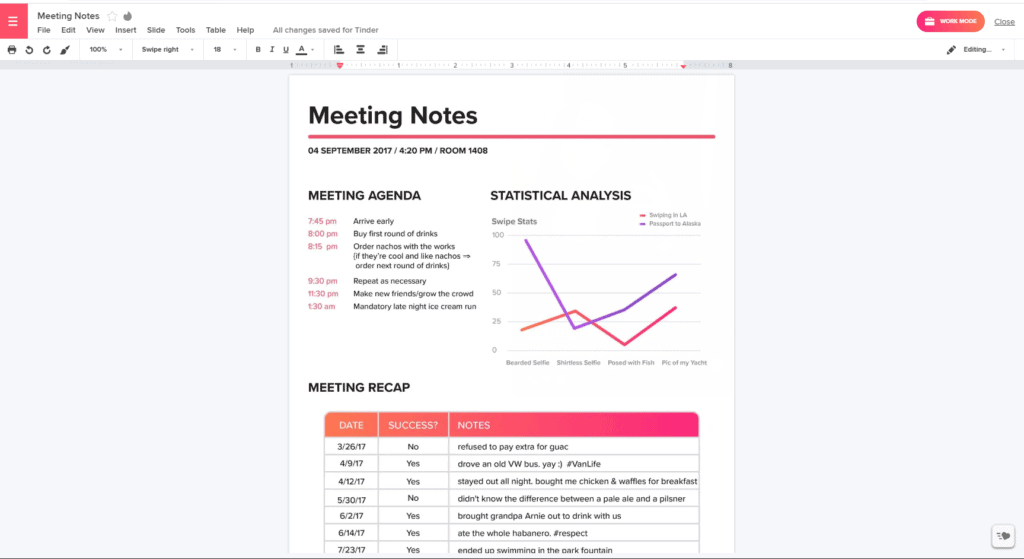 As you can see, this sheet looks close enough to Google Sheets or any spreadsheet a user would be working on. It even has a graph in the middle to fake a statistical analysis research project.
This is an excellent feature because sometimes it's not easy to click away if someone comes near your desk or your cube.
It's easy to have a key ready to press or a mouse ready to click instead of trying to click off to another tab. If you genuinely like someone and enjoy talking to them, don't risk losing them by not being able to speak to them.
Click the briefcase button in the top right of the screen to go back to swiping on Tinder.
The Tinder desktop app is great for users who still want the Tinder experience but may not have access to a phone.

Pro Tip: If you're sick of finding people who are just looking for one night stands, we recommend trying eHarmony.
It's one of the highest-rated online dating apps in the world. eHarmony users are actually looking for relationships. Give it a try here for free and see if you can tell the difference.

Conclusion
Using Tinder without the mobile app is extremely easy. If you're without a phone, want to use Tinder at work, or would instead use Tinder on a desktop, we recommend this process.
It's super simple to set up and allows people without access to mobile phones to online date and be efficient in the dating scene. We anticipate within the next five years, every mobile dating app will have some online features. Therefore both mobile users and desktop users can flourish in the dating scene.
Do you think Tinder is better to use on the mobile app or the desktop? Let us know what platform you think is better to use!
If you liked this blog, learn more about Tinder in these articles.