Tinder & Grindr are two completely different mobile dating apps. However, they're often talked about in the same breath. The reason they are mixed up is because of the name similarity and their popularity. These two mobile dating apps dominate the mobile dating app scene all around the world.
The difference between Tinder and Grindr is that Grindr is used by the LGBTQ community, and Tinder is often used by straight users. Both apps, however, are known for casual dating.
In this article, we will break down how they're alike and how they're different. At the end of this article, you will have a clear view.
Go beyond the basics of Tinder: Elevate your Tinder game by exploring The Complete Guide To Tinder and discovering advanced strategies and profile optimization techniques.
Discover Grindr's world: Dive into the world of Grindr with The Complete Guide To Grindr, your ultimate resource for understanding the app's features and success strategies in the realm of gay dating.
How Tinder & Grindr Are Similar
As mentioned, these mobile apps are relatively similar in how they operate. However, they are vastly different in the crowd they attract. Here are the similarities:
Reputation Of Casual Dating Apps
Both Tinder & Grindr have reputations for being casual dating apps. Casual dating is a mobile dating app where people go strictly for casual conversation and dating, not for relationships.
However, it's not impossible to find love on these platforms. These platforms are just more common to host people who are looking for casual dating or short-term relationships.
If this is your intent, then these mobile dating apps are for you.
If this is not your intent, there are other mobile dating apps to explore. Don't be discouraged if all you find on these apps are people that want to date casually. Make sure you ask as you engage in conversation if this is what the other party is looking for or if you're looking for something different.
Check out our complete Tinder User Guide here.
Features User Profiles & Bios
Once users sign up, they're instructed to put their best foot forward and showcase their best pictures. You have the option to add several images of yourself to attract other users.
Also, you have the option to put anything you want in your bio. This could be information about yourself, what you're looking for, or anything other users should know.
Users are encouraged to put in their accurate information to best match what they're looking for.
Location Based Matching
These mobile dating apps work by matching other users by location. For example, in Tinder, the user will be presented by the distance radius they set with other users. This could be 1 mile or could be 100 miles. It all depends on their preference.
Similar to Grindr, users can search for users that are around their area. This is great because you can see how close in proximity you are to other users.
There's no need to travel across the state to see the person you're talking to. If they're in your neighborhood or a short 5-minute car ride, you'll be able to tell the distance away.
Paid Subscription Services
Like most mobile dating apps, their main goal is to make money. Because they're trying to make money, these services offer premium memberships such as Tinder Gold and Grindr Xtra.
These services will allow you to search for users/swipe on users for a limited amount of time. They also restrict filters, access to who likes you, and more.
The reason for this is to get you to pay these companies and be lifelong subscribers of their services.

Pro Tip: If you're sick of finding people who are just looking for one-night stands, we recommend trying eHarmony.
It's one of the highest-rated online dating apps in the world. eHarmony users are actually looking for relationships. Give it a try here for free and see if you can tell the difference.

Secrecy Of Hiding The App
Both apps have a way to hide your use, so other people can't see you use the app.
When using the web version, they can quickly click off of the screen to a fake "metrics report" if anyone happens to walk by your computer and look at what you're doing. This is what it looks like.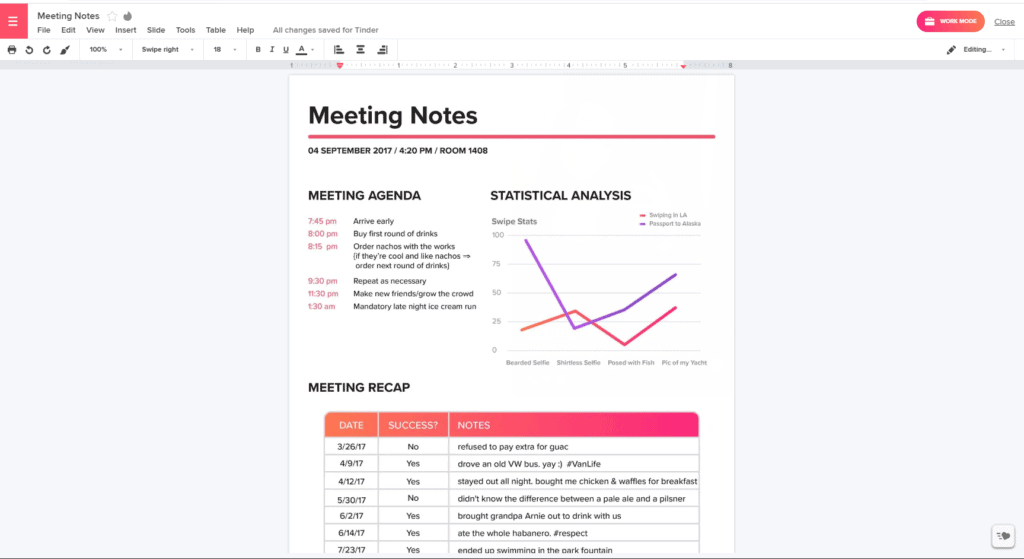 Grindr has a feature that allows users to change their mobile dating app icons. So if someone is looking at your phone while browsing your home screen, Grindr gives you six different options to hide that you're on the app.
Here's what the options that are available for secrecy look like.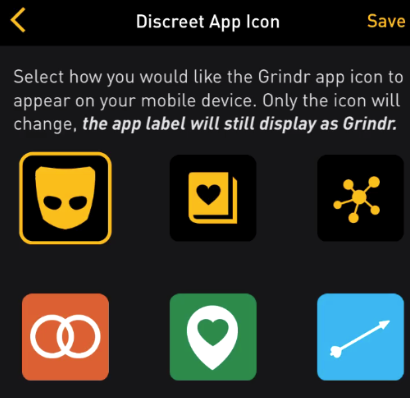 This allows the user to hide the mobile app if any family member, friend, or stranger happens to stroll by their phone. It also saves the person the embarrassment of being on a casual dating app.

Better Than Tinder: Tinder is out and Ashley Madison is in! Find singles who are actually looking for hookups here.
Differences Between Tinder & Grindr
Straight & Gay Audiences
The first and most significant difference between Tinder and Grindr is that Tinder is often for straight people. Grindr, on the other hand, was to attract people from the LGBTQ community.
If you're looking for straight couples, Tinder is the app you want to download. Tinder does feature gay men and women, but Grindr is exclusively built for the LGBTQ community.
There's a good chance that you won't find any straight people on Grindr, so you're better off downloading Tinder to fulfill whatever you're looking to do with the mobile dating app.
Card Stack & Tile View
Tinder is known throughout the mobile dating space as a mobile app that users can swipe left and right on.
This card stack, shown to the users, lessens as the user swipes left and right. Soon after the user swipes through all of the options in the card stock, they will be out of cards unless they change the age and distance.
The card stack is popular among dating apps, as users determine hotness by simply swiping left or right on users.
Grindr is a bit different, as they have a tile view. Users are presented with 12+ users at a time, and they will click on the profile, look at the pictures and read the information before making an informed decision.
This is entirely different from just swiping effortlessly left or right through card stacks.
Paid Features
As mentioned, dating apps are in the love space to make money. The difference between Grindr and Tinder is also with the paid features. Yes, they have hidden features, but because of the style of the apps, the features differ.
For instance, Tinder will show you a blurred image of who likes you, and you must unlock premium access to see exactly who likes you.
Grindr will show you up to 600 people before you must pay for their subscription service. Each feature changes in the features they show you to have full access.
Conclusion
The main difference between Tinder and Grindr is the audience that the two apps attract. Tinder is made for straight males and females, with a light gay crowd. Grindr is built primarily for the gay community.
Both apps are used for casual dating purposes and allow users to explore/easily talk to matches in the area.
If you liked this blog, learn more about Tinder in these articles:
Why do you use Tinder and Grindr? Let us know!