Tinder is a mobile dating app that allows users to swipe their thumb to match with other users. Dating companies like match.com and eHarmony cost money. However, is Tinder free, or do you have to pay money?
Tinder is free to use the basic functionality. The free version gives Tinder users 25 right swipes for a chance to match with another user. Once the 25 right swipe threshold is met, Tinder users must purchase the premium version to continue using the app.
In this article, we're going to show you all of the free features when using the Tinder app.
What's Free On The Tinder Dating App?
Tinder offers a variety of features for users to use the app for free effectively. Other dating apps require payment upfront to use the app.
Tinder takes an opposite approach, as users first get addicted to the swiping process before being asked to purchase the premium subscription.
These are the free features that Tinder allows it's users to use before being locked out and forced to pay for a premium subscription.
Creating A Profile
Tinder users can create a Tinder profile for free. The basis of Tinder is for users to make their profile as attractive as possible. This includes putting your name, age, bio, and pictures that will attract other single users.
Creating an attractive profile is the main purpose of using dating apps. The point is to get other users to swipe right on your profile; that way, you'll be able to initiate in conversation with them.
Tinder allows users to create their profile and add everything they need to, for free.
Change Preferences
Tinder allows users to change their preferences to find other users. There are two ways to locate users on Tinder, by age, and by mileage.
The app uses your GPS location to decide where other users are around you. They also take into account your age to match you up with users that you're looking for.
For instance, if you are looking for users 21-35, that is 10 miles away from your current location, Tinder will display all of those users. All of these preferences can be updated and changed for free.
See our complete User Guide to help you get the most out of Tinder here
Viewing Other User's Profile
Once the profile has been created, Tinder will show you other people's profiles in a free card stack. This means that users can swipe right (to like) and swipe left (to dislike) on other user profiles.
Tinder presents other user profiles in a card stack, meaning the user's profiles are stacked on top of each other. The user will swipe right or swipe left to move to the next profile in the stack.
The free version of Tinder allows you to look at other profiles and read bios to see what users are in your proximity.
Right Swipes
To match with other users, Tinder requires users to swipe to the right. Right swipes mean that you're interested in the other user. If they swipe to the right also, the two profiles will be matched with one another.
Users can connect once the two profiles match. Users can swipe right only 25 times before they are locked out for 12 hours. This means that users need to purchase the premium version to keep swiping to the right.
Tinder users can swipe to the left as many times as they want to dislike profiles. This will move to the next card to the top of the stack while you move through profiles that you don't like.
Talking To Other Users
Once you connect with a user, an interstitial screen will appear that shows that you've matched with another user.
You'll also notice a red notification in the top right where the chat is to inform you that you have a match.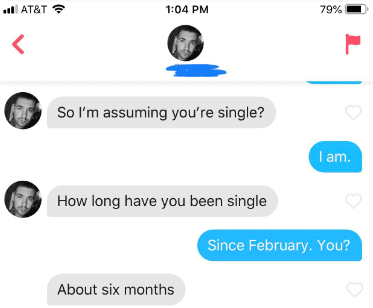 Once a user has been matched with another user, they will send as many messages as they want for free. There are no restrictions or time restrictions on sending messages back and forth.
This is the best free feature about Tinder, as users can converse and meet other users without paying any money. Tinder is one of the most popular mobile dating apps in the world because of its free features.
Tinder makes its money from users who pay for the premium subscription, who can have more swipes a day and unlocks more improved features.
Tinder's Free Mobile App
We recommend users who are just getting into the dating app game to try apps like Tinder or Bumble because they are free to use. Learn how to swipe mechanics work and how people interact with dating apps before spending money.
It's important to understand what dating apps bring crowds to the app. Because Tinder is a free dating app, it does bring a causal and hookup crowd to the platform. This doesn't mean that the mobile dating app is strictly for hookups. However, users can be found more often than not looking for one.
Tinder's free app allows users to swipe without any financial commitment. Apps like eHarmony and Match.com require users to pay upfront. Having a financial commitment to dating often requires users to be more serious about dating.
Conclusion
Tinder is free for all users with a registered account on Apple, Google Play, or even on the website. Users can swipe and meet other users whenever they have access to the platform.
Free access to Tinder has solidified it as one of the top mobile dating apps in the world. Tinder users can meet other people for dates by simply swiping to the left and right.
Not only is Tinder free, but it also allows users to get a kick start when using dating apps to feel what it's like to date online. Online dating can not only be intimidating for new users, but it's also nerve-wracking. Tinder can help users get a start on the free app.