Match.com and Tinder are often compared as the top dating applications. Match.com and Tinder have changed the way we date online.
These two platforms were seamlessly the first to both desktop and mobile, as they continue capturing users, searching for love worldwide.
Although they are two dating platforms, they are two platforms that are incredibly different from each other and similar in how they operate.
This article will show you the features of both Match.com & Tinder and show you how they both compare.
Comparing Match.com & Tinder Dating Apps
Match.com and Tinder are both owned by the parent company – Match Group. Match Group is a conglomerate that owns most dating apps you've either seen on this website or have downloaded to your phone.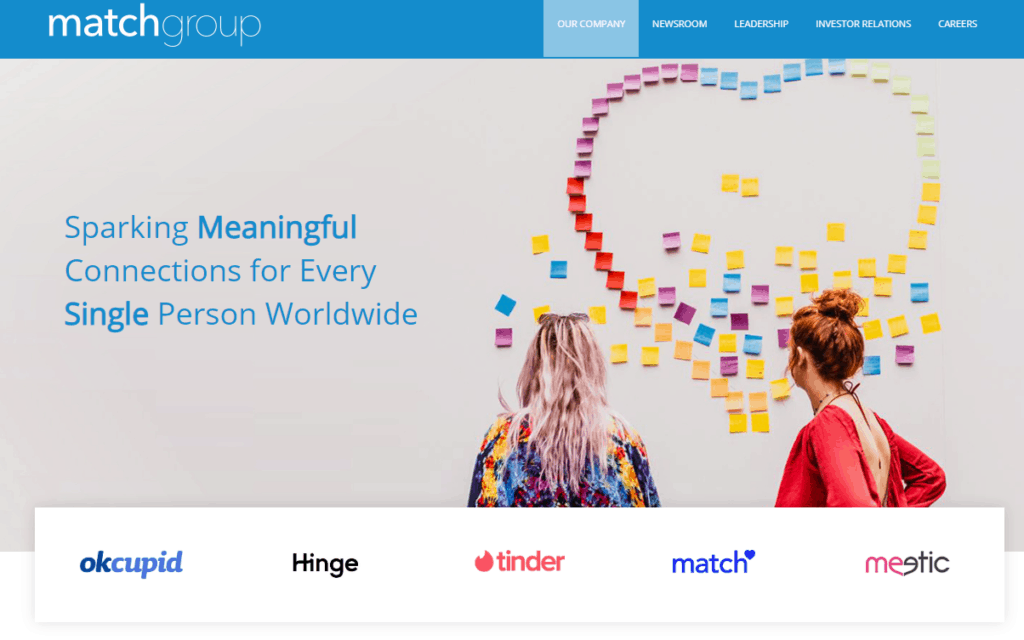 As shown in the picture above, these are just some of the dating services they own. What is interesting is how they've differentiated their portfolio for different styles of mobile apps.
It's important to know who owns these apps because we can see features and algorithm tweaks to each app that allows us to be more interested in their platforms.
Filters, onboarding structure, and how many profile pictures you're allowed are common themes on their dating apps.
The Reputation Of Tinder & Match.com
Digging into the details of the apps, first, we're going to look at reputation. Tinder and Match.com have two completely polar opposite reputations.
First, Tinder has a poor public reputation as a mobile dating app – as Match.com prides itself as a breeding ground for love.
Tinder absorbed this reputation as it launched on college campuses, the number one place for dating activity all across the world. It started to expand across the globe from college campuses, as users loved the simplicity of finding matches.
Match.com, however, is a little bit different. Its reputation is built on finding love and making sure the mobile app is a safe environment. From their website, this is how they operate:
At Match.com, we give singles the opportunity to express themselves through various free writing sections. Profiles may include up to 26 photos, as well as selected preferences regarding the person they're searching for. With the click of a mouse, members can instantly see photos and read about potential matches in their area.

Match.com also understands the importance of privacy and integrity. All communication between members on Match.com happens through an "anonymous" email network. The names and contact information of all our members are kept confidential until the member personally decides to share the information with a potential match.

And to help ensure the integrity of our community, every profile and photo is screened by our Customer Care team for appropriateness before it's posted to the site.

Match.com
One thing Match.com does very well is innovation. When writing this post, you're able to check in with dates, read blogs from their experts on match-making, and pick and choose every little detail about the person to build your perfect match essentially.
This is something that Match.com has been the leader of in the dating app space and has maintained its reputation since 1995.
Tinder & Match.com Subscription Pricing
The payment structures between the two apps are lopsided. Match.com is confident in what it offers, so it has no problem making the premium service a bit more pricey for users than how cheap Tinder is.
| | | |
| --- | --- | --- |
| Payment Plan | Tinder | Match.com |
| Monthly | $29.99 | $44.99 |
| 6 Months | $12.99/Month | $21.67 |
As you can see, Tinder and Match.com are two utterly different price structures.
What exactly do you get with each payment structure and the features of each app. Here are the differences between the two apps.
For Match.com, here are the items that are hidden behind their paywall:
Send and Receive Unlimited Communications
See Who's Viewed Your Profile
Get Discounts On Match Events
Remove Unwanted Members From Search
See Who Likes Your Profile
Super Likes
Tinder has similar features to entice the user on the other end to view their profile. For a complete list of Tinder Gold features, check out our full coverage here.
As you can see, Match.com is a bit more expensive. It lets users know that everyone on this platform is serious about dating. Rarely do people almost pay $50 a month if they're going to play games on Match.com. This is why they can market more meaningful connections.

Pro Tip: If you're sick of finding people who are just looking for one-night stands, we recommend trying eHarmony.
It's one of the highest-rated online dating apps in the world. eHarmony users are actually looking for relationships. Give it a try here for free and see if you can tell the difference.

Free Apps Vs. Paid Apps
This may be the big between the two; however, since Match.com hasn't changed in years, we can assume it's not affecting their bottom line that much.
Tinder is super simple to use; enter your name, age, pictures, bio, and you're good to go. There's no painful onboarding process where you have to answer 50 questions to see a match.
Its process has made it easier for users to download and get right into the game. Users are also able to start watching right away and start talking to other users.
This is why Tinder has been the number one choice it doesn't corner users into a payment structure.
Match, however, allows the users three free conversations a day before they have to pay. This is new to Match.com as they used to be entirely exclusive for paying members only.
Tinder's payment structure allows the option to pay if they want to, but the app is still fully functional, like Bumble, if the user doesn't want to pay. They give the option to the user to enhance their experience, but it's not necessary.
Match.com offers more powerful features for dating, where users can build their perfect spouse by using all of their filters. This all depends on how important these features are to you and how vital short or long-term dating is.
Find hookups & casual dating instantly
Match with others who want no strings attached
Stay private & anonymous
Find quality singles looking for a long term relationship
Best for ages 21-45
Free compatibility test to find your perfect match
Similarities Between Tinder & Match.com
Match and Tinder, especially on the mobile app, offer a ton of the same features.
For instance, the biggest standout from both the apps is the "card stack" – this is where users are shown a profile, and they must swipe left or right if they like it.
This card stack presentation is shared among all mobile apps. This style is great because it allows users to see multiple profiles and decide if they fit their type.
For instance, on Match.com, instead of using your thumb to the right and left swipe, the user can hit the heart or the X that's seen below.
Tinder and Match.com also feature a location aspect, where users can set the mileage of where they want to find their matches.
Often the user can search up to 100 miles in the radius area that they're in. This helps the user buckle down to see what users are active in their area.
Which One Should I Choose, Match.com or Tinder?
The two platforms offer two different styles of commitments—short and long-term.
If you're looking for a hookup or casual relationship, we recommend Tinder. If you're looking to meet someone who is serious about dating, we recommend Match.com.
Short Term Commitments
If you're looking for a short-term commitment or even a fling, we recommend using Tinder. The free-to-use mobile app is easy enough to get started and won't be a pain if, for whatever reason, you have to delete it.
Tinder also has the reputation (for the most part) that users are looking for flings or short-term dating. Minimizing this pool of applicants makes it easier to have a conversation with the other person if all they're looking for is short-term dating.
Tinder's paid features allow the user to accelerate their matches and get in front of more users.
We recommend using Tinder if this is your goal in the dating world. If you're completely brand new to dating apps, we also recommend using Tinder or Bumble to get used to how dating apps operate, free of charge.
Long Term Commitments
For those who are looking for long-term commitments or getting married, match.com has a better reputation. As mentioned, when you force someone to pay for a mobile app, not only do they have a love commitment to the app, they now have a financial obligation to it.
A financial commitment typically means the person is serious about what they're doing. Whether that be going to the gym, applying for schooling, or even dating! Match.com limits the user's ability to use all the features on the platform completely; however, when unlocked, the user can filter and find their perfect match!
Take some time and focus on what you want. If it's just a short-term commitment and fling, don't waste your time paying for a service with couples looking for true love.
The same goes for couples looking for love. Don't download the app that has people looking for short-term relationships and casual dating. There's a high chance you won't find what you're looking for.

Pro Tip: Tinder is great, but you might have better luck getting casual dates on Ashley Madison. Users sign up specifically to have discreet fun with others.
Get started for free and find people like you looking for casual relationships here.

Match.com Or Tinder Recap
Match.com and Tinder are similar in how they allow users to sort through different matches based on looks, physical, and expected personality.
Find hookups & casual dating instantly
Match with others who want no strings attached
Stay private & anonymous
Find quality singles looking for a long term relationship
Best for ages 21-45
Free compatibility test to find your perfect match
However, the two are vastly different from each other in the type of audience they attract.
So what are you looking for? Short-term or long-term commitments? Love or just a short-term relationship? Let us know what mobile dating app has worked for you!