Back in 2012, Tinder was first found on college campuses. Its unique user design and experience had college kids swiping left and right on their cell phones. Since then, swiping left and right has become the normal way to online date. But what does swiping left and swiping right on Tinder mean?
Swiping left on Tinder means you're not interested in the person. Swiping to the right means that you are interested and would like to talk with them.
The swipe mechanics have become almost mandatory for all developers who are creating mobile dating apps. Learn more about swiping left and right.
Learn more about Tinder: Learn more about Tinder and its features by reading The Complete Guide To Tinder, where you'll find valuable insights and expert recommendations.
Find hookups & casual dating instantly
Match with others who want no strings attached
Stay private & anonymous
Find quality singles looking for a long term relationship
Best for ages 21-45
Free compatibility test to find your perfect match
Swiping On Tinder
Since Tinder first started in 2012, it introduced a swipe feature that would soon take over the dating world.
Tinder displays profiles in what they describe as a card stack. This means profiles are shown one after another, and the user must decide if they like the profile or not.
To decide if they like the profile, users will swipe in a lateral direction.
Swiping on Tinder means the user will drag their finger to the left or to the right of the screen to decide if they like the profile or not. The term swiping is used with all of the dating apps on the market, as the swiping mechanic is one of the most efficient ways to date online.
Using the swipe mechanic on mobile dating apps is not only easy, but it's also fast and efficient. In the world of quick attention media (think TikTok & Snapchat), users can quickly look through a profile and determine if that person is right for them.
Swiping Left On Tinder
When the user is presented with a profile, they have two options, swipe to the left or swipe to the right. On Tinder, swiping to the left means you're not interested in the profile. The card (the profile shown) will exit the screen by dragging your finger on the screen to the left. This profile will be gone forever, as it will not be shown in your card stack again.
The other user is not able to see that you swiped left on them. They are removed from your card stack, never to be seen again.
It's important to note that if you swipe left, you will not get that person back. This is why speed swiping is not a good idea; take time, and analyze each profile.
Swiping Right On Tinder
Swiping to the right means that you are interested in that person. This is the first step in starting a meaningful relationship. Swiping right on Tinder means that you either like their physical appearance, how their bio was written, or both.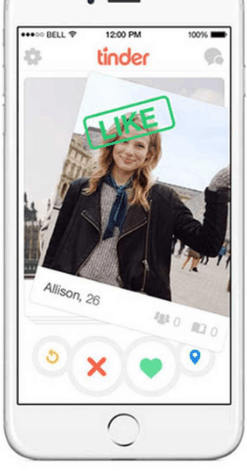 Once a user swipes to the right on Tinder, they must wait until the other person swipes right as well. Once both parties swipe right on each other, they will be greeted with a notification that they've matched.
When a match is initiated, both users will be able to send messages back and forth. Once both parties decide to meet or exchange numbers, they will take their conversation outside of Tinder.
Swiping Up On Tinder
Tinder also has a swipe-up mechanic that has been newly introduced. Swiping up on a profile is a way to super like a profile.
A super like is a way to stand out compared to other profiles. For instance, if a really pretty girl or a handsome comes across your profile, there's a good chance you and hundreds of other people have swiped right on them. It's then up to that pretty/handsome user to find yours through every profile.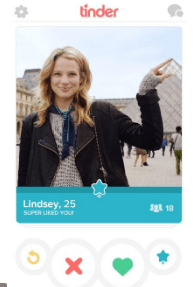 If you super like it, you will immediately stand out to other users as they will be notified right away. Super liking will help you skip the line and get to the forefront of that person's profile.
These super likes are only available in limited quantities. Each user is given a free super like a day. If you want to have more super likes, you must pay to get more.

Pro Tip: If you're sick of finding people who are just looking for one night stands, we recommend trying eHarmony.
It's one of the highest-rated online dating apps in the world. eHarmony users are actually looking for relationships. Give it a try here for free and see if you can tell the difference.

Swiping Impact On Dating
Swiping left and right has become the new normal in dating. Gone are the days when the only way to meet someone was at a bar. Long gone are the days when online dating was considered awkward and not normal.
Most relationships with people under 30 are found on dating apps or websites. Living in a technological world, meeting someone by simply swiping to the right has never been easier.
Users don't have to spend money or go out in their best-dressed outfits to meet someone. They can sit on their couch, swipe left if they don't like the person, or swipe right if they want to meet them. This has made dating easier and more enjoyable than the stress of going out to bars or public places.
Living in the digital world, blind dates are a thing of the past as well. Users can see all the pictures on Tinder and confirm social profiles as well.
However, swiping mechanics and online dating did introduce a catfish or a person who fakes their profile pictures and pretends to be someone else online.

Pro Tip: Tinder is great, but you might have better luck getting casual dates on Ashley Madison. Users sign up specifically to have discreet fun with others.
Get started for free and find people like you who are looking for casual relationships here.

Conclusion
Swiping left and swiping right on Tinder has become the standard for mobile dating apps. Swiping to the left means that you're not interested in the person's profile. Swiping to the right means you're interested and want to get to know them.
These swiping mechanics were created by Tinder and have since been mimicked by other dating apps. Apps like Bumble, Hinge, and even long-standing apps like match.com have featured a swipe mechanic in their app.
Swiping left and swiping right has become part of the culture, as people use the term to accept or deny claims. As technology improves, dating online becomes more normal, and swiping left or right is the new way to meet people.
If you liked this blog, learn more about Tinder in these articles: