Facebook has just released a new dating app to go on to their plethora of other apps. Facebook is currently used to connect and talk with friends; it's the perfect place to meet new friends and potential spouses. However, how does one get to the Facebook dating app?
To find Facebook Dating, you must be on the mobile app. Tap the 3 horizontal lines in the bottom right corner, and click the dating icon.
In this article, we will show you step by step how to find Facebook dating and how to use the popular dating feature.
Learn all about Facebook Dating: Explore our comprehensive guide, The Complete Guide To Facebook Dating, where you'll find everything you need to know about using the app effectively for online dating on the social media platform.
Find hookups & casual dating instantly
Match with others who want no strings attached
Stay private & anonymous
Find quality singles looking for a long term relationship
Best for ages 21-45
Free compatibility test to find your perfect match
Find Facebook Dating
Facebook dating is a new feature that Facebook has added to connect users that are already constantly using the platform. The rise and popularity of online dating have become the norm to meet people nowadays.
Facebook already has millions of users all over the world who use the app daily. To keep users on the platform and prevent them from going to apps like Tinder or Bumble, Facebook has created its own dating app.
This dating app comes equipped with features that can be found in popular apps like Tinder. Users are displayed in a card stack, which then is swiped left and right depending on whether you like them or not.
Finding the Facebook dating app is a bit hard to find at first. We're going to show you step by step how to locate the app and use it to its fullest.
Find The Facebook Dating App
To locate the Facebook dating app, you must first sign on to Facebook using the Facebook mobile app. Facebook dating is not available for users on the web. It's only available on the mobile app.
This is the most confusing part of locating the dating app, as many users search on the web for it.
If you're looking for more information on Facebook dating, you can visit their website on a computer here.
Once you've downloaded the Facebook mobile app, there are three horizontal lines in the bottom right corner.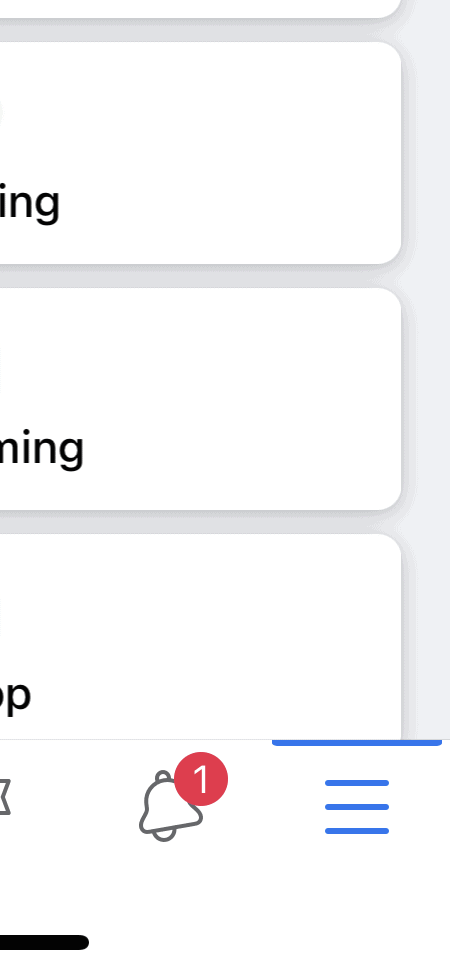 These horizontal lines will populate all of the mobile apps that Facebook has built into its platform.
Apps like pages, marketplace and news fill the screen. If you look on the right-hand side of the page, you'll see "dating." This is located directly below the pages tab.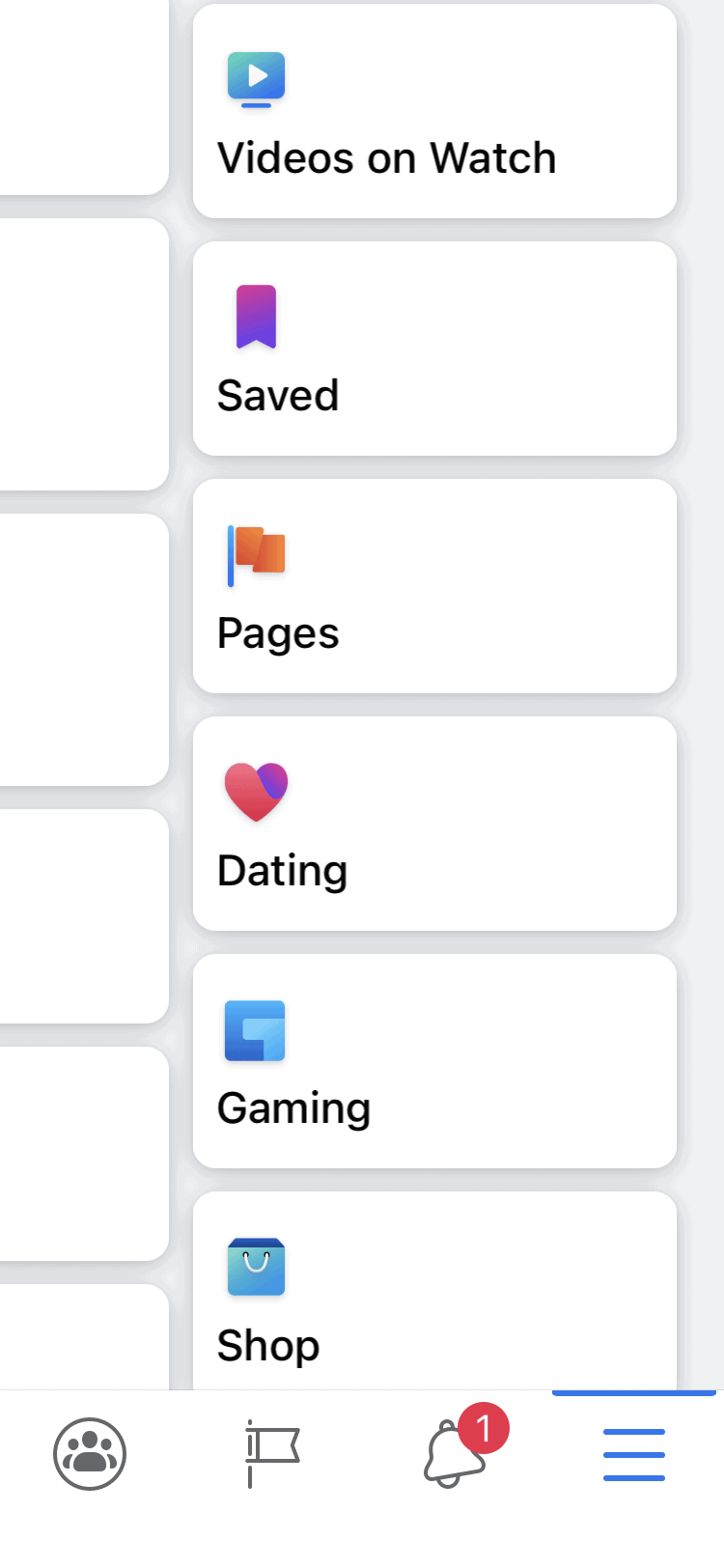 Clicking on the dating tab will bring up an onboarding screen that will get you started. Facebook notes that it won't suggest current Facebook friends or notify them that you've joined Facebook dating.
This means you're able to see new people and new matches rather than people you typically run into on other dating apps.
How To Set Up Your Facebook Dating Profile
Once you get past the initial information screens, you'll then be greeted with a screen that has you build your profile.
From here, you will need to fill out the following information:
First Name
Age
Gender Identity
Hometown
High School
College (if applicable)
Once this information has been filled out, you will be taken to a screen that asks what exactly you're looking for.
It's important to put exactly what you're looking for, as you'll be paired up with other users who are looking for the same thing.
If you're looking for something casual, don't be afraid to put it. You will save yourself and the other person you're talking to time, especially if you're both looking for different things.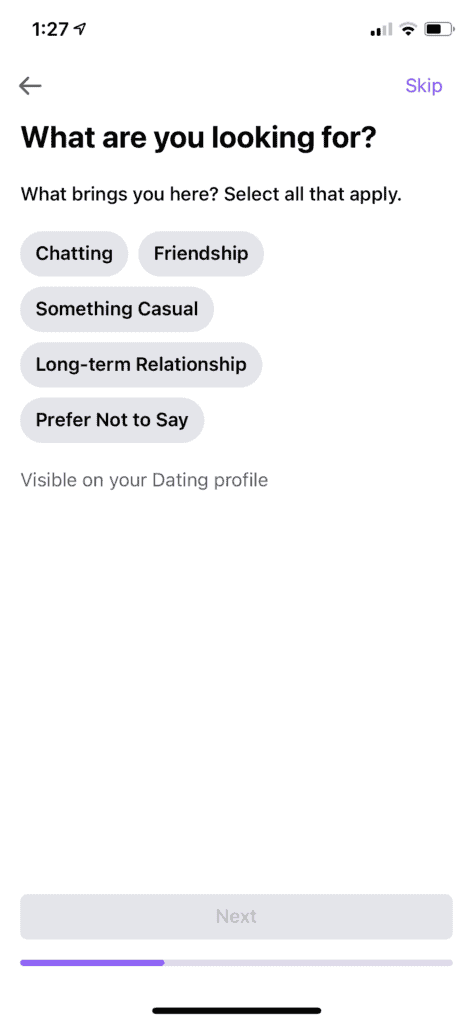 The 5 options that are available for dating preferences are:
Chatting
Friendship
Something Casual
Long-Term Relationship
Prefer Not To Say
If you're not sure what you want, we recommend you select chatting or something casual. This will show users who are also looking for the same thing you are. If you put a long-term relationship, but you're actually not, you'll be breaking someone's heart in the long run.
We recommend you choose one of the first four options. If you prefer not to say, you'll be matched with a mix of all users, which could lead to different results farther down the road.
After you choose one of the dating options, Facebook will then ask you to use your location. This is standard among dating apps, as Facebook will use your location to find users in your range.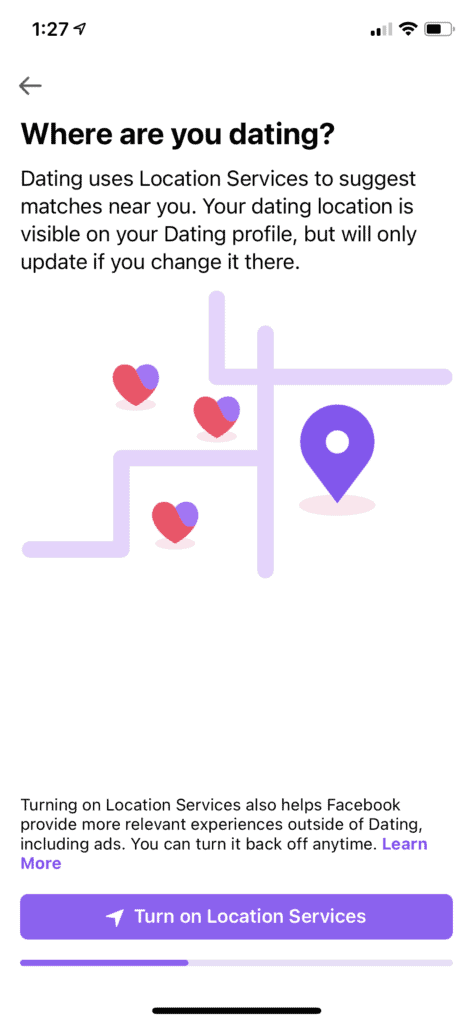 If you don't allow Facebook to use your location, you will not find users who are near your location. Location-based services are great because they allow you to find people you can see often and steer away from long-distance relationships.
Last, we want to mention that it's important that all of the information on our profile is accurate. Facebook Dating does pull information that you put on the app, so if your age or name is wrong, it will need to be fixed on the Facebook platform.
If you want to learn how to optimize your online dating profile, check out our eBook here, which will help you through the process.

Pro Tip: If you're sick of finding people who are just looking for one night stands, we recommend trying eHarmony.
It's one of the highest-rated online dating apps in the world. eHarmony users are actually looking for relationships. Give it a try here for free and see if you can tell the difference.

Conclusion
To find Facebook Dating, you must download the Facebook mobile app. Inside the Facebook app, click the three horizontal lines in the bottom right corner of the app. From there, it will populate all of the apps on the platform.
From here, tap the icon that says "dating" to bring up Facebook Dating. This will allow you to use a dating app, just like Tinder and Bumble, without downloading another app. Everything is right inside the Facebook platform in one convenient location.
If you liked this blog, learn more about Facebook Dating in these articles:
Load up all of your information into the platform, enabling the location services to Facebook can show users around you how to get started. Location is one of the app's main features, as it will be able to show you all of the users in your age range and the distance radius around you.
This is what makes online dating so special. No more having to go to crowded bars and make awkward small talk with other people. Use Facebook Dating as a way to meet interesting people online to save yourself time and headaches.
Facebook Dating has made it easy for users to get going in as little as 5 minutes after downloading the Facebook mobile app. Enter all of your information and get started.