Bumble has features that allow the user to see who likes them. Unfortunately, however, these features come with a price.
Can You See Who Likes You On Bumble? Yes. To see who likes you on Bumble, you must purchase Bumble Premium, Bumble Boost, or Bumble Beeline. Premium features allow you to see who likes your profile without having to swipe to find out.
In this article, we're going to show you how to see who likes you on Bumble and what you can do to see who it is.
Find hookups & casual dating instantly
Match with others who want no strings attached
Stay private & anonymous
Find quality singles looking for a long term relationship
Best for ages 21-45
Free compatibility test to find your perfect match
See Who Likes You On Bumble
To see who likes you on Bumble, you will need to purchase Bumble Premium or Bumble Boost.
Bumble Premium
Bumble Premium is Bumble's paid subscription service which unlocks many of Bumble's features, including seeing who likes your profile.
If you're looking to unlock all of the features that Bumble has to offer, then you'll want to purchase Bumble Premium. When you unlock Bumble Premium, you'll be able to see who likes your profile, as well as other features such as:
Access to unlimited Advanced filters
Access to your Beeline so you can see your admirers
Travel mode which allows you to change your location to another city
Backtrack so you can undo left swipes
Ability to extend time on your current matches
Rematch with users who have expired. (Please note that men cannot rematch a woman who hasn't sent the first message)
Unlimited swipes
One Spotlight per week. This feature advances your profile to the top of the stack to be viewable by more people instantly for 30 minutes.
Five SuperSwipes per week. You can SuperSwipe a user's profile to show that you are really interested in them.
If you're going to pay for Bumble, we recommend buying the entire package to get a complete experience with using Bumble.
Bumble Boost
Bumble Boost is another paid service that allows users to see who liked their profile, rematch with expired users and get unlimited 24-hour extends.
Users will only see a blurred-out picture of the person who liked their profile in a free profile.
The only way to possibly match with this person on a free profile is to keep swiping. This could take you 10, 20, or even 50 swipes to finally reach this person.
Bumble will then restrict your swipes and make you pay for a premium to get more swipes. This is Bumble's way of trying to get users to pay for their premium service.
Bumble Beeline
If you decide to pay for Bumble Premium, you will unlock many features, including Bumble Beeline.
Bumble Beeline is the way users can see exactly who likes their profile. Bumble Beeline comes as part of the premium package but can also be bought separately as a one-off purchase.
The way that Bumble Beeline works is that users can now see all of the people that like them in the top bar of the queue.
Once you click on the people who have liked you, a screen will populate where you will see each profile individually.
The user is then able to swipe on that profile if they like them or not. This helps the user because you already know that all of these people swiped right on your platform.
If you're looking to make quick connections, and don't want to waste your time swiping through profiles, then we highly recommend Bumble Beeline.
Especially if you're someone who has 99+ in your match queue, we recommend spending the money to get this feature so you can sort through all the people who already like you.

Pro Tip: Tinder is great, but you might have better luck getting casual dates on Ashley Madison. Users sign up specifically to have discreet fun with others.
Get started for free and find people like you who are looking for casual relationships here.

Can You See Who Likes You On Bumble For Free?
No, there is no way to see who likes you for free. Some small tricks are floating around the internet about manipulating code on a website to see if someone likes you on Bumble. However, we recommend you don't try it.
Another trick you can use to see who likes you on Bumble for free is to look at the picture and find the matching color patterns.
Often, you can see who likes you or not by finding the matching color patterns in the person who likes you. For example, if you notice in the picture below, you'll see the lady is wearing a black shirt with part of her shoulders showing.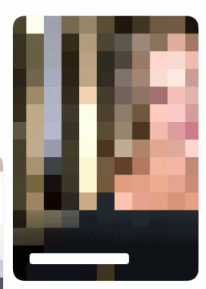 When swiping through the pictures, you will look for a person who matches this picture to determine if that profile liked you or not. It's not the best tactic, but it's one way to help you save money and find the people who swiped right on you.

Pro Tip: If you're sick of finding people who are just looking for one night stands, we recommend trying eHarmony.
It's one of the highest-rated online dating apps in the world. eHarmony users are actually looking for relationships. Give it a try here for free and see if you can tell the difference.

Conclusion
Currently, the only way to see who likes your profile on Bumble is to purchase Bumble Premium or Bumble Beeline. There is no way to see who likes you on the free version of Bumble.
Bumble Premium and Bumble Beeline are subscription services that you can purchase every month.
If you want to accelerate your dating and meet people faster, this might be your best option.
If you're someone who doesn't like paying for mobile dating apps, look for the color pattern in the blurred-out photo to match it to the profile you're swiping on. This is the only way to find out from a free perspective which you might be swiping on.
If you liked this blog, learn more about Bumble in these articles: