First impressions are everything. When you match with another user on Bumble, the first message will determine if you get a reply or not. Opening lines on Bumble are just as important as your profile picture and bio.
Your opening line on Bumble should be direct, entertaining, and pose a question to the user. The main focus should be on getting the other person to respond.
This article will show you the first messages and opening lines you should be using on Bumble.
Continue your Bumble journey: Keep your Bumble journey going by exploring The Complete Guide To Bumble for ongoing education and improvement in your online dating experience.
Why First Messages & Opening Lines Matter
First impressions in life and dating apps are super important. You only get one chance for a first impression. This is why you should take some time when crafting your opening line.
Opening lines on Bumble are different than other dating apps, mainly because Bumble requires the girl to make the first move.
Traditionally, the guy makes the first move, and the girl is left to respond. On Bumble, it's reversed, as the girl responds or moves on to the next match.
If you're not entirely comfortable with opening lines on Bumble, we're here to help ease the process and hopefully get you more responses on Bumble.
How To Start A Conversation
If you've matched with another user, it's because they think you're physically attractive. This is the hardest part, as apps like Bumble are judged mainly on your physical appearance.
Once you've secured a match on Bumble, it's time to start the conversation. We like to abide by a few rules before sending a message.
*For a full breakdown of opening line messages, we've built an eBook to guide you through the first message process.
Before you ask the question to the male user, we recommend scanning over their profile again. Using a blanket statement isn't going to make you stand out.
Remember, there's a good chance that the other person has other matches; you need to find a way to stand out.
Take a minute to understand their profile, as well as what they're showcasing in their pictures.
Once you feel comfortable with what the person is presenting in words and pictures, you should ask them questions.
Ask a Question
Suppose you want a response back on Bumble, simply as a question. The number one opening line that we see from users who have trouble getting answers back is "Hey."
Saying a term like "hi" or "hello" often comes off you're boring and provides no extra fun or value after that comment. I know it may seem odd, but people make split decisions based on first messages. Remember, you're competing against other users as well.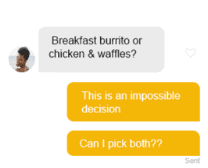 Asking a question to the other user will warrant them to respond. This is not 100%, but it drastically increases your chances of getting a response back.
If they've swiped right on you, they've already liked your profile because of your physical looks. Asking them a question will help you show interest in their life.
Talk About Their Pictures Or Bio
The first question you should ask about is something to do with their pictures, bio, or the questions they answered.
For example, if the guy is in a picture with his dog, ask him what kind of dog he has. If he's at a sports event, ask him who his favorite player is and why.
Bumble has added question prompts, which allow users to answer questions about their hobbies and day-to-day activities. These are great jumping-off points!
Asking questions about their pictures or bio is a great way to stand out from other users. This means that you took the time to look at their profile and learn about the user before actually sending a message.
Make A Joke
If you're an outgoing person, who loves to laugh and be sarcastic, this may be your route to finding other people who can keep up with you.
Sending a joke where the other person has to answer is an excellent way to lighten the mood. If you're looking for an outgoing counterpart, this is a great way to find them.
We recommend that the joke you send to the user has them answer a question. Don't just say the joke without getting a response from them. If you do, there may be a good chance they won't respond.
Although it may seem untraditional, it will capture the attention of other users immediately and allow you to stand out from others.
We recommend only using this technique if you feel comfortable taking it, as it could work against you if you're not outgoing. This could set the wrong precedent if you're trying to be funny and make a joke.
Use Emojis
The use of emojis adds a spark to whatever message you're trying to send. The simple yellow smiley face shows even more interest than what your message is displaying.

Adding a smiley face or a wink face is an excellent addition to the message you're already sending. It also enhances the message to add more flair to the question you ask.
If you're someone who doesn't use emojis, we recommend trying at least 1 or 2 in your messages to see what you get back for a response.

Pro Tip: If you're sick of finding people who are just looking for one-night stands, we recommend trying eHarmony.
It's one of the highest-rated online dating apps in the world. eHarmony users are actually looking for relationships. Give it a try here for free and see if you can tell the difference.

Opening Messages You Shouldn't Send
Below is a list of messages you should avoid using for your opening messages.
Boring Generic Messages
We recommend you stay away from bland and generic messages. Boring generic messages will turn off the user you're sending the message to on Bumble. Our list of boring messages includes:
Hey
Hi
Hello
What's Up
How Are you
Sup
What's Going On
Please stay away from these messages, as they come off as dull and generic. Anyone can say Hi or Hello. We recommend taking the time to look at the person's profile. This way, you won't have to send a generic, boring message to the other user.
If you're not getting responses, this could be a big reason why. Please stay away from these boring messages, as they could be why you may not be getting matches.
Opening Lines That Don't Have A Response
Staying with our theme, you want to avoid opening lines that don't warrant a response. Remember, we want engagement from the other user. If you say Hey, there's no response back to that besides "Hey" or "What's up."
These types of responses immediately come off as dull, and it will take a little bit of work both on your side and his side to spark the conversation. Every answer is crucial, as you want to capture their interest from the first message and opening line.

Pro Tip: Tinder is great, but you might have better luck getting casual dates on Ashley Madison. Users sign up specifically to have discreet fun with others.
Get started for free and find people like you looking for casual relationships here.

Conclusion
First messages and opening lines on Bumble are essential. Asking the right question to the user is the difference between getting a response and not getting a response.
If you're looking for a complete guide on opening lines, we have your answer here!
Take time and study the profile you just matched with. Remember, you're competing for attention against other users. If your messages are bland and generic, there's a good chance someone else is standing out over you.
Find hookups & casual dating instantly
Match with others who want no strings attached
Stay private & anonymous
Find quality singles looking for a long term relationship
Best for ages 21-45
Free compatibility test to find your perfect match
Use emojis and questions about the person's pictures, as well as a bio. This will help you get more matches and be more competitive against other Bumble profiles.
If you liked this blog, learn more about Bumble in these articles: