Even though Bumble was founded in late 2014, the dating app is still relatively new, especially if you compare it to many of its competitors. While there are several similarities between Bumble and other dating apps, there are more than a few differences that make Bumble unique and intriguing.
Unlike Tinder, which doesn't give users the option to send photos through its platform, Bumble does allow users to send pictures through their Bumble conversations without difficult workarounds.
Along with sending photos, you can also send videos through the Bumble platform. However, that doesn't mean that there are no rules you have to follow when sending pictures on Bumble.
Become a Bumble expert: Become a Bumble expert by reading The Complete Guide To Bumble, your comprehensive resource for mastering the app's features and strategies.
How Can I Send Pictures On Bumble?
Sending pictures on Bumble is a fairly easy process that takes only a few minutes. To send the photo, open your Bumble app and navigate to the messaging portion of the platform.
Click on the camera icon located under the "Write Something" box. This will open the camera roll on your phone.
Select which photo you want to send and then click the Send button when you're ready to proceed.
Can You Send Nude Pictures On Bumble?
While it is possible to send nude pictures on Bumble, you do run the risk of having your account reported and banned. This is especially true if you send unsolicited lewd photos. To keep things safe, it's better to err on the side of caution and just avoid sending naked pictures to someone through a dating app.
How Can I Send Videos On Bumble?
Sending a video on Bumble is similar to sending a photo. You must first open the Bumble app and click on the message section, followed by the camera icon located underneath the message box. Select which video you would like to send to another user and then click on the Send button to complete the process.
Can I Delete a Photo I Sent Through Bumble Message?
Unfortunately, once the photo has been sent through Bumble conversations, there is no way to delete or unsend it. That is why you should be extremely cautious before sending compromising or NSFW photos to other users.
Once that photo is out there, there is no getting it back. A good general rule of thumb is to never send unsolicited photos to anyone on or off the Bumble platform, for that matter.

Pro Tip: Tinder is great, but you might have better luck getting casual dates on Ashley Madison. Users sign up specifically to have discreet fun with others.
Get started for free and find people like you who are looking for casual relationships here.

What Is a Private Detector On Bumble?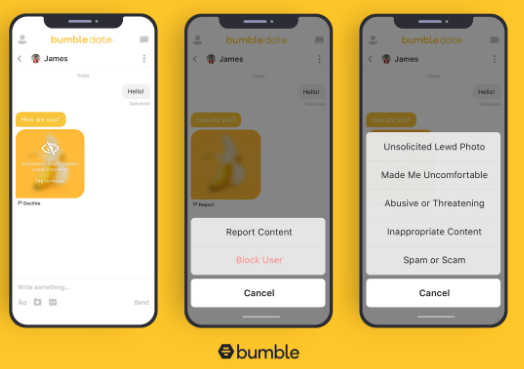 Bumble allows users to send photos and videos to one another through their messages, which has led to some users misusing this feature. Bumble received reports of users sending unsuitable lewd photos to others on their app, which caused the company to come up with a way to protect the person receiving the message without removing the ability to send pics.
Private Detector automatically detects naked or lewd pictures using AI technology. When the AI detects these types of photos, it blurs the photo and provides a warning to the person receiving the picture letting them know it may contain nudity.
This feature also gives the person receiving the message the ability to report said photo to Bumble.
How Can I Unblur The Picture I Received?
If you receive a picture on Bumble with the warning that it may be NSFW, you have the ability to still view it even if it is blurred. All you have to do is simply hold down on the photo. This unblurs the photo and lets you view it.
How Can I Report a Photo I Received?
To help keep its users safe, Bumble gives the person receiving the message the ability to report a photo they received.
The available options you can select for reporting photos and messages are "unsolicited lewd photo, made me uncomfortable, abusive or threatening, inappropriate content, and spam or scam."
What Type Of Pictures Can I Post On Bumble?
The type of photos you can post on your Bumble profile follows a different set of rules than what you can send through the Bumble messaging app. Bumble is not too strict when it comes to the type of photos you can add to your profile, though there are some rules that will need to be followed.
The first is, of course, that you cannot post photos that aren't yours and you don't have permission to use them. Bumble also recommends not posting photos of your children, though they do relax this rule if you are in the photo as well.
Another big No-No is posting photos that show any type of illegal activity, including obscene behavior, abusiveness, or drug use. Bumble also frowns on nudity or pornography uploaded to your profile.
While they do allow for pictures of you in swimwear or bikinis, these photos must be taken outdoors and not inside. When taken inside, the photos appear very much like you're submitting a photo of yourself in your underwear, which is not allowed for profile pictures.

Pro Tip: If you're sick of finding people who are just looking for one night stands, we recommend trying eHarmony.
It's one of the highest-rated online dating apps in the world. eHarmony users are actually looking for relationships. Give it a try here for free and see if you can tell the difference.

Can Men Upload a Photo Of Themselves Shirtless To Their Profile?
If you're at the beach or outside by the pool, you can upload a photo of yourself to your Bumble profile. However, you cannot submit a photo of yourself shirtless while indoors. Nor can you submit a photo of yourself in your underwear.
The reason is that, as Bumble puts it, you want to get the person's consent before showing them that type of content. If you have the photo on your profile, you are just assuming that the person wants to see you in your underwear or shirtless.
Not only is this bad manners, but it is just downright impolite.
If you liked this blog, learn more about Bumble in these articles: