eHarmony is a dating website and mobile app which helps singles find both love and happiness online. eHarmony is not your traditional dating app, however. It has features and algorithms that help set it apart from other mobile dating apps.
eHarmony is worth it for single users, as its technology and compatibility test have helped over 1 million single users find love. eHarmony matches you up with people who have the same interests, hobbies, and personality traits to ensure your connection lasts a lifetime.
In this article, we're going to show you all the features of eHarmony and why it's worth purchasing in the near future.
Why eHarmony Is Worth it
What sets eHarmony apart from every other mobile dating app is its unique compatibility matching system. Founder and CEO Dr. Warren states that this matching system is consistently being updated and critiqued daily.
The compatibility matchmaking system essentially takes all of the data points you enter during their on-boarding process and plugs them into their custom algorithm. These data points include:
Personality
Hobbies
Interest
Ethnicity
Religion
And More!
Being a psychiatrist, Dr. Warren was able to understand the connection between human personalities and bring them to a mobile platform so all users could experience happy and meaningful relationships.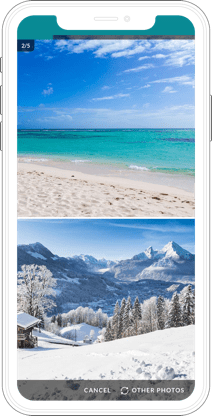 Along with matching based on personality preferences, users are also encouraged to play the icebreaker game. This allows users to choose "this or that" scenarios to see how compatible they are before even speaking.
For instance, in the picture below you can see a picture of the beautiful snowy mountains, or an everlasting beach. Users will be shown multiple pictures which then they can see the results and talk about after.
It's a great conversation starter and an easy way for conversations to formulate without awkward tension.
Pricing Guide For eHarmony
eHarmony differs from other mobile dating apps in a sense of structure and pricing. Apps like Tinder, Bumble, and Plenty Of Fish offer a free to use platform.
The issue with platforms that are completely free to use, is that it attracts users who aren't serious about dating and often times bots. Having a paywall, or some sort of pay structure upfront, typically means the user is serious about dating is willing to show it with their wallet.
eHarmony offers memberships of 6-months, 12-months & 24 months. Here is the pricing for each membership:
6-month membership: $34.95/ month
12-month membership: $22.95/ month
24-month membership: $14.95/ month
As mentioned, the pricing reflects the type of people that are on eHarmony. There's a reason why millions of people find love on eHarmony. It's a platform where people who are serious about dating, go to find their true love.
The pricing ensures that people looking for casual dating or hookups stray away from the platform. This is what makes every match meaningful and significant.
What Is The Success Rate Of eHarmony?
eHarmony has over 700,000 paying members as well as over 10 million active users. The platform first started as a Christian dating app, however, it has since migrated to serve all religions, races, and even sexual preferences.
eHarmony's success rate according to a recent CNN article, is a 3.86% divorce rate. This is compared to the U.S. national average of 50%. eHarmony has proven to be effective for finding compatible matches.
All of the data points that you enter into eHarmony are taken into consideration when they complete their compatibility score on yours. If you're looking for someone who is Jewish, the algorithm will correctly match you with someone of that faith.
eHarmony's system takes all of your data and interests and plugs them into their matchmaking platform. This is what makes eHarmony special when comparing other apps like Match.com.
Pros Of Using eHarmony
Personality Profile
The first thing you're prompted to do when you sign up for eHarmony is to take a personality test.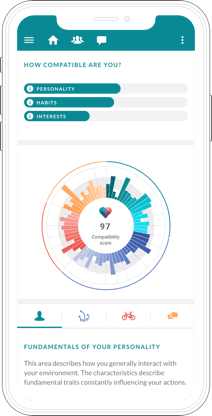 This personality test will tell you everything you need to know about yourself, that way you can start to realize what you need in a counterpart. Using this scientific approach has helped millions on eHarmony find their compatible partner.
These intricate details will help you in the matchmaking process as eHarmony compares your personality against the thousands of profiles in your area.
Using Science For Matchmaking
The number one pro of using eHarmony is it's intelligence system to find your matches. We've dug through all of the mobile dating apps, and they all are predicated on looks and decently written bio.
eHarmony steers completely away from that narrative and focuses on you the person. It takes a scientific approach to every single user to ensure that they're most compatible with a user in their area.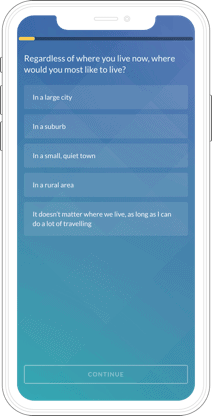 This experience you won't find on any other mobile app. The onboarding process does take a little longer compared to other dating apps, however, it's 100% worth the time to make sure you're matched up with the right people.
Serious Daters On The Platform
Paying to use the platform often means repelling people are who just looking for hookups. Paying for a premium product like eHarmony attracts others looking for serious relationships.
Other free mobile apps often have users who are looking for casual dating or hookups. This can be extremely frustrating for a user looking for a relationship, as they won't know a user is playing them until the 3rd or 4th date.
eHarmony attracts those looking for serious relationships so you can be sure the person you're matching with has the right intentions.
Interests In Common
Due to the lengthy onboarding process, users are also able to see what your likes and dislikes are. This is a great ice breaker for introverts who don't know how to necessarily start a conversation.
Simply scanning their profile and seeing their favorite food, favorite sport or even their dislikes can help spark up a conversation. The more interests that we have in common, the easier it is to converse and keep conversations going.
Cons Of Using eHarmony
Paywall To Use The Platform
This is the only significant con that we could find with using eHarmony. Competitors like Match.com or Hinge allow for the users to try the bare minimum before using any of the core features of the app.
eHarmony unfortunately does not all the users do much, if anything before using the app. You'll be able to look at profiles and check out the interface to get a feel for the app. However, you won't be able to message any users unless you get past the paywall.
The More You Know Isn't Always Better
The more you learn about a person, may not always be better – at least initially.
If someone you meet has all the traits, however, you dislike one thing about them, it may be hard to see past that one thing. More information isn't always better. You're essentially learning everything little thing about someone before you even meet them in person.
Another con for eHarmony is the fact that having too much information at your disposal may cause you to make preemptive decisions before actually meeting the person in real life. We always recommend that you keep a clear and open mind before meeting someone in real life.
Is eHarmony Worth It?
Yes. eHarmony is worth sinking the money into a month to month, in order to find a serious relationship. As they're marketing states, every 14 minutes, someone finds love on eHarmony. eHarmony is trusted by over 2 million members since it's launch in the early 2000s.
Founded by a former psychiatrist, eHarmony focuses on finding matches based on a number of data points that relate to our personality.
eHarmony provides single users with the ability to connect with people who are like them. If you're introverted and don't enjoy being in public, there's no reason to wait until the second or third date to find out someone's personality.
Using eHarmony, you'll find out right away what kind of person you're talking to and how their hobbies, interest, and personality fits into your life.
Other mobile apps will have the user choose to swipe right or left on a user based off of looks. eHarmony uses a completely different approach and matches users but by their compatibility matching system.
Conclusion
If you're looking for a dating website that attracts users that are serious about dating, we highly recommend you try out eHarmony. It's scientific approach best matches you up with other singles, beyond just looks.
eHarmony is worth the monthly price, especially if you're serious about dating and finding the love of your life.
We recommend you give eHarmony at least a 6-month trial and see if it proves to be beneficial for you.
If you've tried eHarmony, let us know what you think! Send us an email [email protected] and tell us about your experiences with eHarmony and if it was worth it.