eHarmony has established itself as one of the premier dating websites and mobile apps in 2020. Its compatibility test and user-friendly interface make eHarmony worth spending money on. How much does eHarmony cost?
eHarmony uses monthly subscription plans, which are $41.66/month for 6 months, $29.17/month for 12 months, and $20.83 for 24 months.
In this article, we're going to break down eHarmony's pricing structure and help you make an informed decision on whether you should subscribe to eHarmony or not.
Unlock the eHarmony experience: Maximize your eHarmony experience with The Complete Guide To eHarmony, your key to becoming an eHarmony expert and finding long-lasting connections.
eHarmony Pricing
The dating app & website scene is saturated. It's tough to find a platform with reliable and quality singles. eHarmony is helping to change the dating landscape
eHarmony offers free signups, so you're able to try the platform before actually making a purchasing decision. Signing up is easy and requires little information to get started.
Once you sign up, eHarmony even lets you take their compatibility test for free. This test is the foundation of eHarmony and allows users to find other single members based on personality traits and interests. A full review of their compatibility test can be found here.
3 Day Free Trials
Still not sure about paying for eHarmony? Free trials are available for users to try out the platform to see how it compares to other dating platforms.
We recommend giving the free trial a test, as it allows you to see how the compatibility test functions and how it uses science to match you with other users, not just random card stacks.
eHarmony is like no other dating platform because of its compatibility test and its users who pay to use the platform.
Membership Pricing
Looking for quality matches? eHarmony charges its users a monthly cost to use their platform. The benefit of charging users a monthly subscription is it means their serious about dating.
If a person is financially obligated to do something, there's a good chance they'll take it more seriously. Unlike other apps, eHarmony charges the user a monthly price to use the platform. This ensures that every user puts their money on the line to find love.
eHarmony offers several membership pricing options that fit any budget. These monthly options are:
$41.66 a month for a 6-month plan
$29.17 a month for a 12-month plan
$20.83 a month for a 24-month plan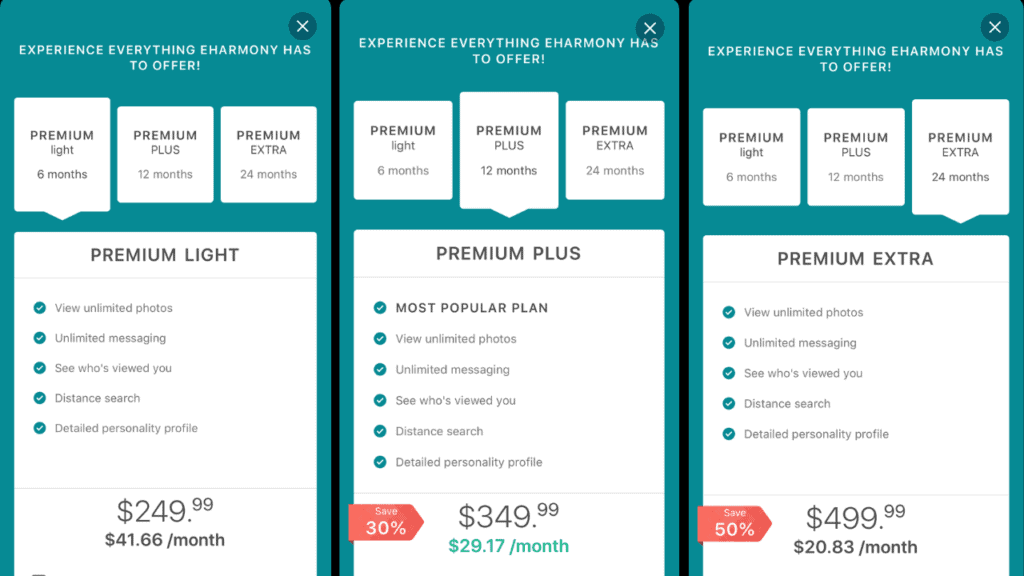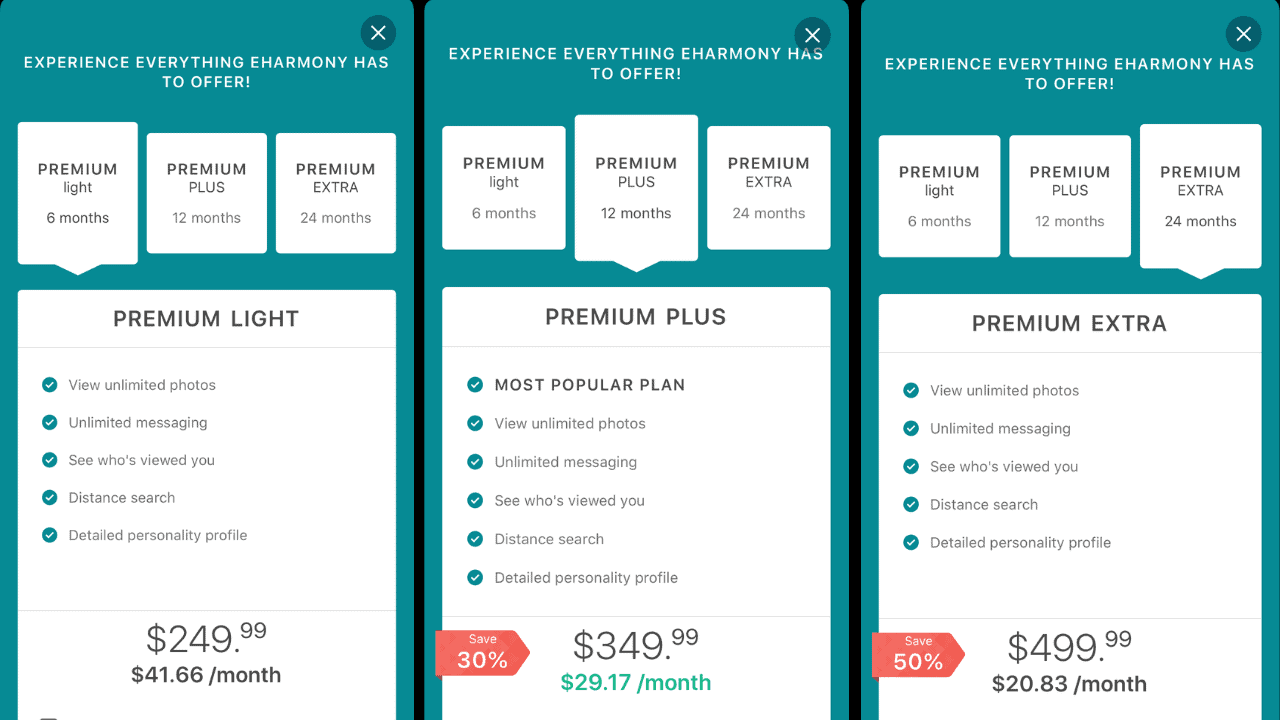 As you can see, the 6-month plan is rather expensive. We recommend the 12-month plan; this will give you plenty of time to engage with the platform and get enough matches to make an informed decision.
Paid Features
eHarmony offers a wide range of features that come standard with every monthly purchase. Included in each purchase:
View Unlimited Photos
When first logging on to eHarmony, you'll notice that all recommended profiles will have blurry pictures. eHarmony allows you to explore the profiles but doesn't allow you to see pictures without paying first.
When you pay for a light, plus, or an extra subscription plan, you'll then be able to see all of the user's pictures that they've posted.
Unlimited Messaging
Free users will be able to see that users have messaged them. However, they will not message back unless they have paid for a free plan.
This may seem frustrating at first, but it's beneficial because it ensures that every user is real. Every user who interacts with your profile, whether by liking or a message, is a real person because they have to pay to be real.
See Who Views Your Profile
Profiles are displayed to the user based on the compatibility score. Users interested in your profile will often click on it to read more about you.
This feature allows you to see who may be interested in your profile. Often, girls will take a look at your profile in hopes of the guy making the first move. Use the see who's viewed your feature as a sign that someone is interested in your profile.
Distance Search
The distance search is one of the most important features available to the user upon paying. If you happen to find someone with a high compatibility score, you'll want to message them right away.
It's important to make sure the user is in reasonable proximity to you to have an effective relationship. Long-distance online relationships are often tough to maintain; the distance search feature will help fix this.
Detailed Personality Profile
The personality profile helps you better understand yourself; that way, you can better understand others. There's a lengthy, detailed description in your personality profile that will be unlocked upon subscription payment.
This is a great tool to help you understand what you should be looking for in a partner to make yourself happy.
How To Pay For eHarmony
eHarmony offers several payment options for users online. Like any company that takes payments, major credit card brands are available for payment. eHarmony also supports PayPal for any user wishing to pay in that form.
However, on the mobile app, users are allowed to pay via their app store configurations.
For example, looking at the box the user must check in the picture below, the user must agree that eHarmony will charge the app store or Google Play store.
Users who want to pay via mobile will have to accept these terms, and their credit card that's on file with their app store will be charged once the "buy now" button is pressed.
Benefits Of An eHarmony Subscription
eHarmony uses both science and the traditional dating app approach to help you meet your best compatible match.
Other dating apps allow you to swipe on users, but it's the luck of the draw if your personality will match theirs.
eHarmony puts personality at the forefront of everything they do. The compatibility score matches you up with other users who share the same interests and personality traits. If you're an introvert and don't like going out in public, you'll be matched with other introverts who don't like the public scene.
This feature is a step above other mobile dating apps because it's done within the first few minutes of downloading the app. Other apps require you to match based on looks, and then figure out the personality traits after.
eHarmony is entirely focused on matching based on personality preferences, and then looks and body type come into effect.
Utilizing its science-based approach, eHarmony has been able to match over 1,000,000 single users and has a divorce rate of just 3.5%.
Find hookups & casual dating instantly
Match with others who want no strings attached
Stay private & anonymous
Find quality singles looking for a long term relationship
Best for ages 21-45
Free compatibility test to find your perfect match
eHarmony Recap
eHarmony has changed millions of lives worldwide and will continue to do so daily.
Pricing may seem like an issue at first, but a small payment could lead to a lifetime of happiness. Dating apps are the new norm in dating.
They should be taken seriously. eHarmony markets itself as one of the leaders in dating because of its serious nature and no-nonsense approach.
Don't wait at the bar or on another dating app if you're looking for someone to spend the rest of your life with. Choose eHarmony and start taking your dating seriously with other users.
If you liked this blog, learn more about eHarmony in these articles: