Tinder Passport is a new feature that Tinder has added to their gold and premium subscription packages. It's a new feature that helps couples find matches in different locations.
Tinder Passport is a premium feature that allows users to like, match, and talk to other users anywhere. Search for a city or town on the passport map, and Tinder will search for nearby users.
This article will show you how the Tinder passport works and why it may benefit you to invest in Tinder Gold to get the passport feature.
Continue your Tinder education: Continue your education about Tinder with The Complete Guide To Tinder, your source for valuable insights and practical advice to enhance your Tinder skills.
Tinder Passport
Tinder Passport is a premium passport feature, where users must join one of Tinder's paid options to use it. Users who use the free version will not be able to use Tinder's Passport features.
How To Use Tinder Passport & Passport Features
To use Tinder Passport, first, the user must tap the profile icon located in the top left corner.
From here, the user will tap the settings button, which will bring up options located directly about the profile.
Scroll down about halfway down the settings menu, and you'll see a title called "location."
From here, you're able to add multiple locations to change where you'll be swiping from. Whenever you move the red pin to the location you want, users will see you as if you're there.
It's essential to let the user know that you're not from the area (or if you'll be visiting), as they'll anticipate that you're from that area.
Using the Tinder Passport feature, the user can change cities as many times as they'd like. However, Tinder only allows the user to be present in one city at a time. They won't be able to have duel locations. Make sure your location is set exactly where you want it to be when logging in and logging off the app.
Find hookups & casual dating instantly
Match with others who want no strings attached
Stay private & anonymous
Find quality singles looking for a long term relationship
Best for ages 21-45
Free compatibility test to find your perfect match
The free Passport feature allows you to change your location once. If you have multiple locations that you want to be in (other than your current location), you will need to pay for a Tinder Gold subscription.
The Passport feature is great because it allows you to be in a new location at the click of a button. If you're going on vacation, it's a great way to get more matches when you're trying online dating.
This paid feature allows you to go anywhere in the world, just by using a dating app.
Check out our complete Tinder User Guide here.
Why Use The Tinder Passport Feature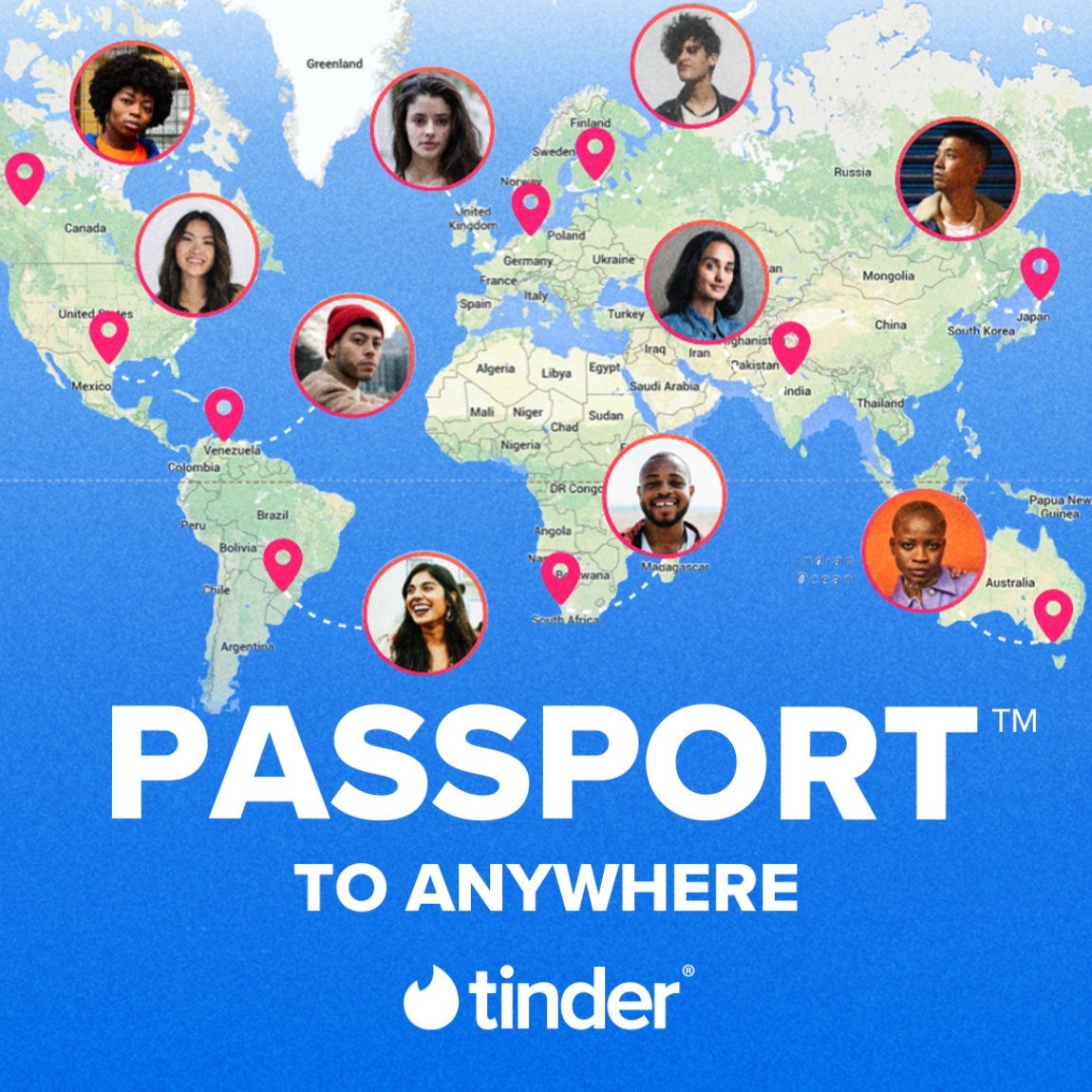 Tinder Passport is an excellent feature for those who are consistently on the move. It allows single users to make friends or even new relationships while traveling to new cities or towns.
This new feature allows users to be present in different areas, preparing themselves when they touch down. Here are the reasons we've found in our research why people use Tinder Passport.
Moving To A Different City
Moving to a different city by yourself can be challenging. Making friends and even starting relationships can be tricky. Tinder Passport allows users to get a head start before they even step foot into their new territory.
Tinder users have been known to use Tinder Passport to fit into their community months before moving into the city. This allows them to meet people the first day they get there, not wait months to start the process.
Moving to a different city is often stressful enough; departing from family and friends, and dating shouldn't be added stress as well.
Going Away For Work
Single users who often go away from work will use Tinder Passport to meet new people in that area. Simply flying to a city for 3-4 days on your lonesome can be mentally stressful.
Having Tinder Passport allows you to meet new people before your plane even touches down. Businessmen and businesswomen will often have Tinder Passport loaded on their phones if they stay a few days in a different city.
Meet New Friends
Last, it is simply to meet new friends. Ever wanted a friend in LA, Italy, or even France? Tinder Passport allows you to talk to people who are living in those areas.
You can match with these people and ask them questions about cultural differences. It's an easy way to have pen pals and meet people who you typically would not meet on a given day.
If you're looking to get a new view of other people's lives and how others worldwide operate, Tinder Passport is an excellent shakeup to everyday lifestyle.
How To Turn Off Tinder Passport
Tinder Passport can be turned off by simply selecting a new city on the map. Tinder allows you to use multiple locations so you can put yourself in different cities at different times.
To turn off Tinder Passport, the user should deselect or remove one of the listed cities. This will remove their location from where they previously were located. You will be no longer visible at that physical location.
The user must realize Tinder will take their most recent location when they close the app.
For instance, if you open the app and use Tinder Passport in Texas. Once you close the app, Tinder will take your most recent location and show you in Texas until you change your location.
We always recommend putting your location back to where you're from once you close the app, that way, users can swipe on you after you close the app. If not, you'll be showcasing your profile to users that are in your Passport location.
Is Tinder Passport Worth It?
The Tinder Passport feature is worth it if you're consistently traveling or want to meet people in a new area.
Your Tinder account can only capture an audience up to a certain radius. Using the Passport feature, you will be able to use the popular dating app before you actually show up in the countries or states.
Embark on new destinations and have a human connection with people there before you touch down.
Does Tinder Passport Show Your Location To Other Tinder Users?
Tinder Passport does show your location. However, there is a way to turn it off so the user doesn't see it.
If the user doesn't hide the location, it will show where you physically are. This lets the user know that you're using Tinder Passport, and the user will understand that you're not actually near them.
The Tinder passport feature uses your phone's GPS to track where you are.
This is to help users identify where they are. That way, you can't be catfished or misinformed.
Conclusion
Tinder Passport is a unique feature that allows users to have a virtual location in another city or town without physically being present.
In order to get its full capabilities, we recommend you get Tinder Gold, that way you can get all of the premium features.
This allows users to meet new people in new cities, months or even weeks before visiting the area. Tinder Passport is an innovative feature that has helped people move to new cities, visit new people, and make the transition that much easier.
How have you used Tinder Passport? In the comment section below, let us know how it has helped or hurt you using the popular Tinder feature.
If you liked this blog, learn more about Tinder in these articles: