eHarmony is one of the most well-known dating websites available for electronic remote dating, but many would-be suitors may wonder how much it costs. No matter the price, this is one website that has garnered a massive following over the decades it has been active.
eHarmony offers a free week or weekend to new users but typically operates on a subscription with a per-month fee. This fee is automatically drafted from your monthly bank account unless the subscription is manually canceled. To avoid fees, a trial run with eHarmony should be canceled before the trial period ends. 
If you've been considering the idea of joining eHarmony, what you'll be charged per month for the use of the service versus how much you intend to get out of it will make a big difference in whether you determine it to be worth the costs involved.
Find hookups & casual dating instantly
Match with others who want no strings attached
Stay private & anonymous
Find quality singles looking for a relationship
Best for ages 21-45
Free compatibility test to find your best match
The Cost of eHarmony
Joining eHarmony isn't free—after a brief trial period, you'll have to pay a subscription fee. eHarmony isn't a cheap service, either.
After the trial period ends, subscriptions for the site range from $249.99 for six months of service to $349.99 for twelve months of service. The third plan for $499.99 for twenty-four months.
Read more about the pricing here.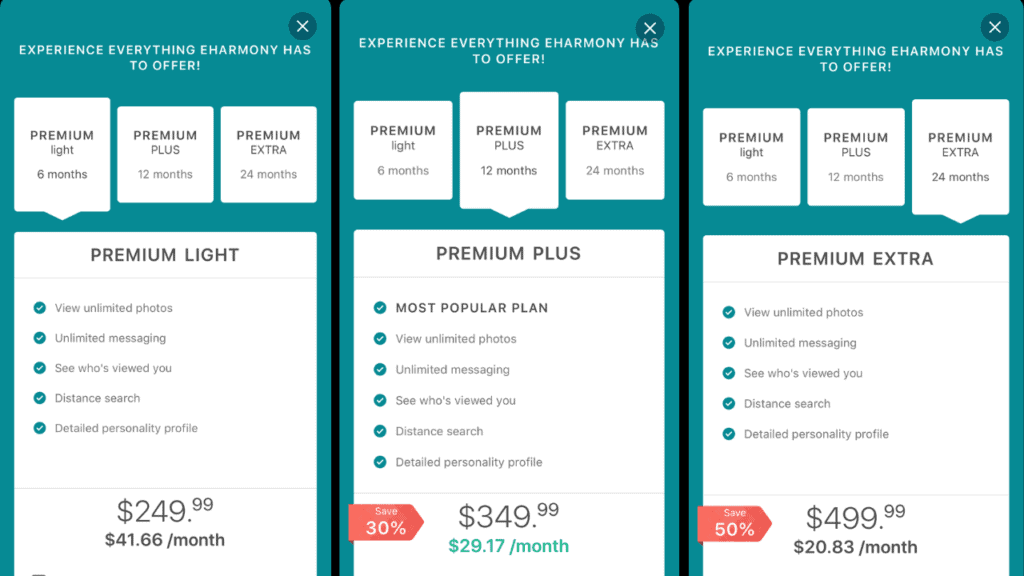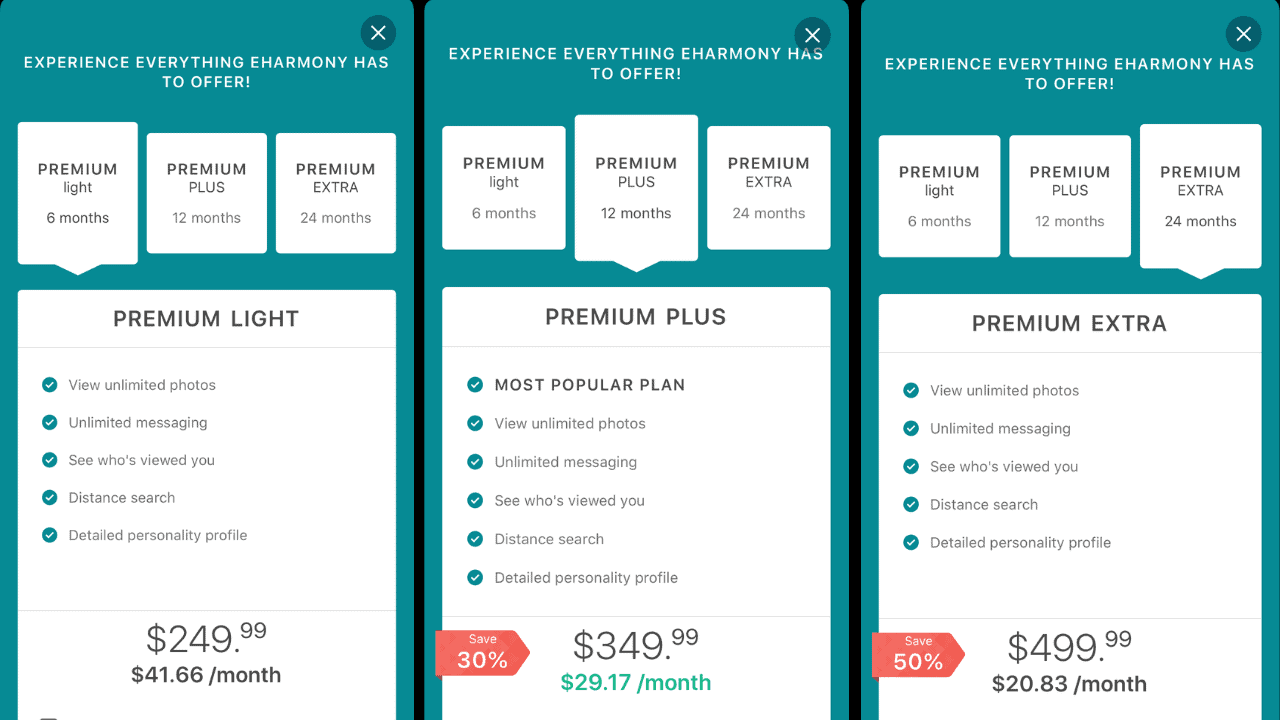 The most expensive option for eHarmony is the twenty-four-month plan.
Longer-term plans are less expensive, but the company makes this offer knowing that it locks people into paying over twenty dollars a month over twenty-four months, whether they continue to use the service or not.
This is a similar philosophy to the marketing strategy used by gyms—no matter whether you continue to attend or not, you continue to pay.
eHarmony users who use either the free trial or the paid subscription receive the same services. Here are the benefits you can expect using eHarmony:
A detailed personality assessment designed to help match you to people who would theoretically be a suitable romantic partner based on shared common interests and values: This test is by-far one of the most useful resources that eHarmony offers. Using refined algorithms, the website chooses potential matches that would suit you based on your interests and values.

Messaging capability: eHarmony gives you the ability to message potential romantic partners as well as receive unsolicited messages from others who might be interested in you.

Photo requests and photo viewing capability: Not only does eHarmony allow you to go through the photos of other profiles on the dating site, but it also allows you to request additional photos from potential matches. This can make it easier to find a match that you're physically attracted to as well as mentally.

The ability to see who has viewed your profile (and when they last logged in): This can give you an idea of how much activity your profile is seeing and whether you should amend it to include more or different information to garner more interest.
How Does eHarmony's Free Account System Work?
eHarmony's free account system may offer roughly the same services as the paid subscription, but the trial account has some stipulations.
Users can take the eHarmony compatibility test and find potential matches but can only message for free during one weekend of the month.
At other points of the month, you can still access eHarmony, but you won't be able to chat with anyone.
It is more difficult to make matches with eHarmony without indulging in a complete account. Still, the free trial version allows you to see and interact with every program's feature before committing real money to it.
This is a win-win for both eHarmony and consumers—it lets the consumer try the dating service with no financial investment, and eHarmony can demonstrate the value of its service without diminishing it. 
With the free account, users can create an account to see if other people are interested in them or what singles around their direct geographical proximity look like.
But suppose they want to interact and form a real intimate connection. In that case, they'll have to fork over a subscription unless they're happy to only chat with potential suitors two days out of the month without having to give out their telephone number.
It may seem silly to give away the service for free. Still, another benefit of the trial account for eHarmony is that it makes the service seem more popular (since many people create a trial account and never recheck it except to cancel).
It also increases the number of potential matches a person might find on the website.
Can You Date Matches Using a Free Account on eHarmony?
It's harder to do if you want to go exclusively through the eHarmony website. Still, people who want to take advantage of a free trial account to set updates can always give out their telephone number to potential matches and take the conversation to text.
This can help users take advantage of eHarmony's matching service without actually having to pay for the subscription.
Should You Get a Paid Membership to eHarmony Instead?
Whether you should get a paid membership to eHarmony or not depends on a few factors:
How much you enjoy and use your trial account: If you wake up every day excited to check your matches, you might be a candidate for a full eHarmony subscription. On the other hand, if you forget to even look at the website or app half the time, it might not be the service for you.

What your budget looks like: An eHarmony subscription can be rather expensive (on par with a cable bill), so you need to assess your finances and see whether it's something you can afford or not.

Your other options: If you're an introvert who works full-time in an office but is still looking for love, you might find it much easier to date on a virtual dating service like eHarmony than somebody who is wanting to use eHarmony to supplement an active, extroverted dating life.
Getting a paid subscription to a dating service is a personal choice. However, if you're serious about casually dating someone for the long term, it definitely couldn't hurt.
eHarmony has a long and successful track record of setting up relationships that last.
How Much Is a Paid eHarmony Membership?
It requires a little extra legwork to make a free membership with eHarmony successful, so many people bite the bullet and get a paid membership. But how much is it?
The amount you pay for an eHarmony subscription depends on how long you intend to use the platform, as well as the extra features you want to include. (Source: Lovenet)
Here's a breakdown of the various paid eHarmony plans available:
Basic ($59.95 for one month, $119 for three months)
Total Connect ($44.95 per month for three months)
Premier ( about $500 per year)
The difference between the different paid eHarmony subscriptions comes down to two things: the amount of time committed and the amount of cyber-security integrated into the person's profile.
Total Connect and Premier plans offer increasing levels of personal protection online.
eHarmony's Premium Accounts
eHarmony's Premium accounts are the paid accounts, but it also offers several exclusive features that are not found in the free account subscriptions, such as the following:
Unlimited messaging
Extended profiles
ID verification
Background checks
The Premium account brings a new level of security to the online dating scene, so for those concerned that they may get catfished or drawn into a shady relationship, the Premium accounts offer peace and security.
Find hookups & casual dating instantly
Match with others who want no strings attached
Stay private & anonymous
Find quality singles looking for a relationship
Best for ages 21-45
Free compatibility test to find your best match
Frequently Asked Questions About eHarmony
eHarmony has been around for a long time, so naturally, some common questions have arisen concerning the site as a dating service. Here are some of the most frequently asked questions about eHarmony and their answers:
How long is eHarmony's trial period? eHarmony's free trial period is three days.

How hard is it to cancel an eHarmony account? Not difficult at all. All you have to do is sign into your account and cancel the subscription. However, if you do not cancel your subscription before the end of your three-day trial, your credit card will be automatically charged.

Is eHarmony worth it? Most people who get eHarmony are pleased with the results. That's why it's considered to be the most trusted dating app on the net and why it stays in business. According to eHarmony's statistics, over 2 million couples have found love on the site, and only 3.68% of eHarmony marriages end in divorce. Learn more if it's worth it here

How quickly can I find someone? Most people using eHarmony find a significant other within a year of using the platform. 
Many of your questions about eHarmony can be best answered by checking out the eHarmony online tour.
eHarmony Is Worth the Shot
As one of the most renowned dating services on the Internet, eHarmony is an excellent choice for anyone trying to step up their romance game.
Even if you're not ready to commit to a full subscription, a trial account can let you onto the website and give you a good idea of whether e-dating is right for you.
Recent Posts