Bumble users must wait for the female to initiate the first contact. Once the first contact is made, both users can talk to each other through the app, similar to iMessage. What's different from iMessage, however, is how Bumble tells you when someone is typing.
Bumble displays a "typing" notification when the user enters any characters into the chat. This icon can be found directly under the user's name in the chat.
In this article, we're going to show you everything you need to know about Bumble messaging and how you can best utilize the chat feature.
Take your Bumble skills to the next level: Elevate your Bumble skills to the next level with The Complete Guide To Bumble, where you'll find advanced strategies, profile optimization tips, and expert recommendations.
The Girl Messages First
Bumble founder Whitney Wolfe Herd was a founder of Tinder back in her early days. She noticed how females were always responding to matches and not getting the first word in most of the time.
In response, she created the dating app Bumble, which puts females in control of everything. For the chat feature to appear in Bumble, both users must match with each other. After they've matched, the female user must be the first to initiate contact with the male counterpart.
If the female doesn't massage the male after 24 hours, they will be unmatched. The only way to get them back is to rematch with them through one of Bumble's premium services.
If you're a male, we recommend staying patient. If the girl messages you first, it means she likes your pictures, likes your bio, and is willing to send you the first message.
Although the first message may seem nerve-wracking for a girl, they must make the first move to chat on Bumble.
Send Pictures & GIFS
Once the girl has started the conversation, you'll notice these new icons appear along the bottom of the screen. We're going to explain each of these items, starting from left to right.
The first icon of the camera is how you send pictures. Click on the camera icon, and it's going to ask you if you allow Bumble to access your photos. If you select yes, you'll be able to send pictures directly from your camera roll. Also, if you want to send a brand new picture, you will access the camera directly from this icon.
Next are the text field and the GIF button. Click on the "your message" space that will pop up on the keyboard, and you'll be able to type in your message. This works similarly to your iPhone or Android keyboard, which populates when you send someone a text message.
If you want to spice up your conversation, tap on the GIF button to have a complete library of GIFs to choose from. Type in the word or phrase you're looking to GIF, and it will auto-populate. Please tap on the GIF to send it to the user.

Pro Tip: Tinder is great, but you might have better luck getting casual dates on Ashley Madison. Users sign up specifically to have discreet fun with others.
Get started for free and find people like you looking for casual relationships here.

Questions And The "IN" Icon On Bumble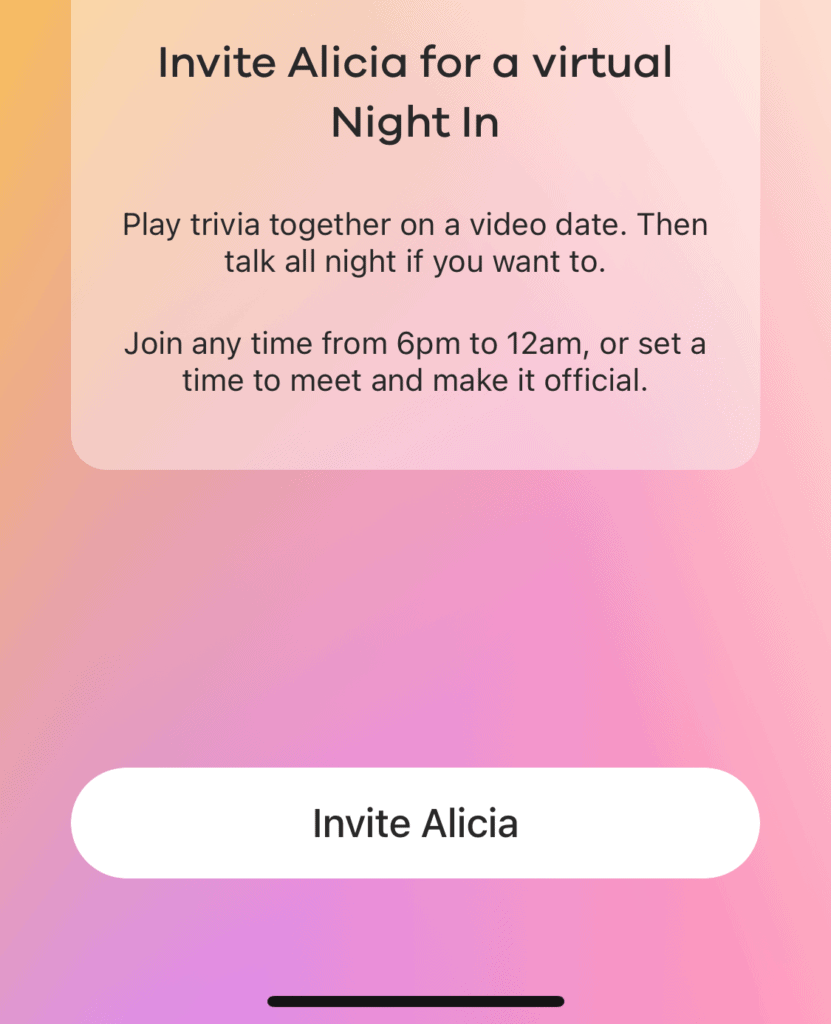 The "IN" icon on Bumble allows you to stay in with your match. This means between the hours of 6 pm and 12 am, you can plan to video chat and play trivia with your match. If you would rather meet your match in person, that is the ultimate goal. However, if you don't feel comfortable yet, this is a great way to get to know them through a video call.
The questions icon allows you to ask the other person pre-set questions. This allows you to get to know them without having to sound creepy or weird asking personal questions. It's a great way to break the ice and take the conversation to different places.
Instead of asking the other user for their Snapchat and trying to figure out if you're being catfished or not, plan a trivia game with them and learn more about them.
Voice Memos
Bumble allows you to send voice memos to the other person by tapping the microphone button. Voice memos are sent just like in iMessage and Android, where it will capture just your voice and send it to the other user. We must caution you. You don't have a chance to edit or check your voice memo. The second you let go of the record button, it will send the voice memo immediately.
Voice memos are a great way to contact the person via voice and collect your thoughts, so you're not put on the spot of having to respond. Use these voice memos at the beginning of the conversation to see what the other person sounds like.
Video Chat
The final feature is the video chat option. This button can be found in the top right corner, labeled by the video icon.
If you allow Bumble to access your camera and microphone, you will video chat directly with someone on the mobile app. This is a great feature that Bumble has added to talk directly with your match all within one screen. You don't have to get their number or any personal information to see if you like them.
For safety purposes, this is great because if users ever feel uncomfortable, they can unmatch the user and not have to worry about ever seeing them again. We recommend you video chat before actually going on a first date. That way, you're not wasting time and money on a date.
How To See When Someone Is Typing
Bumble tells the user who is typing by displaying a small "typing" message under the user's name. This icon only appears when the user has entered text into the text field.
The message will appear and disappear, depending on if the user is typing or not typing. If you see the typing message for a long time, there's a good chance that the person is typing a long message to you.
Keep in mind that the other user can see if you're typing as well.

Pro Tip: If you're sick of finding people who are just looking for one-night stands, we recommend trying eHarmony.
It's one of the highest-rated online dating apps in the world. eHarmony users are actually looking for relationships. Give it a try here for free and see if you can tell the difference.

Conclusion
Find hookups & casual dating instantly
Match with others who want no strings attached
Stay private & anonymous
Find quality singles looking for a long term relationship
Best for ages 21-45
Free compatibility test to find your perfect match
Bumble will notify you when someone is typing by displaying a "typing" notification under the user's name. Any text that is entered into the chat box will notify you that they're typing.
Other Bumble features such as voice chat, voice memos, and trivia can be used to enhance the connection between you and your match. Use these features before you actually meet the person in public. This will save you time, energy, and money.
If you don't like the person or say mean things, you can unmatch them. Giving out your number to send voice memos or videos makes it harder to block someone. We recommend staying on Bumble as long as possible and committing to talking to them within the platform. This will help you in the long run if anything goes wrong during the communication process.
If you liked this blog, learn more about Bumble in these articles: