Bumble has launched a subscription service that is right in line with its competitors Tinder and Hinge. The subscription service is called Bumble Premium.
Bumble Premium has additional features that include advanced filters, access to Beeline, backtrack, and unlimited swipes. Users who subscribe to Bumble Premium.
In this article, we're going to show you what Bumble Premium is and all the features that come with Bumble Premium.
Enhance your Bumble knowledge: Enhance your knowledge of Bumble by exploring The Complete Guide To Bumble and gaining insights into the app's features, etiquette, and success strategies.
What Is Bumble Premium?
To make money from its large user base, Bumble launched a monthly subscription service called Bumble Premium. Bumble Premium allows users to unlock the entire mobile app and access all of the locked features.
Bumble has added new modes and features to the mobile app that are only accessible by paying each month. These are the features that are unlocked when signing up for Bumble Premium.
Access To Unlimited Filters
Bumble is more than just swiping left and right on random users that appear on your screen. Bumble has filters that users can input the exact criteria they want.
This means users can filter on various things, including height, if they have kids, or even if they graduated from college. These advanced filters let you choose exactly what type of people you want to appear in your card stack.
These filters will help you find more single users that fit the type of person you're ultimately looking to find.
Advanced filters are handy because they will save you time swiping left and right on users.
Access To Bumble Beeline
Beeline is Bumble's feature to see who likes you. If you notice when you scroll to the chat queue, there will be a blurred picture with a number over the picture.
This blurred out picture and number signify how many people have swiped right on your profile. In the free version of Bumble, users cannot see exactly who these blurred-out pictures are.
In Bumble Premium, users can see exactly who swiped right on them and decide if they want to match with them or not. This feature is called Bumble Beeline.

Pro Tip: Tinder is great, but you might have better luck getting casual dates on Ashley Madison. Users sign up specifically to have discreet fun with others.
Get started for free and find people like you looking for casual relationships here.

Travel Mode
Travel Mode is a unique feature for Bumble, as it allows users to put themselves in a remote location without actually being physically present in that location.
As we demonstrated why Bumble shows your location here, travel mode on Bumble works a little bit differently. Users can put themselves in any place around the world to meet new people.
The perfect example of this feature is going on vacation or to a work conference and wanting to meet new people in the area. Using travel mode allows you to meet people who are physically present in the area; meet them when you get there.
This feature is great for single users who travel a lot and want to date or network with people in other cities.
Backtrack
Missed an important match? Bumble allows you to backtrack to profiles you previously swiped left on.
Apps like Bumble, which present user profiles in a card stack, often have users swiping left and right rapidly. There's a good chance the user may swipe right or left by accident.
The backtrack feature allows you to find users that you've presently swiped left on, bringing their profile to the front.
Extend Time With Current Matches
Bumble gives male and female users a certain time to interact with a match. If you both swipe right, the second that both profiles match, there will be a 24-hour countdown.
Bumble gives male and female users a certain time to interact with a match. If you both swipe right, the second that both profiles match, there will be a 24-hour countdown.
Bumble wants its users to consistently interact on the app, giving both users a 24-hour countdown to respond.
However, there may be a situation where you cannot open the app to talk to a match. If this case, the match will start to count down, and it may reach zero and expire.
In Bumble Premium, users can extend time with expiring matches, making sure the user on the other end can see it or get to it. If the person doesn't respond after the additional time, it may be a good idea to let them expire.
Rematch With Users Who Have Expired
Once the 24-hour countdown begins when two users match with each other, there may be a chance that it gets to 0. When the clock hits 0, the match will officially expire.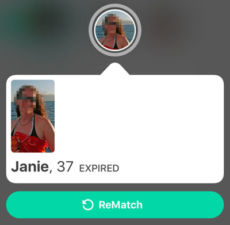 In the free version, users aren't able to access expired users. Once 24 hours are hit, the user will be greyed out, and both parties can't talk to each other.
However, with Bumble Premium, users can rematch with other expired users. This means that even if a match expires and turns grey, users can make it go back to normal – waiting for a reply from the other user.
Unlimited Swipes
One hangs up with using the free version of any dating app because users can swipe on the app many times. Most of the time, users get anywhere between 25 and 50 swipes per day.
This will change per app, but apps like Bumble do this to restrict paid users from free users. Restricting free users on swipes will often encourage them to buy the premium product.
When the user buys Bumble Premium, they instantly unlock unlimited swipes. This means the user can right-swipe on users without restrictions.
One Spotlight Per Week
Spotlight is a new feature in Bumble that allows users to come up at the top of the card stack in other users' profiles.
For instance, in a busy city like New York, there may be a good chance that you'll never show up in the other person's card stack, just due to the high volume of people using the app.
If you want to have a priority preference, we recommend using Bumble Spotlight, as it will instantly raise your profile to the top of all card stacks in Bumble.
The more exposure your profile gets means, the more opportunity someone has to swipe right on it. The volume of people seeing your profile is important to have a positive experience with Bumble.
Five Superswipes Per Week
Bumble has a superlike feature called Superswipes. If you've ever come across a profile that you thought was the perfect person for you, then superswipes is what you'll want to do.
Superswipes allow you to swipe on a profile, and they will instantly be alerted that you like them. An icon will also show up next to your name, helping you stand out from the other users.
Only 5 superswipes are allowed per week, but it's more than enough. Use your superswipes wisely as they can help you stand out to the pretty girl or handsome guy that you want.
How Much Does Bumble Premium Cost
Bumble Premium's pricing differs depending on the type of plan you're looking for. Bumble offers three tiers of pricing. The three tiers are:
1 Week – $17.99
1 Month – $32.99
3 Months – $66.99
Lifetime – $199.99
All of these prices can be found inside the Bumble app and are subject to change.

Pro Tip: If you're sick of finding people who are just looking for one-night stands, we recommend trying eHarmony.
It's one of the highest-rated online dating apps in the world. eHarmony users are actually looking for relationships. Give it a try here for free and see if you can tell the difference.

Conclusion
Find hookups & casual dating instantly
Match with others who want no strings attached
Stay private & anonymous
Find quality singles looking for a long term relationship
Best for ages 21-45
Free compatibility test to find your perfect match
Bumble Premium greatly enhances the user experience by unlocking features that are not available to free users. We recommend giving Bumble Premium a try, as it will allow you to experience the full functionality of Bumble with no restrictions.
If you liked this blog, learn more about Bumble in these articles:
Bumble is free to download for all users on both the iOS and Android apps.