Bumble is a mobile dating app that allows users to swipe left and right at each other to match. The matching process is typically done off on physical appearance when both profiles swipe right. What happens when you and another person swipe right on each other?
On Bumble, when two profiles swipe right on each other, they will get a notification that says 'Boom, you've matched.' 'Boom' is placed within the message to create excitement on the screen.
In this article, we're going to show you why Bumble says boom and what it means.
Take a deep dive into Bumble: Dive deep into the world of Bumble by exploring The Complete Guide To Bumble, your comprehensive resource for becoming a Bumble pro and mastering the app.
Find hookups & casual dating instantly
Match with others who want no strings attached
Stay private & anonymous
Find quality singles looking for a long term relationship
Best for ages 21-45
Free compatibility test to find your perfect match
Matching On Bumble
Bumble is similar to other mobile dating apps. It allows users to create a profile with pictures and biographies and place themselves in a specific location.
Bumble uses location-based targeting to find users in your area. You can use the sliding scale to have Bumble find other single users in your area.
Another feature Bumble uses is an age-sliding scale. Users can go as low as 18 and as high as 100 when deciding what age they want their users to be.
The one feature unique to Bumble is that it gives power to the females on the platform.
Bumble's founder was a former Tinder founder when she discovered that a different platform needed to be created.
She created Bumble, which gives females power on the app. This means that no male can start a conversation; only females can.
This is why a lot of similarities between Bumble and Tinder have been made. Most notably, the swiping left and swiping right features are present in both mobile dating apps.
Bumble users must also decide if they're going to swipe left mainly on physical presence. Apps like Hinge lean more toward question prompts and personality, while apps like Bumble and Tinder focus more on looks and physical appearance.
While this may be frustrating for guys, it can be equally as worrisome for girls. Making the first move is often intimidating. There's only one chance for first impressions, and you don't want to say the wrong things. This is why we created the Dating App eBook to help you with opening lines and first impressions.

Pro Tip: Tinder is great, but you might have better luck getting casual dates on Ashley Madison. Users sign up specifically to have discreet fun with others.
Get started for free and find people like you who are looking for casual relationships here.

Swiping Left & Swiping Right
Bumble is like other mobile dating apps when it comes to matching with other users. Swipe right if you're interested; swipe left if you're not interested.
The swiping mechanics are pretty straightforward and have allowed millions of users to find matches.
Users are presented with profile pictures that take up the entire screen; scroll up and down to see all the information to view the complete profile. Bumble has made it very easy to scan through profiles by swiping up and down.
Once you've entirely looked through a profile, swipe to the left if you don't like them and swipe to the right if you do like them.
If you swipe left on a Bumble user, they will be removed from your screen, and you will never see them again. This is why we always recommend you take the time and look at each profile carefully.
There is a way to bring back a profile, which we wrote about here, but there are limited options.
Why Does Bumble Say Boom?
When you and another user swipe right, a message will appear that says boom. Bumble says "boom" in the notification to create an amplified effect in your match notification.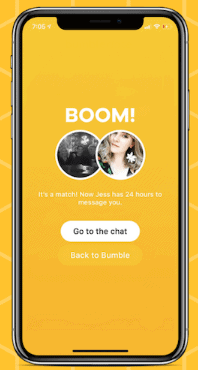 This screen is designed to create excitement as you just got a match. For some, matches are hard to come by, so it could be your next boyfriend or girlfriend when you get one.
Bumble also uses this screen to let you know that you have a match that you can message (if you're a girl). Instead of just putting a red notification dot in your chat, they use this "boom" screen as a way to notify you that you just got a match.
If you're a guy and get the boom notification, it's the first step in talking to your match. Bumble doesn't let the guy talk first. He must wait for the girl to message first.
Once you get a notification that says boom, it means you have a match but need to wait for the girl. Unfortunately, if she doesn't in 24 hours, it means they missed you or are not interested. After 24 hours, users must use premium features to bring back matches.
Can I Message After The Boom Notification?
Suppose you're a girl, yes. Remember, Bumble is a female empowerment dating app, which allows females to control the conversation.
Other apps are male-dominated, allowing the male to match and be the first to initiate conversation. Bumble has completely flipped the script and relies on women to be the first ones to message.
If you're a male and see the boom notification that you got a match, you'll need to sit tight until the female messages you.
If they fail to message you within 24 hours, the match will be gone unless you pay for premium services.
This is one of the downfalls of Bumble, as users may be busy or may not have push notifications on. Forgetting to check Bumble can result in missed connections.

Pro Tip: If you're sick of finding people who are just looking for one night stands, we recommend trying eHarmony.
It's one of the highest-rated online dating apps in the world. eHarmony users are actually looking for relationships. Give it a try here for free and see if you can tell the difference.

Conclusion
The Boom screen on Bumble only appears when you and another Bumble user have matched. It's Bumble's way of notifying you that you and another user have swiped right on each other.
Bumble uses the boom notification to create excitement around finding another match. If you're a female, you're able to talk to your match as soon as the boom notification comes up.
If you're a male, you will need to wait for the female to talk to you to start a conversation.
The boom screen is exciting and thrilling as you never know when it's going to come up that you've matched with someone. Getting a boom notification is a rush when you get it, and it's the first step to making a meaningful relationship on the Bumble dating app.
If you liked this blog, learn more about Bumble in these articles: