Tinder is a free mobile dating app that allows single app users to find a relationship online. The unique swiping style requires users to swipe left if they don't like the match and swipe right if they do. However, can people use Tinder without swiping?
No, you can not use Tinder without swiping. Users must swipe left or right to move on to the next profile to see profiles.
In this article, we're going to show you exactly how Tinder works and why you need to swipe to use it.
Get the complete Tinder picture: Get the complete picture of Tinder by reading The Complete Guide To Tinder, your comprehensive resource for understanding the app's functionality, features, and best practices.
Find hookups & casual dating instantly
Match with others who want no strings attached
Stay private & anonymous
Find quality singles looking for a long term relationship
Best for ages 21-45
Free compatibility test to find your perfect match
Swiping On Tinder
Before Tinder, users would have to go to a website to have any online dating interaction. Tinder completely changed the game when it was released in 2012.
Tinder allowed users to swipe right and left in a "hot or not" fashion, as they mainly judged users by their looks.
The popular mobile app was launched on college campuses, which immediately drew a huge following.
What made Tinder so popular was its quick and addictive swipe feature. The user is presented with a card stack of profiles. From here, the user will swipe left or right based on whether they don't like or like the profile they're seeing.
Check out our complete Tinder User Guide here.
How To Swipe On Tinder
Swiping on Tinder is easy. Most mobile users will hold the phone in the palm of their hand while navigating with their thumb. From here, all users need to do is swipe their thumb to the right or swipe their thumb to the left.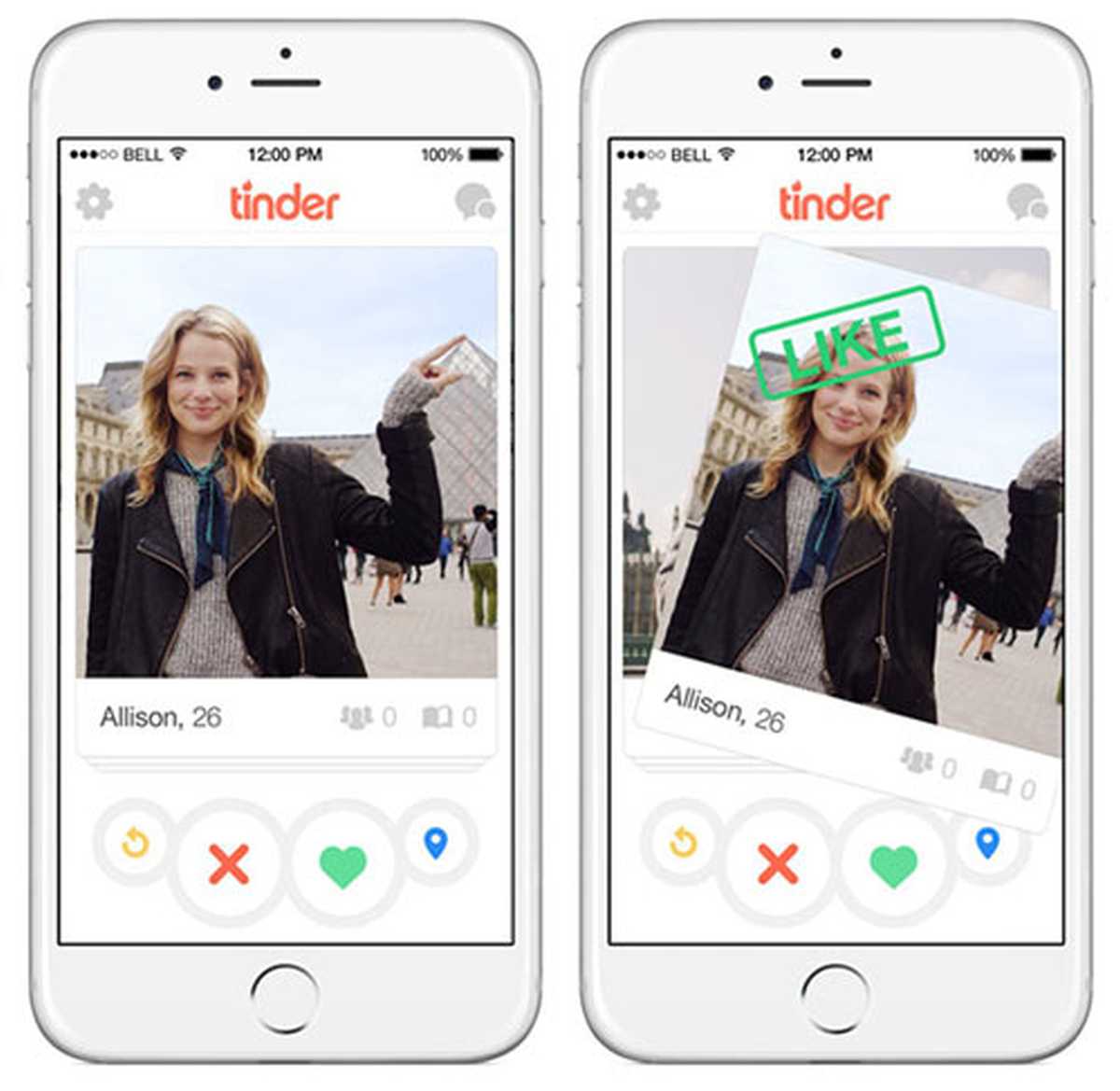 This motion can be made when the user stands up, sits down, or even lies down. Only one hand is needed to swipe and match on Tinder. This is why people will use Tinder at any point of their day, at any time of the day.
This quick left and right swipe can be done within seconds of opening the app.
Swiping in either direction requires some thought on seeing themselves with the other person by looking through the profile for personality and physical traits.
If they like the profile, they must wait until the other user swipes right on them for them to match.
If the user swipes left, that profile they swiped left on is gone forever, and they will not find that person again.

Pro Tip: Tinder is great, but you might have better luck getting casual dates on Ashley Madison. Users sign up specifically to have discreet fun with others.
Get started for free and find people like you who are looking for casual relationships here.

Matching On Tinder By Swiping
Once you swipe right on a profile, it's up to the user you swiped right on to swipe right on you. Once two positive right swipes are initiated, the user will see a success screen on their profile that looks like this.
Two right swipes will then open up a chat dialogue box, in which each user can successfully have a conversation with the other.
The chat dialogue box on Tinder is fundamental, as it doesn't allow for any picture messages to be sent, just text and GIFS.
Matching on Tinder may seem hard at first. You may go days or even weeks without accumulating a match. We recommend you keep at it and keep swiping. Dating takes time and patience, especially on a mobile app that solely judges a short bio description and physical features.
Is There Any Other Way To Match On Tinder Besides Swiping?
There is no other way to match Tinder besides swiping left or right on the profiles. There's also no way to look through profiles to see if someone you know is on Tinder.
Mobile apps like Plenty Of Fish and Christian Mingle allow users to have a grid view and a swiping feature. This is a common theme among newer mobile apps, allowing users to decide which style they like best.
However, even on the desktop version of Tinder, the user must swipe left and right on the card stack presented to them. This is Tinder's flagship feature and allows users to stay active on the platform. This addictive right and left swipe keeps users interested in the person behind the next. This is how Tinder revolutionized and changed the dating game as we know it.
Can You Browse Tinder Without A Picture?
Tinder can be browsed without a picture. Tinder requires that any picture be uploaded, as well as some bio. The only thing Tinder requires is a phone number.
It doesn't check if the pictures or bio are real. This often leads to a catfish, as users will create fake profiles.
Browsing Tinder without a picture will allow new users to get a feel for the app and determine if they want to add pictures or not. If you come across a profile that doesn't have a picture, we recommend swiping left and going right by it.
There's a good chance that users without a picture are trying to find someone on the app or people who are casually browsing it with no interest in actually finding someone to date.

Pro Tip: If you're sick of finding people who are just looking for one night stands, we recommend trying eHarmony.
It's one of the highest-rated online dating apps in the world. eHarmony users are actually looking for relationships. Give it a try here for free and see if you can tell the difference.

Conclusion
Tinder can not be browsed without swiping. Its main functionality and core feature require users to swipe left and right to advance to the next person.
There's no way around this; Tinder requires all users to swipe left and right to advance to the next profile. If you're looking for someone on the app, we recommend creating a fake profile that way; you're able to search for them on the app.
If you're nervous about someone seeing you in your hometown, you can download Tinder Passport, which will remove you from your current location and place you elsewhere in the world.
The Tinder swiping feature not only changed the way we meet people; it forever changed the online dating game. Users can now talk to and date multiple users at once to find the person they like the best. It has put an interesting twist in the traditional dating game but has helped apps like Bumble and Hinge thrive at its innovation.
If you liked this blog, learn more about Tinder in these articles: