Dating apps are all the rage. Instead of going to a bar or out in public, we're now living in a world where we can sit on our couch, in our sweatpants, and talk to guys/girls instantly. Dating apps have made life easier to date and easier to make money.
Dating apps make money from subscription plans, advertisements, and one-time purchases. Subscriptions typically are charged monthly, every three months, or every six months.
We're going to break down the many ways that these dating apps and services have created roadblocks to get as much as they can from their users. Between blocking features, limiting your use, and requiring a paid membership even to join, we're going to break down all the different ways that dating apps make money.
How Dating Apps Make Money
There are three different methods in how dating apps make money:
Subscription Service
One-Time Purchases
Advertisements
Subscription models are better business-wise for a company because of the consistent payments. Almost all dating apps have deferred to this type of business model.
Subscription services also lock in users to use their app, as most users will seldom pay for more than one dating app. Having a financial commitment from a user will typically increase the app's usage.
We will break down how each popular dating app uses its subscription model, one-time purchases, and advertisements to make money.
Subscription Service
The main business model that most, if not all, dating services have is a subscription model. This means that a user will pay a designated fee a month.
On average, users will pay up to $20 a month to access all of the premium features, and in the case of platforms like match.com, they will pay that fee to enter the website.
Here are some popular dating apps and how they're making money…
How Tinder Makes Money
Tinder Gold & Tinder Plus are the two subscription models that Tinder has created, urging their customers to pay for additional services.
Pricing: $29.99/month
Features That Come With Subscription: Tinder Gold, as we wrote about here, allows the user to access unlimited swiping features, the ability to hide your age, change location, rewind to missed swipes, additional super-likes, and the biggest feature is being able to see who likes you.
How Bumble Makes Money
Bumble is a female-friendly platform that allows girls to make the first move once they match another user. If the girl doesn't want to respond, the user will expire after 24 hours and be gone forever.
Pricing: $25.99/month
Features That Come With Subscription: Bumble Boost is the subscription name that Bumble offers. Similar to Tinder, users can see who likes them and match with them instantly.
As mentioned, users will expire after 24 hours; Bumble Boost gives you the ability to extend with your time-sensitive connections in hopes they didn't open the app for 24 hours or to really get their attention. Last, you're rematched with connections that expire after 24 hours.
How Match.com Makes Money
Match.com, one of the oldest dating sites and services out there, is one of the first to offer a subscription service to its users. As their tagline states, "More Marriages, More Users," match.com allows users to create profiles and match criteria with what they are looking for.
Pricing: $35.99/month
Features That Come With Subscription: Match.com forces you to pay even to use their service. Different from other apps and services, which typically have a free trial or limit features, match.com completely limits you from using their platform without payment.
This may seem like a bad idea initially, but we predict this is why their success rate is so high, as their users are serious about dating. Committing $35.99/month is a hefty investment compared to other apps.
How Hinge Makes Money
Hinge is the newest of all our apps on the list. Their marketing campaigns are focused on being the "app that you want to delete," insinuating to its users that you'll find your true love on it.
Hinge has a subscription model that focuses on additional features like all other dating apps.
Pricing: $19.99/month
Features That Come With Subscription: The features that come with the Hinge preferred membership are seeing who likes you, setting advanced preferences such as education, family plans, and vices, and finally sending unlimited likes.
How Plenty Of Fish Makes Money
Plenty Of Fish is a mobile app similar to the other mobile apps on this list. It allows for free functionality with a paid premium membership. Plenty of fish users who pay will be tagged with a gold star.
Pricing: $9.80/month
Features That Come With Subscription: Premium membership features include uploading 16 images, unlocking every user's extended profile, seeing if your emails were read or deleted, showing up first on "meet me," ad-free, finding out what date and time someone viewed your profile, stand out in all searches, send three gifts a day.
How OkCupid Makes Money
"You're about to go on better dates," as they advertise on their website. OkCupid launched as a free site for basic usage and has been for a long time. It wasn't until recently they caught up with the rest of the dating apps and added a preferred service.
Pricing: 19.95/month
Features That Come With Subscription: OkCupid launched a subscription service called "A-List," allowing members to see who views their profile, read their messages, and browse profiles without anyone knowing.
How Coffee Meets Bagel Makes Money
Coffee Meets Bagel competes directly with the free-to-use online dating apps on this list. Coffee Meets Bagel almost forces the user to pay as there is a minimal amount of what the user can do compared to the other apps. Users are allowed five likes per day, and users can only chat for seven days.
Pricing: $35/month
Features That Come With Subscription: One of the more interesting features on the list is Coffee Meets Bagel's activity report, which shows stats on the user's profile – whether they're active, respond, and more. They'll also gain read receipts and 6,000 beans to spend on other premium features.
One Time Purchase (Features)
Another revenue stream is one-time purchases. This is a feature that most of the subscription apps offer. However, it's for a one-time purchase.
Each app has its own stripped-down preferences as a way to sell "low hanging fruit" to users who don't want to commit to a long-term membership.
For instance, dating apps will make money by offering a fraction of service for a one-time purchase. This could be boosting your profile for 24 hours, seeing who liked your profile briefly, or getting coins to purchase features.
These one-time purchases are a great way to try out a product to see if the subscription price is worth it. However, these one-time purchases often cost more.
Advertisement
Companies will often have advertisements that will pop up as you're swiping through potential matches. Tinder is notorious for doing this, as users will more often than not click or swipe on the advertisement if they're swiping at a rapid speed.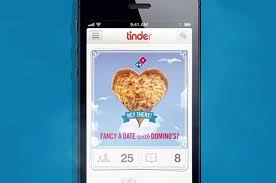 This advertisement often relates to dating, but we've seen food, household, and even MTV advertisements while swiping. Advertisements open another revenue stream for the company, easily implemented into the user's experience.
Conclusion
Mobile dating apps use subscription services, one-time purchases, and advertisements to make money. These revenue streams are common among all mobile dating apps.
This is often referred to as a freemium model, which allows users to use most of the app for free, with restrictions. Hopefully, the restrictions will entice the user enough to want to purchase the full product.