According to Online Dating Magazine, over 2,500 online dating websites in the United States are currently active, with 1,000 new sites opening every year. Despite the slew of options out there, eHarmony is considered one of the best dating services available.
eHarmony is good for seniors, as it has a wide range of 65+ year-olds active on the platform.
Since 2000, eHarmony has provided a safe and effective method for singles to connect with others and potentially find their true love. But is eHarmony good for seniors?
eHarmony has long been used by seniors to find companionship and love. In fact, eHarmony has various features designed to aid seniors in navigating the dating world. eHarmony doesn't merely throw its senior users to the wolves, so to speak. They provide simple navigation, an easy signup process, and customized matches.
Continue reading to learn more about the eHarmony website and why this dating service is a good choice for seniors looking to find love.
Ready to find love on eHarmony? Get ready to find love on eHarmony with The Complete Guide To eHarmony, your go-to resource for turning online connections into lasting relationships.
eHarmony Has More Commitments & Fewer Hookups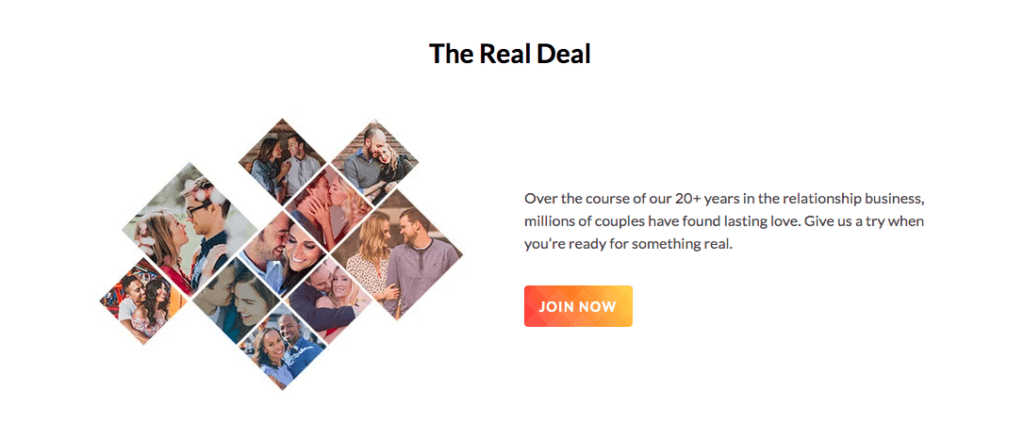 In most cases, people over the age of 50 are not just looking for a hookup. Because of this, many new popular dating sites, such as Tinder, do not appeal to seniors looking for love.
Eharmony, on the other hand, is designed for long-term relationships.
Expand Your Search Area
Trying to find other seniors with the same interests, hobbies, and beliefs in your geographic area can be a daunting task.
eHarmony allows you to connect with other like-minded people with whom there could be a love connection.
Statistics Are Promising
Studies have shown that 35 percent of people who use dating sites like eHarmony are over 50 years of age, and when you consider that there are over 15 million users on eHarmony, you will quickly see why seniors have luck finding love on that site.
eHarmony also claims to have the lowest rate of divorces of couples who marry after connecting on the website.
Designed To Help You Find Your Match
eHarmony has designed various facets of its site to help seniors find the right one. From their easy-to-use website to helpful dating tips and articles created for seniors.
Matchmaking survey

Seniors typically have different needs than those of other generations. In most cases, seniors are looking for a partner with whom they can spend their twilight years, and they don't want to waste time dating people who are not compatible.
To help speed up the process, eHarmony has a personality assessment you must complete when you sign up for the site. This assessment helps to weed through users who don't match your needs and desires and narrow down the best matches for you.
Video dating

One of the ways that eHarmony protects its users from scammers is with its video dating features. This allows seniors to have face-to-face communication with their matches.
This can help you feel less awkward when you move your communications from online to real-world dates, and it also reduces the chance of being catfished (when someone pretends to be another person.)
Easy searching
Dating sites typically require users to manually look through thousands upon thousands of profiles, trying to find someone they can connect with.
On eHarmony, however, the website uses an advanced algorithm to narrow down the millions of users to ones that fit what you're looking for.
Icebreaker options
eHarmony knows that some seniors have spent years out of the dating scene, and trying to get back into it can be difficult. In many cases, you may want to reach out to another user but are unsure of what to say during the initial contact.
Because of this, eHarmony has created a "send an icebreaker" feature that helps seniors make first contact with less stress.
When you click on the icebreaker feature, you will see various conversation starters that you can select to send to the user. This helps get the ball rolling on communicating with someone new.
Select your preferences
EHarmony helps you cut down on wasted time in the dating search by allowing its members to narrow down their recommended dating pool by preferences.
Users can select to skip over other users with traits that don't align with them. For example, you can choose not to show profiles of particular political affiliations or profiles of users who smoke.
Inclusivity
eHarmony is an inclusive dating website that allows all users, no matter what their sexual orientation or religion, the option to sign up and find love. This makes eHarmony a great option for gay seniors who may have found other online dating services to be less than welcoming.
Not just for seniors
Unlike other dating sites designed just for seniors, eHarmony is open to users 18 years of age and above. This means that even if you're a senior, you have the option to connect with other users that are younger than you.
This is a great feature for seniors who have hobbies or interests that align more with the younger crowd and are not often held by other seniors.
Dating advice
eHarmony has many articles and tips to help seniors navigate the entire dating process, from online communication to real-world dates.
Find hookups & casual dating instantly
Match with others who want no strings attached
Stay private & anonymous
Find quality singles looking for a long term relationship
Best for ages 21-45
Free compatibility test to find your perfect match
They also have blogs and guides to help you create eye-catching photos and intriguing profiles that make other users want to reach out to you. Not all of these articles and tips are designed specifically for seniors, however, but they offer information that singles of all ages will find useful when it comes to online dating.
If you liked this blog, learn more about eHarmony in these articles: